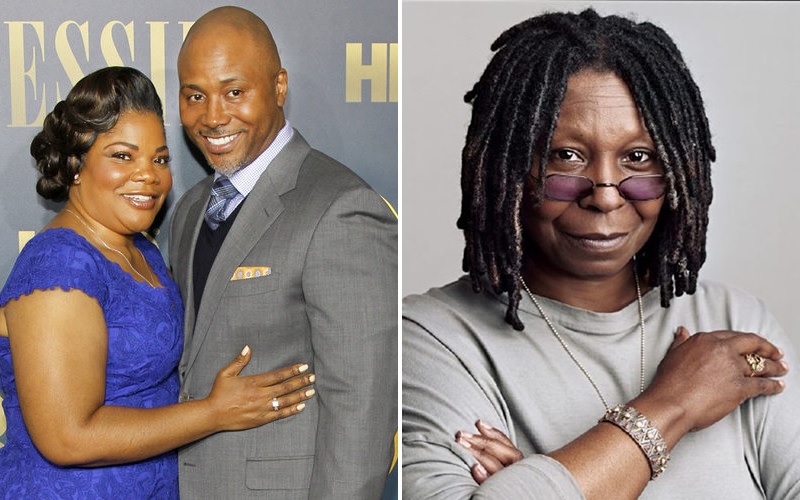 Mo'Nique is not quite done calling out people in Hollywood. She's now revealing details of a conversation with Whoopi Goldberg following their tense on-air confrontation on The View.
During Mo'Nique's visit to the daytime talk show last week, Whoopi told the fellow comedian that she would have "schooled" her about how to properly promote a film. Mo'Nique says the conversation continued after the show and Whoopi tried to blame Mo'Nique's career missteps on her husband and manager (or husbandger, if you will), Sidney Hicks.
Mo'Nique said on the March 1 episode of "Open Relationship," her podcast with Hicks:
"When we got to her dressing room and when we were sitting down and this is what she said to me. She said, 'Listen, from the first time I saw you, I loved you. So, I'm going to tell you right now, you've got to take some of this responsibility and the real problem is, Mo'Nique, you're being ill-advised, you're not thinking for yourself and the real problem is your husband.'"
Mo'Nique has constantly lauded and defended her husband to the public; this time was no different. Grabbing Whoopi's hands, she explained why the View host was wrong to fault Hicks.
"I said, 'Sister, let me tell you about my husband, because you're misinformed and you're making statements that you really don't know what you're talking about.'

I said, 'See, I've had the big white manager, the big white agent, I've had the big attorney firm, all in Hollywood… I would watch those people cheat me and they would say to me, 'We'll get them the next time, Mo'Nique.'

I said, the reason why my husband is considered a problem is when we're in those meetings with those executives, they can't answer his questions."
Whoopi is actually not the first person to raise concerns regarding the way Hicks has managed Mo'Nique's career.
Recently, reporter Jawn Murray read an email excerpt from film producer Will Packer, who worked with Mo on Almost Christmas (2016). Packer wrote Hicks had been unreasonable throughout the film process and stated Mo'Nique "deserves better representation" than what Hicks was offering.
Packer even noted that he was advised not to work with Mo specifically because of Hicks:
"And to think that you have directed your vitriol at someone who was an advocate when it was time to cast this film even though I was warned by numerous people around the industry about hiring Mo'Nique, primarily because of the transnational costs of dealing with you."
Mo'Nique responded to Jawn Murray's report by releasing the entire email correspondence between her husband and Packer, who she says "tried to intimidate, bully, and ruin someone's character." The email chain shows both men threw verbal jabs.
And in a 2015 blog post, Swagger New York creator and former BET producer Sian Pierre claimed it was Sidney who pushed Mo'Nique to request more money to promote Precious in 2010. Pierre also recalled a phone conversation with Hicks in which he threatened to get Pierre fired for trying to preview Mo'Nique's Oscar dress on TV.
Pierre concluded:
"After a five-minute back and forth, which was part-shouting match part macho ball-grabbing on his part, I was over dealing with Sidney, Mo'Nique's nasty, mean, husband."
Given that Whoopi Goldberg has been an A-list Hollywood insider for decades, she might have actually heard some things through the grapevine about Mr. Sidney Hicks. Maybe the problem really isn't Mo'Nique; it's her husband! And if that's the case, Mo definitely needs to take heed to Whoopi's warning before it's too late.
Be the first to receive breaking news alerts and more stories like this by subscribing to our mailing list.