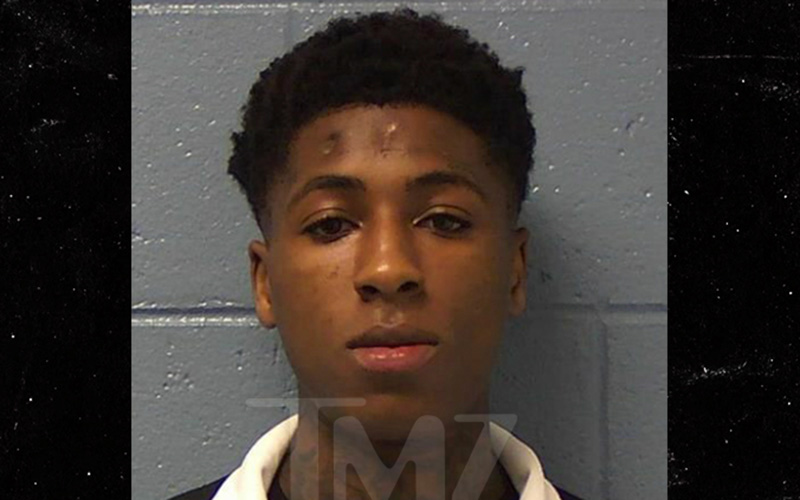 It looks like NBA YoungBoy won't be getting out of jail anytime soon. Following his arrest Sunday (Feb. 25) in Tallahassee, Florida on a fugitive warrant, the "No Smoke" rapper has been extradited to Georgia to pose for a new mugshot and to face aggravated assault, kidnapping and weapons charges. And on top of that, the judge ordered him to be held without bail.
NBA YoungBoy (real name: Kentrell Gaulden) was caught on video allegedly assaulting his girlfriend Jania at a hotel in Waycross, Georgia, which is what brought on the charges. The surveillance footage appears to show the rapper body slamming his GF in the hallway before dragging her back into their room.
Police were called to the scene, but by the time they arrived, YoungBoy and his girlfriend had already left. He was later arrested in Tallahassee after his tour bus was pulled over and police found out he had outstanding warrants.
Following YoungBoy's arrest, Jania quickly hopped on Periscope to deny that she was assaulted. According to her, the two were just playing around like they normally do, however, the judge presiding over the case isn't trying to hear that, especially since blood was found in their hotel room.
NBA YoungBoy is no stranger to the law, as he was just released from prison last May after pleading to a lesser charge from an attempted murder case. In that incident, the 19-year-old admitted to firing shots on Baton Rouge's Kentucky Street on November 2nd, 2016. Police believed the shooting was in retaliation for the murder of Keondrae Ricks, who was killed on a nearby street earlier that day.
The rapper—who has been blowing up on the rap scene since his release from prison—is currently prepping the release of his debut album, Until Death Call My Name, which is due out on March 2nd.
Be the first to receive breaking news alerts and more stories like this by subscribing to our mailing list.