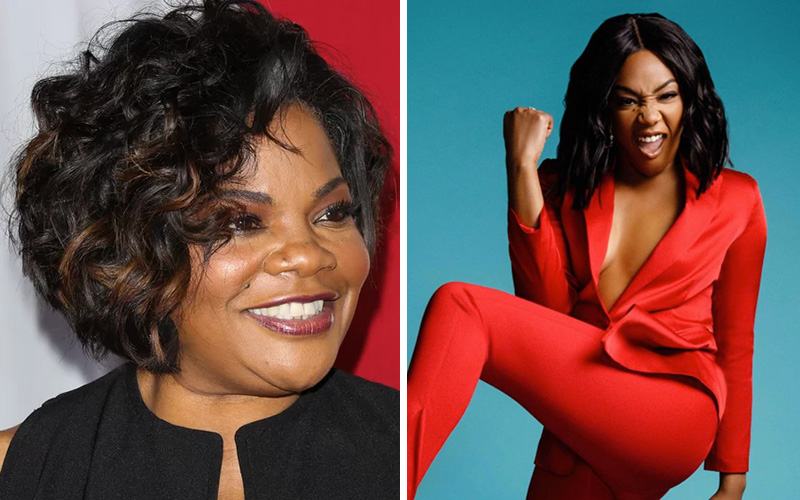 Hey, my loves. Tiffany Haddish recently signed a deal with Netflix, and, believe it or not, Mo'Nique couldn't be happier for her.
After the "Girls Trip" star was dragged into the drama surrounding Mo'Nique's attempted Netflix boycott, Haddish announced that she got her own deal with the streaming giant, and Mo'Nique was quick to let her know how proud she was.
When Mo'Nique was asking folks to boycott Netflix because she felt like they refused to pay her what she's worth because of her gender and the color of her skin, she name-dropped Tiffany Haddish, saying that she's part of the reason why she refused to accept Netflix's offer.
Mo'Nique believed that Netflix lowballed her with a $500K offer for a standup special and accused the streaming service of racial and gender bias because they paid Dave Chapelle, Chris Rock and Amy Schumer millions more.
"I couldn't accept that low offer, because if I did … I couldn't sleep at night," she said on 'Sway in the Morning.' "I say this humbly: I am the most decorated comedian alive. But if I accepted $500,000, what does Tiffany Haddish have coming? If I accept that, what does the black female comedian have coming? Because what they'll say is, 'Mo'Nique accepted this and she's got that.' So what do they have coming?"
Over the weekend, a fan wrote to Haddish on Twitter, saying that if she were to get a multimillion-dollar Netflix deal it would be because Mo'Nique stood up for her and other up and coming black comediennes.
But Haddish was quick to let the fan know that her deal was signed, sealed and delivered way before Mo'Nique brought her issues with Netflix to the forefront.
I already got a deal and I signed it way before she said a thing and its not legend money but its enough to take care of my family for min. #Facts

— Tiffany Haddish (@TiffanyHaddish) February 24, 2018
Tiffany Haddish will star in "Tuca & Bertie," Netflix's new animated series from the team behind "BoJack Horseman" https://t.co/justo3syHe pic.twitter.com/stokiqUKJN

— Netflix US (@netflix) February 20, 2018
Tiffany will be voicing one of the lead characters in a new Netflix animated comedy series called "Tuca & Bertie," and despite Mo'Nique's own personal issues with Netflix, she let Haddish know that she's genuinely happy for her.
"You've done nothing wrong my sister. You KEEP SHINING," she said on Twitter. "I am proud of you. You keep doing what [you're] doing. You are making it better for the next ones."
You've done nothing wrong my sister. You KEEP SHINING! I am proud of you. You keep doing what your doing. You are making it better for the next ones. Luv u 2 life.

— Mo'Nique Worldwide (@moworldwide) February 25, 2018
In recent interviews, Mo'Nique has had no problems butting heads with anyone who questions her claims that she's been "bullied" and "blackballed" by Hollywood.
Just last week, the comedian clashed with Whoopi Goldberg on "The View" over her refusal to travel overseas to promote "Precious," which Whoopi said was contractually part of her job. "if you had called me, I could've schooled you on what was expected," Goldberg told her.
Mo'Nique also got into an argument with "The Breakfast Club" host Charlamagne tha God after he questioned her attempted Netflix boycott and called her "Donkey of the Day."
"You don't know the history of this business that you're in," she said. "You sit behind this microphone and try to be the guru of Black culture. I'm going to need you to know the history of us before you begin to label us and once you know the history, you know I'm not saying anything unique, brother."
Be the first to receive breaking news alerts and more stories like this by subscribing to our mailing list.