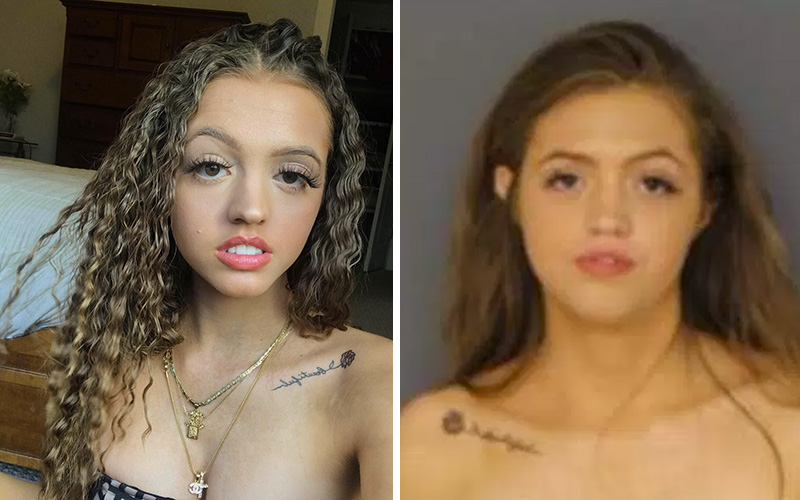 Instagram star "Woah Vicky" (real name: Victoria Waldrip) and her boyfriend Virgin.Child were arrested this past weekend at a mall in Greensboro, N.C.
Here are some things to know about their arrests:
1
Victoria "Woah Vicky" Waldrip allegedly assaulted a police officer.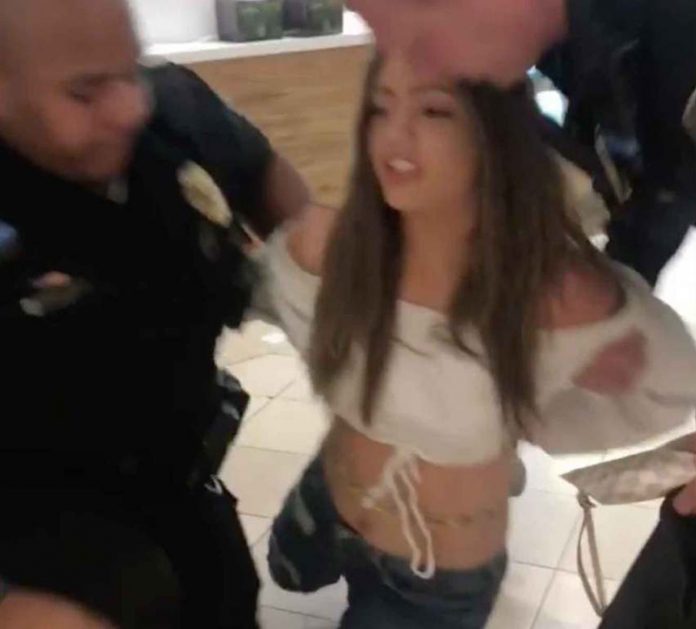 According to TheBlast.com, Vicky was arrested at Greensboro, North Carolina's Four Seasons Town Centre on Saturday for resisting arrest and allegedly kicking a police officer.
A spokesperson for the arresting agency told TheBlast.com she was busted by cops for "trespassing after giving her multiple opportunities to leave as instructed by Mall Security and Police." She was booked into Guilford jail and was released hours later.
Vicky is facing two misdemeanor charges—assault on a government official and first-degree trespassing—and if convicted, she could face up to 150 days in jail as well as potential fines. Her 18th birthday is coming up on March 7th, which could change how she's prosecuted.
Ironically, just last week, Vicky posed on her social media pages wearing an orange jumpsuit pretending like she had recently been sprung from jail.
2
Vicky's boyfriend, Instagram star Virgin.Child, was also arrested.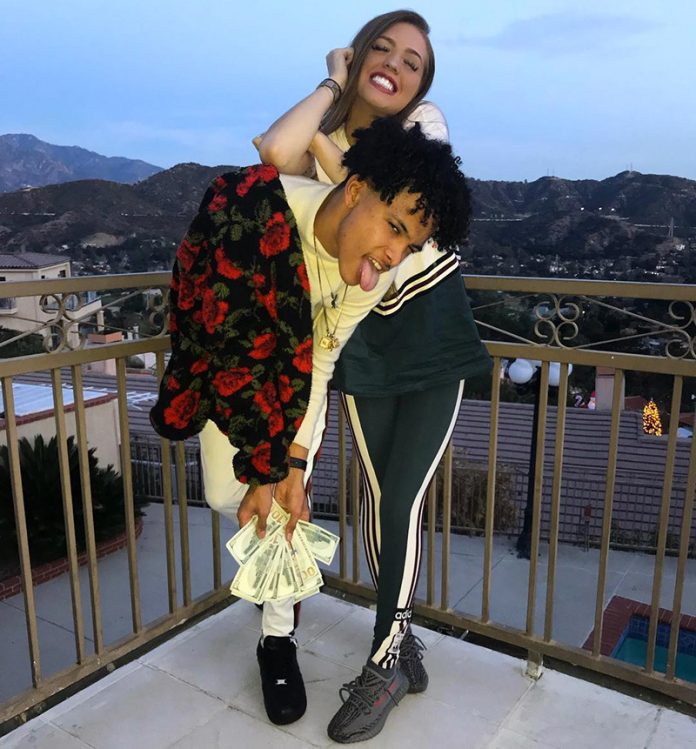 According to Virgin.Child's sister @Nikki_kitty, Vicky's boyfriend got into an argument with the police over Vicky's arrest. He was then arrested as well, and suffered a broken nose and a concussion from his arrest.
After being released from jail, he was taken to the hospital and received treatment for his injuries. He later posted a picture of his nose bleeding on Instagram. He wrote in the caption:
Just went to the hospital and they said my nose was fractured almost broken and they gave me a concussion. Thanks for everything guys it means a lot I'm suing all of them! They attacked me for no reason crazy how racist cops are bro, but I'm so glad I'm home, love you guys
https://www.instagram.com/p/Bfo8rk4HLX2/?taken-by=virgin.child
https://www.instagram.com/p/Bfo-ason9_I/?taken-by=virgin.child
3
Footage from Vicky's own Instagram shows her being aggressively tackled by police.
https://www.instagram.com/p/BfoKnMBlRDN/?hl=en&taken-by=imwoahvicky
Videos from the incident posted on Woah Vicky's Instagram account shows her being violently forced to the ground by two males cops.
https://www.instagram.com/p/BfoNjVMFmp8/
4
The sister of Vicky's boyfriend said the whole incident happened because the police were mad because fans wanted to take pictures with Woah Vicky.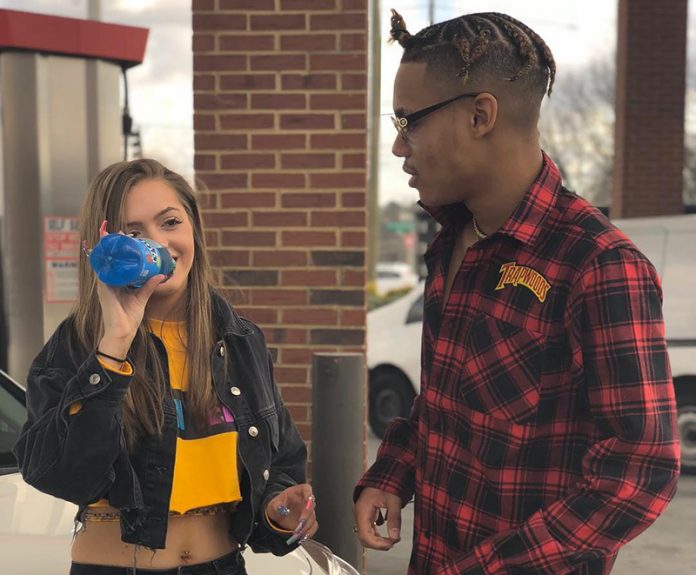 "Hey guys it's jj sister @nikki__kitty well basically what happened was the police got mad because some fans wanted to take a picture with Vicky . Then they cuffed her , but jj wasn't there at the time or moment. When he arrived he saw his girlfriend Vicky getting tackled to the ground.. then he was arguing with one cop and the cop kept putting his hands on him then some security guards tackled him to the ground for no reason ?. He didn't touch the cop at all as you can see in the video . My family are about to pick both of them up from jail , luv u jj and Vicky it will be fine."
5
Woah Vicky and her boyfriend were quickly released after their arrest.
https://www.instagram.com/p/Bfo9Gu5ln6e/
The couple posted a video on Instagram letting fans know they were no longer locked up.
We out #fuck12 #blacklivesmatter , fuck @cityofgreensboro , fuck #greensboropolicedepartment fuck all them they racists asf and dumb asf! They broke my baby @virgin.child nose and gave him a concussion for no reason ! They reason for arresting us is because "there were too many kids coming up to us asking for pictures " But we out now that's all that matters ???? god is good glad to be home with my fam @shopmoor @nikki__kitty @dynastyloveyou @i_love_my_marriage
6
Police were informed about an active shooter but never found anything confirming this.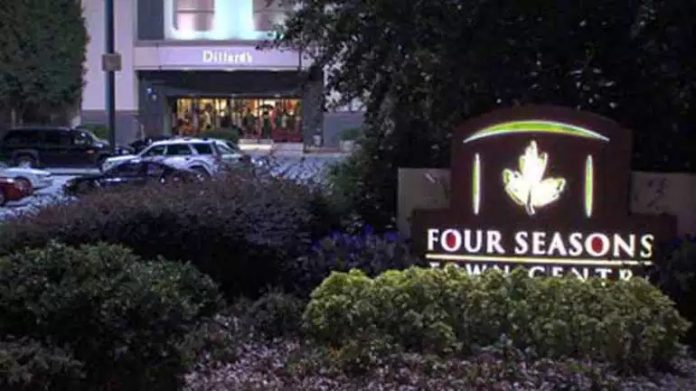 According to WGHP-TV, Authorities claimed to have broken up several fights involving teenagers at Four Seasons Town Centre shopping mall.
Greensboro police were also called over an active shooter, but they never found any evidence that gunshots were fired.
Police told The Blast that during Vicky's arrest, her friend and other teens started shouting and causing chaos that escalated to someone screaming, "Shots fired!"
Police said in a statement to the website, "Subsequently several other juveniles inside the mall began running around and screaming. As all that was transpiring an unidentified individual shouted something about shots being fired and panic ensued throughout the mall. GPD received multiples calls of shots fired and/or an active shooter in the mall."
7
Woah Vicky found fame on social media after claiming she was black.
Woah Vicky made headlines last year after she posted a video alleging she was 25% black after doing an ancestry kit. She also often uses the "N-word" and says it's okay because she is black.
https://instagram.com/p/BcWbS3wF7RQ/?utm_source=ig_embed
"My whole entire life my mom kept telling me 'you're white' and I never believed her because I knew I was black," she said in the viral video.
https://instagram.com/p/BadSRRPFGBh/?utm_source=ig_embed
Her social media pages, which collectively boast millions of followers, feature photos of her holding guns and wads of cash, as well as videos teaching people how to twerk and demonstrating stereotypes of black people which has led people to accuse her of being racist. She also claims she's from Atlanta's Zone 6 neighborhood, where rappers like Gucci Mane, Future and 21 Savage grew up, though she actually grew up in the suburbs.
While both of her parents are white, Vicky has said that her father doesn't know his own father, which she believes could explain where her alleged black ethnicity could come from.
Be the first to receive breaking news alerts and more stories like this by subscribing to our mailing list.