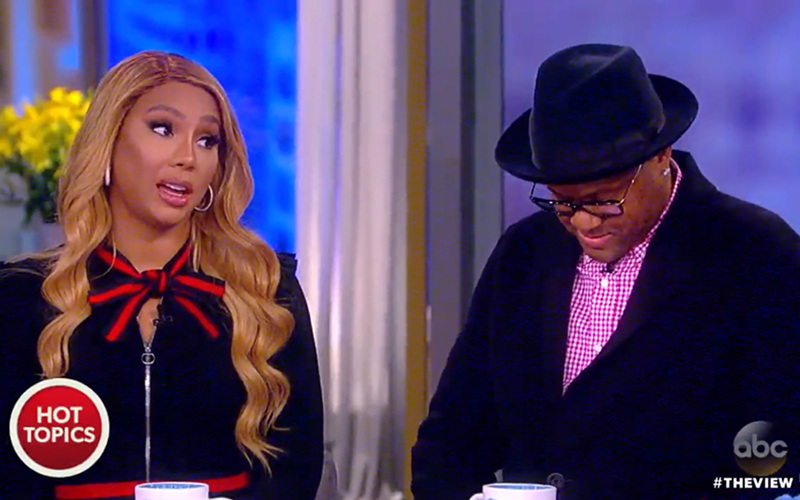 Tamar Braxton sharpened her talk show hosting skills on The View. But instead of talking politics and pop culture, she became the hot topic and attempted to clear up the rumors regarding her divorce with her estranged husband by her side.
Tamar served as a guest co-host of The View on Friday (Feb. 23) and, right out of the gate, she shot down rumors that her split and pending divorce from Vincent Herbert was for a storyline for her reality shows, Tamar & Vince and Braxton Family Values.
"I wish I could say that a lot of times it's made up, just so I can hide behind the truth. But in this situation, I absolutely have no reason to lie about my marriage or the things that are happening in my marriage for ratings. I think that's disgusting and I would never sell my soul to the devil like that… I have a regular marriage, and in regular marriages, like everybody else, things happen.

"In my marriage, it was just to a point where I felt like divorce was the only option that I had left… I definitely filed for divorce — that's not a lie."
After nine years of marriage, Tamar filed for divorce in October. The split has been very tumultuous with Tamar's mother, Evelyn Braxton, claiming Vince was physically abusive, and Tamar stating in a December Instagram rant that Vince had gotten another woman pregnant.
Even so, Tamar and Vince have been seen together in public on several occasions, including during Tamar's View appearance. Initially sitting in the audience, he was invited to the table to address the allegations that have been charged against him.
"Absolutely not!" Vince said regarding getting another woman pregnant. He continued to address the "other allegations," presumably the assertion that he's been physically abusive towards Tamar.
"All of the other allegations are just not true. I love this lady with all my heart, I love my family with all my heart and I will never stop fighting for my family and trying to make it be great."
Though she is the one who purported Vince got another woman pregnant, Tamar told the View hosts that she now believes Vince. "At this point, I believe that he doesn't have anything to lie about," she said. "I'm already gone, I'm already divorced."
She explained listening to what her "so-called friends were saying" is what sparked her viral Instagram rant.
"And let me just address the meltdown that I had on Instagram. That was my fault that I put myself in a position where I opened up the floor for people to give their opinions on my marriage, and I have to take responsibility for that…. I should have been specific enough to say 'this is what so-called friends were saying.'"
The estranged couple says they are both committed to being good parents to their 4-year-old son, Logan, and their business relationship continues to be strong. However, Tamar is not looking for a romantic reconciliation just yet. "It's OK not to know [if that's possible]," she said.
"Vince and I have been through a lot, and the reason that I filed for divorce was not because of those rumors. I filed for divorce because we work together, he's my baby father, we're together each and every single day, we're attached at the hip and it just got to be too much. We just couldn't figure out how to figure it out."
Meanwhile, Vince eagerly shouted "absolutely" when responding to the question of reconciliation.
While I don't think Tamar and Vince have been stringing us along for the sake of a storyline, it's quite possible we're witnessing another NeNe and Gregg Leakes situation—where the reality couple actually splits, but find their way back to each other at some point.
Be the first to receive breaking news alerts and more stories like this by subscribing to our mailing list.