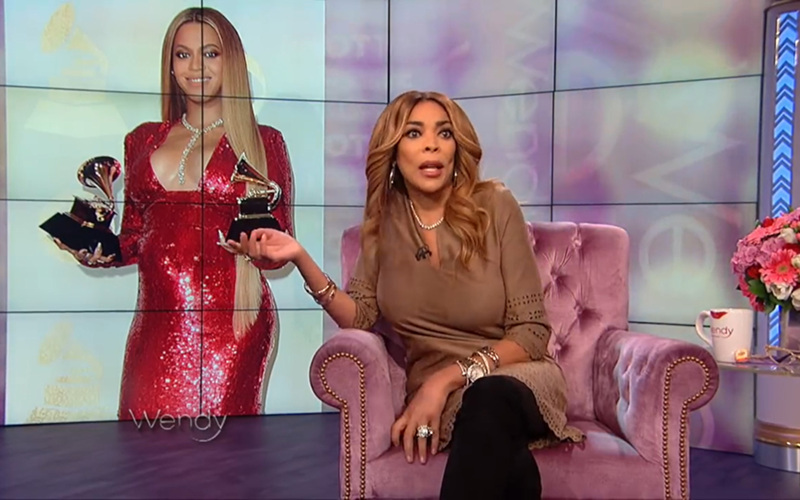 Though Wendy Williams is no longer feeling "flu-ish," the talk show host now has to treat a bunch of bee stings. The BeyHive is swarming Williams after saying Beyoncé needs autotune in order to sing live.
On today's show (Feb. 20), Williams was discussing the backlash Fergie has received following her tragic rendition of the National Anthem at the NBA All-Star Game. The messy host said Fergie can't "raw dog" a performance and needs autotune to sound decent.
She went on to name others she believes can't sing live without assistance, including Queen Bey.
"There are only a few people who can sing raw-dog and Fergie is not one, she needs autotuned. [Jennifer] Lopez needs autotune. And Janet [Jackson] needs autotune. Beyoncé needs autotune."
Williams' audience had a lukewarm reaction to her autotune comments until Beyoncé's name was mentioned. The audience gasped and was definitely hesitant to agree with the host. Williams immediately tried to win them back by lauding the live talents of Aretha Franklin, Mariah Carey, and Adele.
"Adele, Aretha [Franklin], Celine [Dion], Dionne Warwick, and Mariah [Carey], they don't need nothing!"
Nonetheless, the bee's nest was poked and Williams became a trending Twitter topic as Beyoncé stans attacked her for the shady and untrue statement. Fans shared clips of Beyoncé's flawless acoustic live vocals, while also throwing the shade back at Williams.
The Beyhive coming after Wendy Williams after she said Beyoncé needs autotune pic.twitter.com/TiU6hLS0pb

— E (@elledorval) February 20, 2018
https://twitter.com/jr39475490/status/966024007983263744
Wendy Williams: "Beyoncé needs auto tune to sing"

Beyoncé: pic.twitter.com/p5yNWErhPj

— KOSHER (@JRAN_76) February 20, 2018
.@WendyWilliams the crack permanently gone to your brain sis?

— ??????? ?? (@tweetgotsicker) February 20, 2018
I don't agree with @WendyWilliams. Beyonce can sing. I'm not apart of the Beyhive but I've heard her sing a cappella and she sounded amazing

— Devin (@KissesfromDevin) February 20, 2018
https://twitter.com/JamesVol2/status/965993486855131137
Wendy Williams: Beyoncé needs autotune@Beyonce: pic.twitter.com/je8VvMWPUt

— Music Choice (@MusicChoice) February 20, 2018
Now Wendy Williams will think Beyonce did her wrong if she told her she was shaped like Bookman from good times when she was younger pic.twitter.com/TZSqpZ7rjP

— D.T. (@Darlene26811165) February 20, 2018
Somebody said if Wendy Williams could stop focusing on Beyoncé and start focusing on the mistress her husband sleeping around with. pic.twitter.com/y6pdBzkLuM

— Empress_Warrior (@MzZatanna) February 20, 2018
excuse me @WendyWilliams what did you smoke for breakfast?
you gotta be out of your mind to put Fergie, JLO and Beyoncé in the same category when it comes vocals. you need serious help sis. I mean seriously..?
You're cancelled #WendyWilliamsOverParty pic.twitter.com/GBeth1IyXM

— vish | NP ? (@yasiru_vismini) February 20, 2018
Wendy Williams need to have several seats. pic.twitter.com/RqB6iuTkVD

— Kaif (@BaddieKaif) February 20, 2018
Beyoncé when she heard that Wendy Williams said that she needed auto tunes…. pic.twitter.com/f2j1XlcT3k

— TLiMS63 (@peacewyns93) February 20, 2018
This isn't the first time Williams has tried to come for Beyoncé, even questioning her intelligence and stating the Houston native speaks like she has a "fifth grade education."
Despite being dragged by the BeyHive every time, Williams keeps throwing jabs. So, don't expect this to be the last time Williams has something shady to say about Queen Bey.
Be the first to receive breaking news alerts and more stories like this by subscribing to our mailing list.