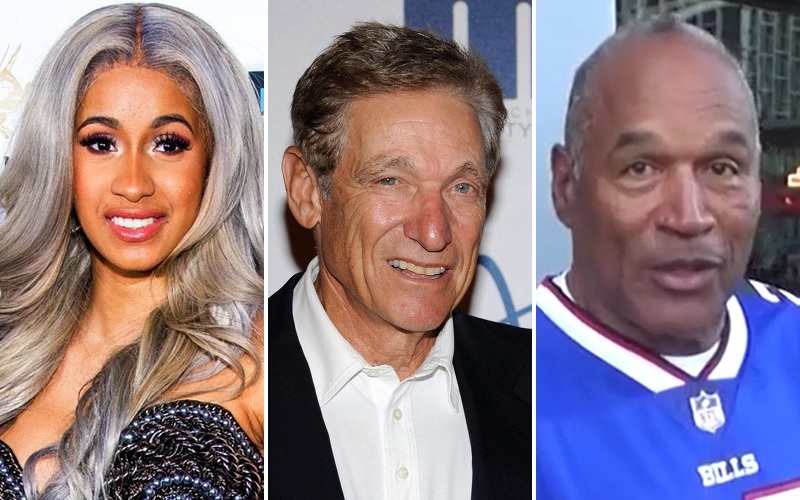 The king of DNA and lie detector tests is offering his services to a few celebrities that may need his help.
Maury Povich is willing to help OJ Simpson and Cardi put an end to the drama in their lives by respectively offering them paternity and lie detector tests.
"I'll help OJ with this DNA drama," the Maury Povich Show wrote in The Shade Room's Instagram comment section regarding Simpson denying he's the father of Khloe Kardashian. "I'll prove he is NOT the father!"
Speculation and rumors that that OJ is Khloe's real father instead of Robert Kardashian have been going around for nearly a decade.
However, earlier this week, Simpson attempted to put an end to the rumors when TMZ asked if congratulations were in order for Khloe's pregnancy. He said he needed no congratulations because he is in no way related to Khloe or her unborn child.
"Well, for Bob, God bless his soul, yeah. But I don't know for me. I don't think for me. I didn't have nothing to do with it…

"Congratulations to her. But trust me, I didn't have nothing to do with it. I would be proud if I had anything to do with it, but I don't. God bless her."
Simpson's real daughter, Arnelle, is seen laughing to the whole insinuation in the background. "Really?!" she added, followed by a definitive, "No."
Simpson was close friends with Robert Kardashian, who also contributed to his defense team during the murder trial in 1995.
And as for Cardi B, Maury wants to get to the bottom of the cheating scandal her fiancé Offset has caused. Uncle Maury tweeted:
.@iamcardib if you ever need a Lie Detector Test or have more relationship drama…you know you can always call Uncle Maury!

— The Maury Show (@TheMAURYShow) January 5, 2018
Several videos of the Migos rapper in bed with other women have surfaced, suggesting he's been cheating on Cardi. She's vaguely confirmed the rumors and said she has a decision to make regarding her relationship.
Maury even spoke to Us Weekly about offering a lie detector test to Offset.
"Cardi B. seems to be having some trust issues in her personal life. My show deals with these types of complicated situations on a daily basis. We would love to help Cardi B. uncover the truth."
It's unlikely Cardi B and Offset and OJ Simpson will appear on The Maury Povich Show, but I'm sure we'd all tune if they did.
Be the first to receive breaking news alerts and more stories like this by subscribing to our mailing list.