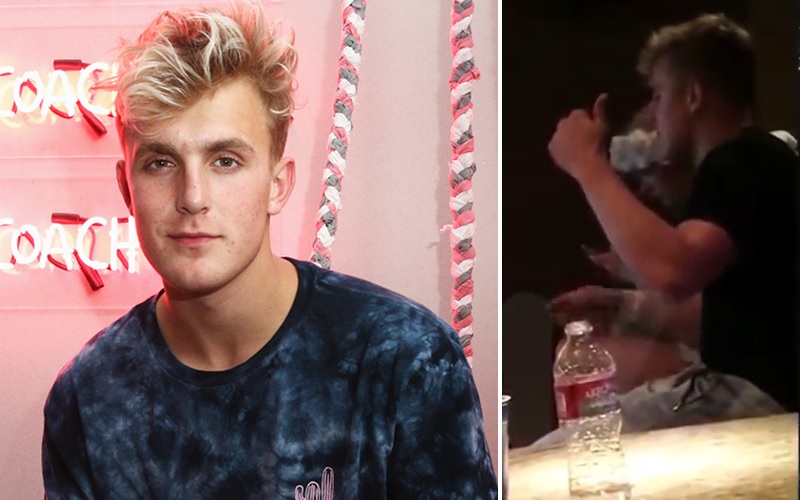 Internet fame really isn't fun when the internet turns on you. YouTube sensation Jake Paul is being called out for uttering the N-word in a "freestyle rap."
Jake's controversy comes just days after older brother Logan Paul was globally shamed after posting a hanging dead body in Japan's "Suicide Forest."
In the leaked video obtained by TMZ, Jake can be heard saying the N-word at least twice as he freestyle raps over Rae Sremmurd's "Throw Sum Mo" beat. Within 7 seconds of the vid, he says "little ass n***as."
He can later be heard rapping: "I whip it like my n***a Richie Vetter, he make the pu**y so wet it gets wetter."
Neither Jake nor his reps have commented on the video. However, a source tells TMZ that Jake is not racist and has "matured a lot" since the video was recorded in 2015.
The source also noted Jake recently collaborated with Rae Sremmurd's Slim Jxmmi for Jake's Christmas album.
However, Twitter seems to be really over the problematic Paul Brothers. After Jake's N-word rap surfaced, the hashtag #JakePaulIsOverParty was created on Twitter.
Logan records a dead body and now Jake is dropping the "N" word. Leave the fucking Paul brothers in 2017!!!! #loganpaulisoverparty #jakepaulisoverparty @LoganPaul @jakepaul

— ???? (@fxck_tali) January 6, 2018
Jake Paul uses the N-word, Logan Paul shows suicide victims online, we gotta throw the whole family away #loganpaulisoverparty #jakepaulisoverparty pic.twitter.com/LywxX8UnNn

— matt ? (@MattMonae) January 5, 2018
we been knew he's racist why yall acting suprised #JakePaulIsOverParty

— asli (@biebsbuterabeer) January 5, 2018
https://twitter.com/jazgee4/status/949414349214425088
https://twitter.com/latiKfans/status/949282019082727429
jake paul never started. stop supporting white men who make racist and sexist comments. #JakePaulIsOverParty

— tyler (@chIorine) January 5, 2018
Buzzfeed News reports the video was recorded during Coachella in 2015 by fellow YouTuber Jeff Cyrus. The 30-year-old says he overhead a then 18-year-old Jake repeatedly saying the racial slur. A shocked Cyrus grabbed his camera.
"I thought 'no one's going to believe me, this kid is using the word so gratuitously', so I filmed it," he said. Cyrus said he confronted Jake about the slur and advised him to "delete that word [from his vocabulary]," but Jake responded with "juvenile BS."
Cyrus says he did not leak the video and suspects one of the three people he shared it with a few months ago may have sold it to TMZ due to the outrage of Logan's "Suicide Forest" video.
Jake is no stranger to controversy and criticism. YouTube twins Ivan and Emilio Martinez accused Jake of bullying and called them "Marteaners," which they believe was based on racist epithet, "beaner."
And in mid-2017, Jake's LA neighbors complained to the media that he was a nuisance and turning the street into a "circus" due to his YouTube antics and stunts. The popular social media "influencer" was subsequently fired from the Disney Channel series, Bizaardvark.
Logan Paul announced he was taking a break from posting videos "to reflect" following the heavy outrage over his "Suicide Forest" video. Jake should seriously consider doing the same.
Be the first to receive breaking news alerts and more stories like this by subscribing to our mailing list.