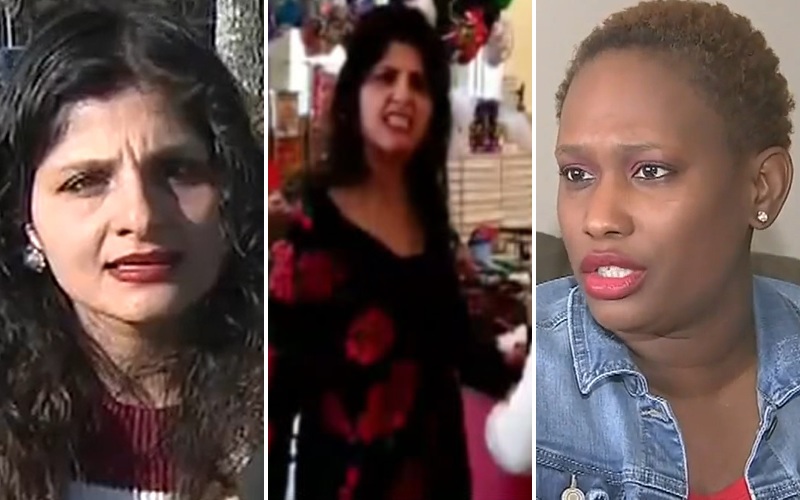 A white woman who spewed a racist rant towards a black Dollar Tree employee claims that she can't be racist because she's an educated former teacher and believes she's actually the victim of racism!
"I wasn't racist initially and I wasn't racist in the middle," Pamela Sharma told Georgia news station WSB-TV news. "It's not until I became the victim of racism."
However, in video footage obtained by WSB-TV, Sharma can be heard making racist remarks like: "You shut up. You're a black slave… your lives don't matter," and "That's why Jesus was white and not black."
She also made racist statements to a black customer. And at one point, Sharma turned to the woman capturing it all go down on camera and said, "Keep recording black mama."
The incident occurred in late December inside a Gwinnett County, GA Dollar Tree after a black employee, Alise Fowler, asked Sharma to hand her the items she no longer wanted to purchase instead of just leaving them at the register.
Fowler told the news outlet Sharma called her a "black b*tch," a "black whore," made threats, and told her to go back to Africa. A crying Fowler says:
"Talking to somebody like that is never okay. Being evil is never okay. She told me to go back to Africa. She told me she'll shoot me. I just can't believe that lady talked to me like that."
According to Sharma, it was Fowler who initiated the confrontation.
"The clerk got agitated and snatched them and said, 'You pieces of trash, why don't you go back to your country.' She's telling me she's going to beat my ass," Sharma said.
Sharma tells the black WSB-TV reporter that she can't be racist because she's an educated former high school teacher. "Individuals who go to be an educator are not racist," she said.
"I have taught at black schools; I've taught at Latino schools. We are going to teach all walks of life. We know that. Do they not know that?"
Both women called the police after the incident. The police report says Sharma did not have a gun on the premises and Fowler decided not to press any charges.
However, Sharma says she would like to sit down with Fowler and have a "heart-to-heart" about their troubling encounter.
I doubt that will happen.
Be the first to receive breaking news alerts and more stories like this by subscribing to our mailing list.