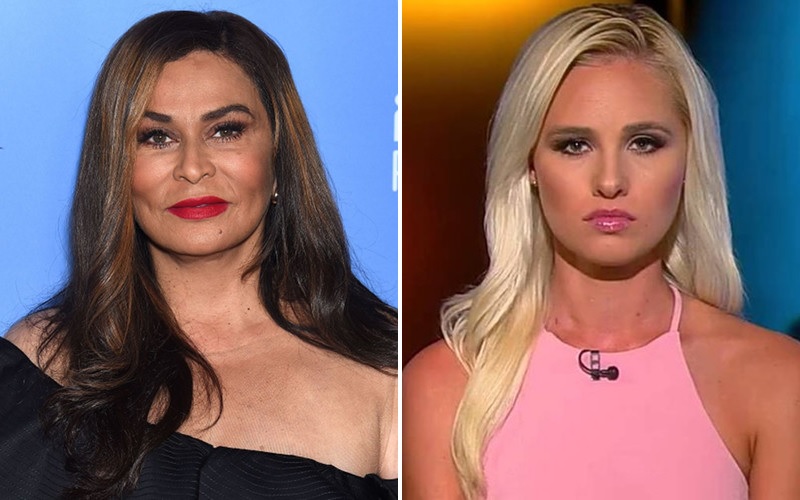 Beyoncé is clearly a woman who can handle herself, but sometimes a mama just has to step in. Bey's mom, Tina Knowles Lawson, is clapping back at Tomi Lahren and all the haters who took issue with her daughter presenting Colin Kaepernick a legacy award.
Earlier this week, Beyoncé surprised Kaepernick as the person to present him the Sports Illustrated Muhammad Ali Legacy Award for his efforts in combating racial injustice and police brutality.
Colin Kaepernick receives the SI Muhammad Ali Legacy Award from Beyonce #SportsIllustrated pic.twitter.com/OZ1PODRQ8l

— Stacy Lambe (@sllambe) December 6, 2017
Beyoncé said in her speech:
"It's been said that racism is so American, that when we protest racism. Some assume we are protesting America. So, let's be very clear. Colin has always been very respectful to the individuals who selflessly serve and protect our country and our communities and our families. His message is solely focused on social justice for historically disenfranchised people. Let's not get that mistaken."
Despite clearly explaining Kaepernick's intention and cause, some right-wing nuts still had a problem with a black person celebrating another black person for fighting for black people.
As their designated spokesperson, Tomi Lahren called Beyoncé "police-hating" and Kaepernick "America-hating" in a tweet. "This is how far we've fallen. Wow," she wrote.
Tina Knowles Lawson responded to the backlash against Beyoncé with a lengthy post on Instagram. She wrote in part:
"When you protest injustice and racism & put a spotlight on it that means that you are being "Un American "or disrespectful to our country! What does that say about this Country…

"The constant smokescreens and deflecting that's done every day is laughable! That is the game that they play with us every day about everything…

"It's very interesting that in Beyoncé speech She makes it crystal clear that Mr. Kaepernick nor anyone else was disrespecting our soldiers or All police officers, who protect us every day and we have the utmost respect for. Or the Flag."
Towards the end of her post is when she really claps back at Tomi Lahren and her crew.
"I just have to say that in my opinion if you are a person that is a good human being and devoid of racism but that when you hear or see injustices being done to someone else and you don't stand up and say something about it, when you can conveniently look the other way, you are complicit in this behavior and are almost as guilty as the person perpetrating it!

"I don't expect everyone to get it!! I do expect that this is going to piss a lot of people off and if it does you are exactly who I'm talking about if the shoe fits wear it!"
Yaaaassss, Ms. Tina! She definitely delivered one strong and mighty read. And I surely hope Tomi Lahren has seen Lawson's post come across her feed. Even though she's not going to comprehend Knowles' words or Kaepernick's case, I just want her to know the queen of the BeyHive got her number.
Following Lawson's post, she went right along with her business. She, Beyoncé and Blue Ivy were caught casually Christmas shopping at a Target in Orange County yesterday.
It's not everyday you see @Beyonce at target ?? pic.twitter.com/3nI8bVqONh

— taylor ? (@MsTaylorOlivia) December 7, 2017
They would've found my body laid out on aisle 7. #Beyonce #Target pic.twitter.com/bWVFnzvdGY

— Pierre-Antoine Louis (@DebonairPierre) December 7, 2017
Be the first to receive breaking news alerts and more stories like this by subscribing to our mailing list.