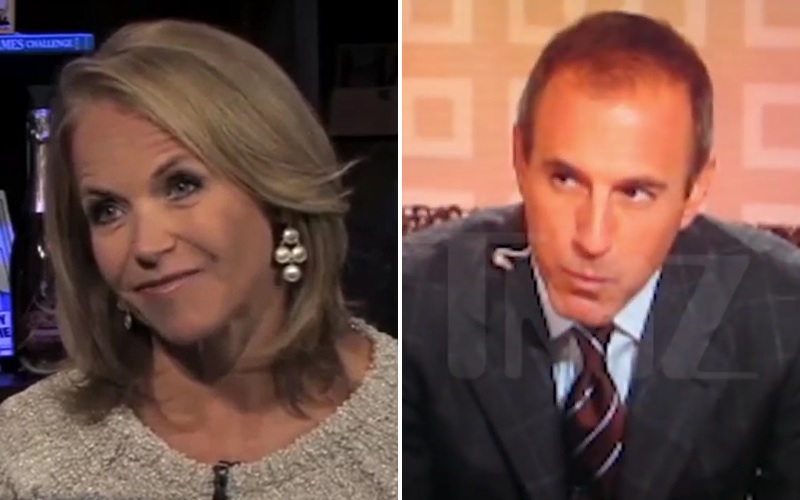 The morning news world is still grappling with the news that longtime Today show anchor Matt Lauer was swiftly fired for "inappropriate sexual behavior in the workplace." However, his former co-anchor Katie Couric spilled some troubling tea about Lauer's behavior way back in 2012.
In light of the Lauer's firing and alleged behavior, a clip of Couric revealing he would often "pinch her ass" has resurfaced. Couric appeared on Watch What Happens Live! with Andy Cohen in 2012 and was playing the fan-favorite game "Plead the Fifth." She was asked what was Lauer's most annoying habit.
"He pinches me on the ass a lot," she answered with a slight grimace followed by a half smile. "Wow! I wouldn't have a problem with that," Cohen joked.
Couric and Lauer served as the official Today anchors for 11 years, with Couric leaving the show in 2006.
Shortly after Couric's 2012 clip resurfaced, a second video leaked. The 2006 clip shows Lauer making a lewd comment to co-anchor Meredith Vieira. "Keep bending over like that. It's a nice view," he said as Vieira was getting mic'd up.
The comment was made during a commercial break and was not broadcast on national television. However, it was picked up by a local NBC affiliate that had remained on the NBC studio feed. Vieira had recently replaced Couric at the time.
In a company memo on Wednesday morning (Nov. 29), NBC News announced the decision to terminate Lauer's employment was made after a colleague filed a detailed complaint on Monday.
NBC did not go into specifics, but anonymous sources tell Page Six Lauer assaulted a staffer during their coverage of the 2014 Sochi Olympics.
The NBC memo noted that this was the first formal complaint against Lauer, but they had "reason to believe this may not have been an isolated incident." It has also been reported that the New York Times had been investigating sexual harassment allegations against Lauer for weeks.
At @Variety, @RaminSetoodeh & I had been working on a Matt Lauer story for months and NBC was aware. There are multiple women we've spoken to with far-ranging accusations against Lauer. The power of journalism has never been more evident with this cultural change.

— Elizabeth Wagmeister (@EWagmeister) November 29, 2017
Variety had been investigating the matter for at least two months. Current and former staffers tell the publication Lauer once exposed himself to a female employee and gave a sex toy to another as a gift. Variety also reports he enjoyed playing "F*ck, Marry, Kill" with his female co-hosts.
Matt Lauer has not commented on the allegations against him nor his firing from the Today show.
Be the first to receive breaking news alerts and more stories like this by subscribing to our mailing list.