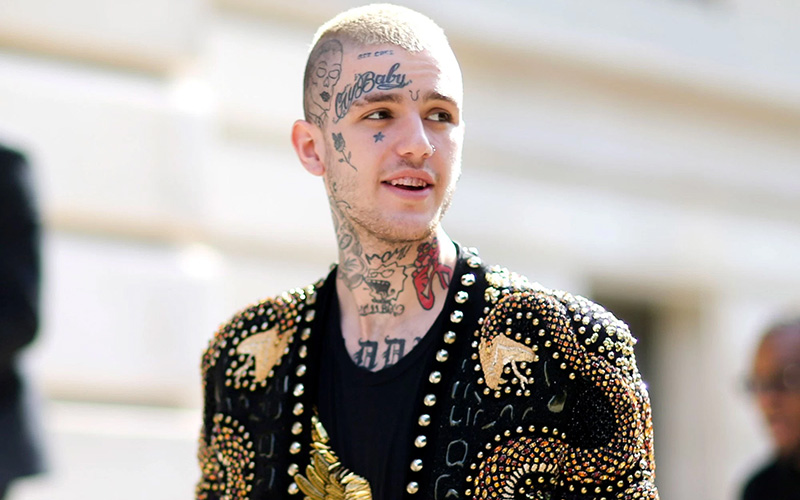 Lil Peep, the 21-year-old New York-based rapper who died as the result of an apparent drug overdose, took a nap right before his concert last Wednesday (Nov. 15) in Tucson, Arizona, and never woke up out of his sleep, a police report has revealed.
According to TMZ, Peep's manager said she saw him early Wednesday on his tour bus and he looked fine. She said Peep took a nap around 5:45 PM PST and when she checked on him a little while later, he was snoring and breathing normally. After she was unable to wake him out of his deep slumber, she decided to just let him sleep.
When another manager went to check on Peep a third time, at around 8:50 PM, the rapper was no longer breathing and was "completely unresponsive," TMZ reported, at which point Peep's team began to administer CPR, which, obviously, was unsuccessful.
A medical examiner for the Arizona county of Pima has ruled Peep's death as a suspected overdose. Law enforcement sources told TMZ there was drug paraphernalia around him and he had likely taken Xanax, though a full toxicology report, which would reveal exactly what was in his system when he died, won't be released for another several weeks.
A video showing Peep right before he was found dead on his tour has been heavily circulated online. The footage was recorded by his best friend, fellow rapper and tourmate, Bexey. The clip was initially shared on Bexey's Instagram story, but was deleted after he found out his friend, who he considered a brother, had died.
"My brother just died in my arms, man," Bexey said in a subsequent video posted on his Instagram page. "I'm done with this sh*t, man, forever. F**k this sh*t."
After receiving backlash from fans for showing his friend's final moments, Bexey wrote in a profanity-laced post on Instagram that he had no idea he was recording Peep's final moments alive.
"THAT VIDEO I POSTED.. I WOULD SEE PEEP WITH HIS MOUTH OPEN AND HEAD BACK ASLEEP LIKE THAT NEARLY EVERYDAY.. I WAS RECORDING HIM ASLEEP. IF YOU SERIOUSLY THINK I WOULD RECORD MY BROTHERS DEAD BODY AND MAKE A JOKE ABOUT IT YOU ARE SICK IN THE MIND.. F**K YOU."
Be the first to receive breaking news alerts and more stories like this by subscribing to our mailing list.