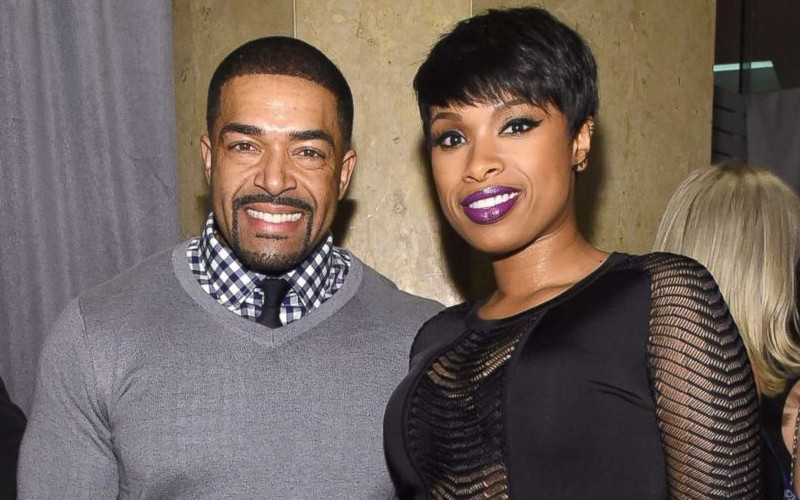 The recent split between Jennifer Hudson and David Otunga is about to get really messy. The singer has filed a protective order against Otunga, claiming the former pro wrestler has become "aggressive" and "threatening." He's been ordered to stay away from his ex-fiancée and their 8-year-old son.
Stating Otunga exhibited "aggressive, threatening and harassing behavior toward me," Hudson obtained a protection order against him. "I am now living in fear of further action David might take," she said.
After nearly 10 years together, the couple reportedly broke up several months ago. However, Otunga remained in the couple's home (which is owned by Hudson) and provided "residential care" for their son, David Jr., while Hudson constantly traveled for work (like Keyshia Cole and Daniel "Booby" Gibson).
However, with each fighting for full-custody of the 8-year-old, the split has become contentious and a custody battle is brewing. Things came to a head on Wednesday night (Nov. 15) when Otunga became physical after accusing Hudson of dating a producer and getting his son involved in the matter.
Hudson described the frightening details in legal documents obtained by TMZ:
She claims on Wednesday she was at a recording session in Chicago with their son, David Jr., and David made a series of phone calls to reach her. When he couldn't get her, he asked their son to record the scene. Hudson says David wanted their son to show she was dating one of her producers … something she denies.

She says when she got home David was visibly angry, grabbed David Jr. by the hand and physically pushed Hudson out of the master suite. She claims their son, a makeup artist and an assistant all witnessed the incident.
Hudson also detailed a separate incident in which she claims Otunga taunted her with a gun. He left a gun and holster on the kitchen counter, but claimed it was a movie prop.
"David knows that I am and have been very sensitive to firearms after my mother and my brother were murdered," Hudson stated. "I believe that he left it out to taunt, intimidate and frighten me, which he absolutely accomplished."
Cops arrived at Hudson's Chicago home on Thursday and removed Otunga from the residence. He's been ordered to stay away from Hudson and David Jr.
David Otunga denies these allegations. His lawyer, Tracy M. Rizzo released a statement to People magazine:
"As a result of Mr. Otunga's career in the WWE, Ms. Hudson felt that she could give an award-winning performance in court to portray herself as the victim. Mr. Otunga has never abused or harassed Ms. Hudson or their son, and it is unfortunate, especially in today's climate, that she would feel the need to make these false allegations against him. Mr. Otunga looks forward to his day in court and in being awarded the residential care of the parties' only child."
Rizzo also described the order of protection as "meritless" and accused Hudson of trying "to gain an unfair advantage in the custody dispute."
TMZ also confirmed that Chicago police had opened a domestic battery investigation in the matter, which is classified as a misdemeanor.
Be the first to receive breaking news alerts and more stories like this by subscribing to our mailing list.