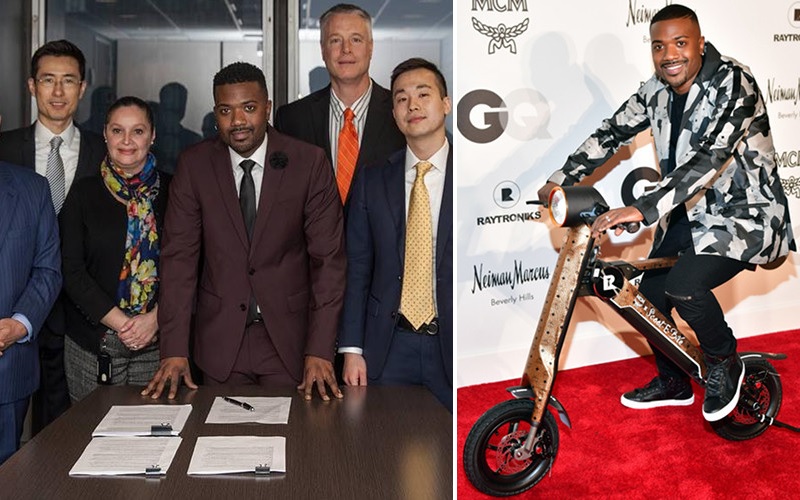 When Ray J debuted his Scoot-E Bike in 2015, I'm sure I'm not the only one who gave him a side-eye accompanied with a "Whatchoo doin?!" As it turns out, the entertainer knew exactly what he was doing and just signed a massive million-dollar deal to produce a brand of electronic transportation.
It was announced last week (Thurs, Nov. 9) that Ray J sealed a $31 million deal with Cowboy Wholesale to launch a line of electronic transportation under his own brand, Raycon. A press release regarding the deal says Ray will have "an active full-time role" in the partnership and will "oversee marketing and global branding strategy."
Cowboy Wholesale added:
As the entrepreneurial CEO of his own electronics brand in 2015, Ray J is best known for popularizing the Scoot-E-Bike, a foldable, two-wheeled electric vehicle. Today, Ray J believes Raycon is the next evolution for his business ventures. With a family of innovative, high-demand electronics designed and backed by celebrities, Raycon addresses the everyday needs of the urban technophile, focusing on impactful electric transportation.
Though the $31 million is a sweet deal, Ray seems to be eager to produce clean transportation. "The world is moving towards renewable green energy, and electric transportation is a big part of that. With the Raycon movement, we are going to make sure we are one of the first ones there," he said.
Raycon products are expected to officially launch in mid-November and will be available at RayconGlobal.com.
Be the first to receive breaking news alerts and more stories like this by subscribing to our mailing list.