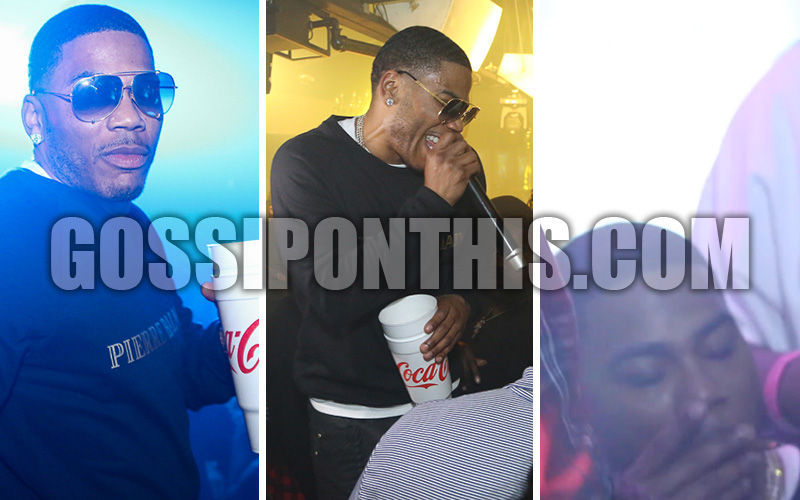 Nelly was spotted at Opium nightclub in Atlanta, Georgia last weekend (Sat, Oct. 21) hosting their weekly "Opium Saturdays" series.
This is one of the rapper's first public appearances (not including concert performances) since his arrest earlier this month after a woman accused him of raping her on his tour bus.
Nelly's first gig since getting arrested was a couple of weeks ago in South Florida, where T.I. pledged his allegiance to his longtime friend and gave him some brotherly advice. "Put that bullsh*t behind you, get back to being great, get money," Tip said. "F**k what a hater got to say."
Last Saturday in Atlanta at Opium, Nelly hung out in the club's VIP section, popped some bottles and smoked on some of that good loud aka gas aka "dank" (i.e. really good great weed for the uninitiated).
And how do we know it was good loud/gas, you ask? Because we were right there, and it smelled like "GOOD GAS," which is par for the course for someone in Nelly's position, especially with him dealing with those rape allegations.
Speaking of that, the latest with the situation is that his rape accuser is refusing to testify and has dropped her case against him, but Washington police still intend to move forward with their investigation with or without her testimony.
Other celebs spotted partying with Nelly at Opium Atlanta last Saturday included Bow Wow, Jermaine Dupri, Tiny Harris and Karrueche Tran.
Check out the pics/video footage below:
Be the first to receive breaking news alerts and more stories like this by subscribing to our mailing list.