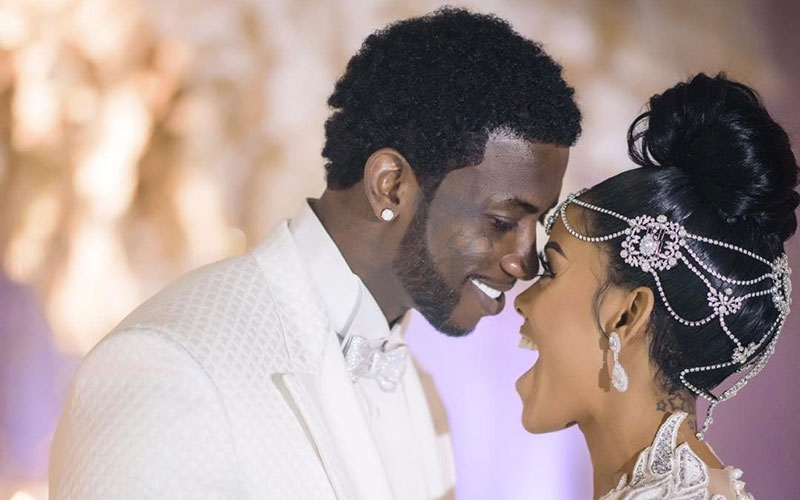 Gucci Mane's new wife Keyshia Ka'oir has finally broken her silence about reports she left three children back in her home country of Jamaica.
Last December, a rumor popped up suggesting Keyshia Ka'oir had abandoned her kids, leaving them behind in Jamaica while she pursued a modeling career here in the United States. And those rumors resurfaced on social media this week when her and Gucci Mane's "Mane Event" live wedding special aired on BET.
On top of that, rapper turned YouTuber Khia blasted for Keyshia for allegedly neglecting her children and her Jamaican family. "We wanna know where are the children," Khia said. "You left a family behind, you left your children behind, none of your original family and friends is in the wedding on the 'Mane Event.'"
Making matters even worse, the day after the special aired, a woman named "Tanya Dazzle" came out of nowhere and took to Instagram claiming to be Keyshia's sister and expressed how disappointed she was to be left out of the all-white affair, which was held at the luxurious Four Seasons hotel in Miami.
https://www.instagram.com/p/BaZIxQpHsV8/
At first, Keyshia appeared to ignore the rumors, but it seems like she's had enough and she has decided to speak out against the allegations, which she says are completely false.
Keyshia didn't elaborate on where her children are exactly, but based on her statement, they're all present and accounted for right here in the U.S.
"I DO NOT HAVE THREE KIDS IN JAMAICA!" she tweeted in all caps. "I DO NOT HAVE A SISTER! I'M THE ONLY GIRL! I HAVE 3 BROTHERS & ONE IS DEAD!"
I DO NOT HAVE THREE KIDS IN JAMAICA!!!!!!!!!!!!!!!!!!!!!!!!!!!!

— Keyshia Ka'oir Davis (@KeyshiaKaoir) October 19, 2017
I DO NOT HAVE A SISTER !!! I'M THE ONLY GIRL! I HAVE 3 BROTHERS & ONE IS DEAD!

— Keyshia Ka'oir Davis (@KeyshiaKaoir) October 19, 2017
Though Keyshia claims to be 32 years old, Fameolous says she's actually 38 and she has FOUR children (and not three as previously believed). One is 18 years old and on their way to college, while the other three are between the ages of 12 and 15. "Keyshia Ka'oir is 38 and left Jamaica when she was kid and has not returned," the site reported. "Her kids have never been to Jamaica in life."
Apparently, Keyshia's kids live with her and Gucci Mane, and the couple is very private about them because they don't want them in the public eye. However, two of Keyshia's children (her son and daughter) did reportedly make quick appearances during the wedding as seen in the screenshots below: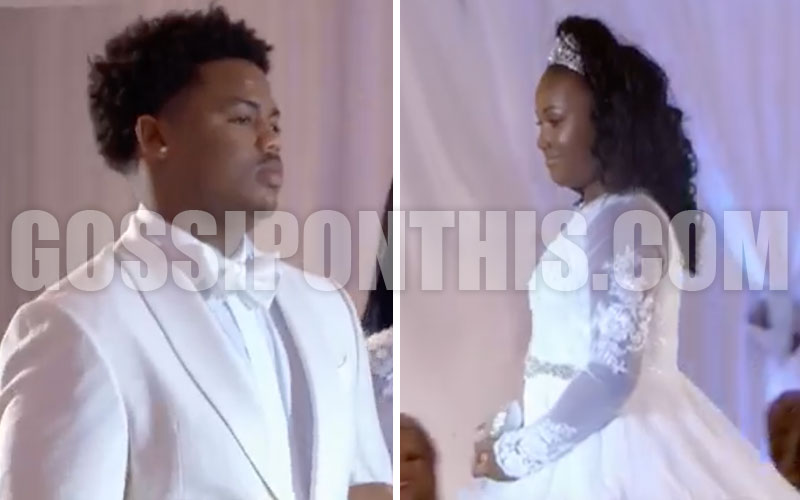 In a preview for Gucci and Keyshia's upcoming reality show, there's a clip of Keyshia being questioned about her children during a radio interview, so it looks like this isn't the last time we'll be hearing about this subject.
Be the first to receive breaking news alerts and more stories like this by subscribing to our mailing list.