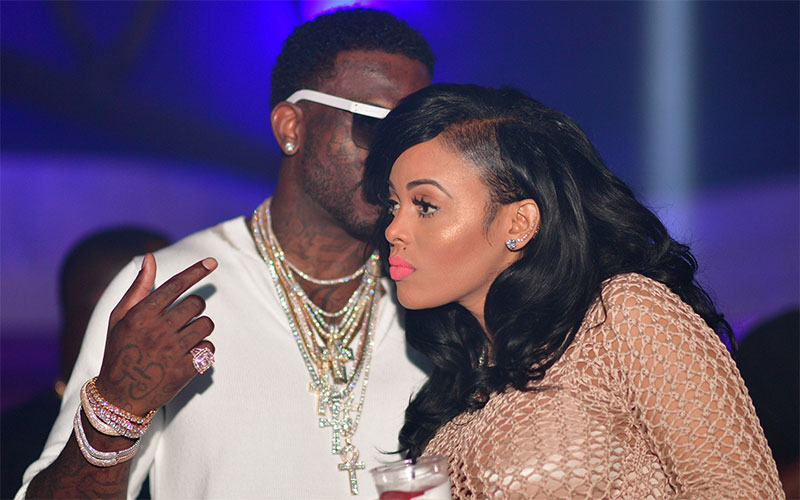 Word on the street is that Gucci Mane's new wife Keyshia Ka'oir, for reasons unknown, has "secret children" and she's supposedly hiding them somewhere in Jamaica.
As Keyshia Ka'oir was preparing for the biggest day of her life—her wedding to the trap god we know and love as Gucci Mane—rumors were resurfacing regarding the former video vixen's past.
According to the rumor mill, Keyshia has three children from previous relationships (a teenager, one currently in middle school and another in elementary school) that she practically abandoned in her home country Jamaica in order to pursue a career in music and modeling here in the United States.
Word is she doesn't really publicly acknowledge her kidsbecause she doesn't want people to know that she (allegedly) doesn't take care them, or at the very least, left them in another country for someone else (her mother, according to rumors) to raise them while she lives her life child-free in the U.S.
The rumors have been swirling for several years, but they have picked back up more recently due to Keyshia's upcoming "Mane Event" wedding special with Gucci Mane, which airs LIVE on TV tonight (Tues, Oct. 17) on BET.
So where are Keyshia Ka'oir's kids? Does she even HAVE three kids? Are they really living in Jamaica with her parents? And why is she hiding them from the world? So many questions, and not enough answers. But Twitter has been talking about it for the past couple of weeks and even moreso today, with users posting memes and jokingly asking if they'll be at the wedding:
Wait so Keyshia Ka'oir has 2 kids that she left in Jamaica?!

— Petty LaBelle (@_JanayMarie) October 17, 2017
Keyshia ka'oir really got kids she don't claim pic.twitter.com/rJE5s6t8lP

— nae (@EpitomeOf_Nae) October 17, 2017
I wonder if Keyshia Ka'oir kids gonna be at the wedding ?????

— ? Alex ?? (@cookaineee) October 17, 2017
What's the story about Keyshia Ka'oir and her kids?

— Kay Nicole? (@KayyRiv) October 17, 2017
While most of Twitter is either questioning Keyshia, making jokes/memes or simply surprised that she even has children, others are defending her and asking for the receipts:
Lmao this rumour about Keyshia Ka'oir having kids… proof is where? People really don't want that woman to be great.

— dirty diana. (@NalaMonroe) October 17, 2017
Im Tired Of Mafuckas Talking About Keyshia Ka'oir… You Bitches Leave Yall Kids Everyday & Weekend To Get High And Do Dicks????????

— RemyGang_DreDae (@RemyGang_DreDae) October 17, 2017
I know a hater made up that Keyshia Ka'oir has kids….

— hotgurl. ?? (@ColorMeFiercexx) October 17, 2017
Y'all worried about Keyshia Ka'oir having kids when your man don't even claim all of his ?

— Tae T (@__Rocka) October 16, 2017
I really hope Keyshia Ka'oir say something about these kids so everybody can shut up. She said some about having a daughter on #thereal tho?

— MARKiA??? (@iAllure_) October 17, 2017
For Everyone Wondering if Keyshia Ka'oir has Kids! Welp, She Claims a Daughter ? Maybe She'll be at the Wedding ? pic.twitter.com/kcEkvBkZq0

— ?FatAssKellyPrice? (@MrsOliviaBenson) October 17, 2017
There's a video floating around on social media (above) showing Keyshia briefly talking about her daughter on "The Real," but she didn't mention any other kids.
This isn't the first time rumors of Keyshia Ka'oir allegedly abandoning her children in Jamaica has taken over Twitter either. Back in December 2016, right after Gucci Mane's interview with the Breakfast Club hit the internet back, one Twitter user sparked a big discussion on the social media and the blogs with this tweet:
https://twitter.com/ErikaBaDoIt/status/809865791273390081
Her next tweet accused Gucci Mane of practically doing the same thing with his son, though Gucci has recently revealed himself (via his autobiography) that he does, in fact, have a son who is about 10 years old.
https://twitter.com/ErikaBaDoIt/status/809869663374954497
https://twitter.com/ErikaBaDoIt/status/809872128506036224
And this is how Twitter reacted at the time:
Wait Gucci's fiancé has 3 kids that she left behind in Jamaica? pic.twitter.com/foLrRvIV71

— Micah Bell ?? (@Taden90) December 16, 2016
so Keysha left her 3 kids in Jamaica to be a video vixen and still hasn't sent for them???! Held Gucci down but not her own children?? pic.twitter.com/BH7QNseGFH

— Scary Spice (@LilPettyyyy) December 16, 2016
https://twitter.com/__JuicyJess/status/810318840018178048
Keyshia Kaior left her 3 kids behind in Jamaica, ? if that's true why tf they not here in the states ?

— Muva Makeup ?? (@Lil_Lexo) December 17, 2016
If Keyshia Kaior really got kids then she flaw asfuck ?? bring they ass to America tf all them bedrooms

— #NGM Zahr? (@ovozahr) December 17, 2016
Mannnnnnnn…. Do y'all have the ocular proof that Keyshia Kaior is a mother of 3 & one of her kids is eligible to vote?

— #23DaysofCrum (@crum808) December 17, 2016
How y'all know Keyshia Kaior doesn't have any relations with her kids? Cause a gossip blog told y'all so? Man y'all really lost smh

— RoadRunnaRick (@iRickFlair) December 17, 2016
At the moment, there are no confirmed reports from any credible sources that Keyshia even has three children that she's "hiding" from us, and other than the initial tweet from @ErikaBaDoIt, we have no idea where the rumor even come from or how it got started.
For the record, Fameolous says that Keyshia Ka'oir does, in fact, have kids, but we're still waiting on that confirmation from Mrs. Gucci Mane herself.
https://twitter.com/fameolousent/status/920342770341969920
Gucci Mane and Keyshia Ka'oir's wedding will air LIVE from Atlanta tonight on BET at 10 p.m. EST. Keyshia shared photos of her and Gucci Mane dressed in all red at their rehearsal last night:
Be the first to receive breaking news alerts and more stories like this by subscribing to our mailing list.