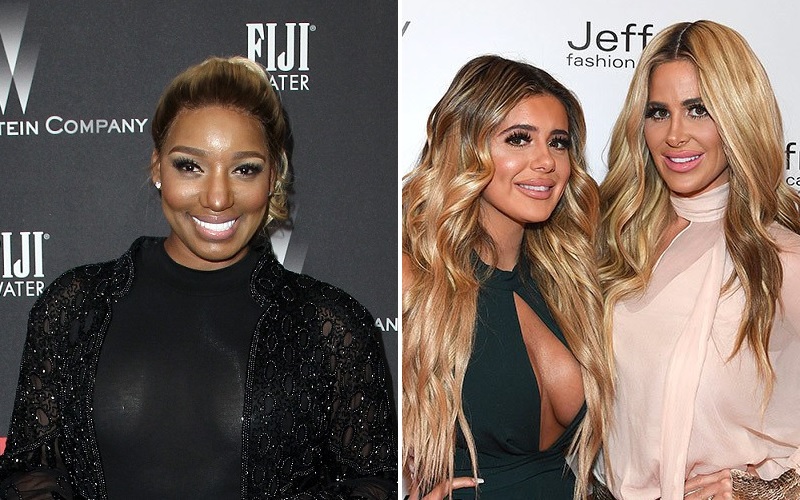 We all knew it was inevitable, but I don't think any of us thought it would go down quite like this. NeNe Leakes and Kim Zolciak-Biermann's longtime feud has officially been reignited. The two have blasted each other on social media and NeNe goes as far as to call Kim and daughter, Brielle, racists.
As The Real Housewives of Atlanta cast was flying back from their Barcelona getaway on Wednesday (Oct. 4), NeNe posted a selfie on Instagram and with a cryptic caption about going back to her "roach infested brand new home."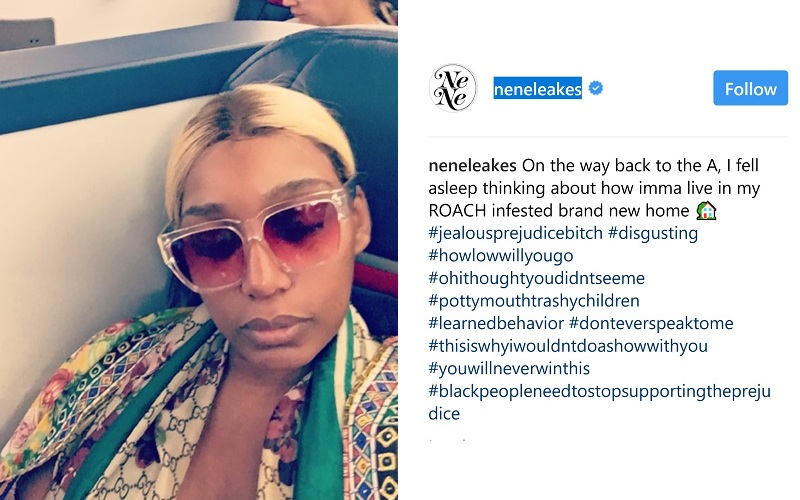 We now know the caption was in reference to a video Kim's daughter, Brielle, recorded at NeNe's house during her White Party back in July. Brielle shades NeNe's bathroom and then captures a big insect, which she and Kim apparently thought was a roach.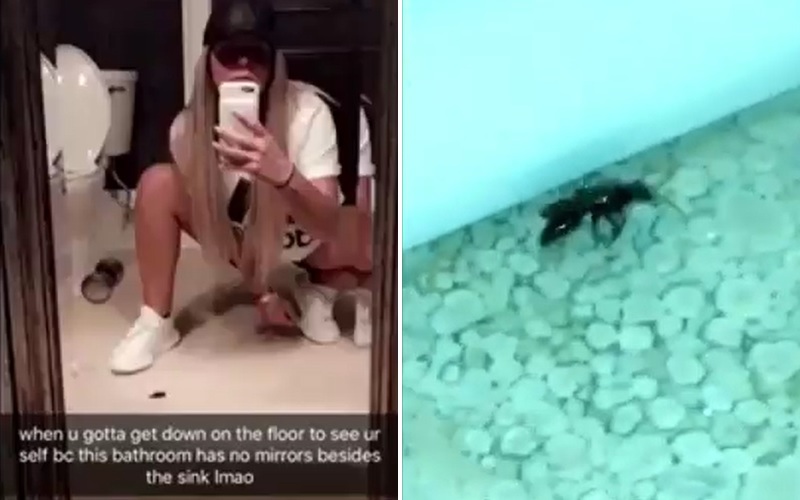 NeNe posted the video in question on her Instagram on Thursday (Oct. 5) and went all the way in on Brielle. "We don't have roaches! If you found 1, u brought it with u or it fell outta yo funky p*ssy!" she wrote in part. She goes on to refer to Brielle as a Kylie Jenner wannabe and calls Kim and her daughter "racist trash."
"@briellebiermann We don't have roaches! If you found 1, u brought it with u or it fell outta yo funky p*ssy! Please know I will get You all the way together when you start f***ing wit me and mine! Go somewhere and let the air outta those fake lips, fake titties and fake ass because you will never be @kylejenner Yo trashy mama should have taught you better!"
https://www.instagram.com/p/BZ4gJ7ynD20/?taken-by=neneleakes
In the comment section on a RHOA Instagram fan page, NeNe called Kim's entire family racist. She also said that Kim is bipolar and uses "black folks for her come up."

Kim responded by posting a screenshot of text message conversation—presumably with someone from the RHOA cast—and asked them not to tell NeNe about the video because she "felt bad" about it.
Kim claims that Brielle didn't notice the insect in her Snapchat video until someone brought it to her attention. She then took down the Snap and privately sent her mother the close-up shot of the insect. Kim says that she and Brielle were the only people to see the "cockroach video" until NeNe (and RHOA) released it for ratings.
"First off that video is a combination of 2 videos! I COMBINED THEM… No one has EVER seen this video but RHOA! Nobody would have ever seen this video!

"Nene has said and done some things that are absolutely disgusting, however I will take the high road as you will see it on the show soon enough, but you WILL NOT make it seem as though my daughter did ANYTHING wrong! She never posted this video nor would she!"
https://www.instagram.com/p/BZ4mESgBmGO/?taken-by=kimzolciakbiermann
Kim also made a separate IG post addressing NeNe's allegations that she's racist:
But Queen NeNe was not done. She responded to Kim's "pitty post" and explained on IG that Kim sent the roach video to Sheree Whitfield, Cynthia Bailey, Porsha Williams, Kandi Burruss, and Marlo Hampton while the cast was filming in Barcelona.
NeNe claims Kim was not invited to her White Party, but came as Sheree's plus one and Brielle tagged along. She says the mother-daughter duo were disrespectful in her home, yet she showed them kindness. She surmises the video was "calculated" and shows how low Kim is willing to go.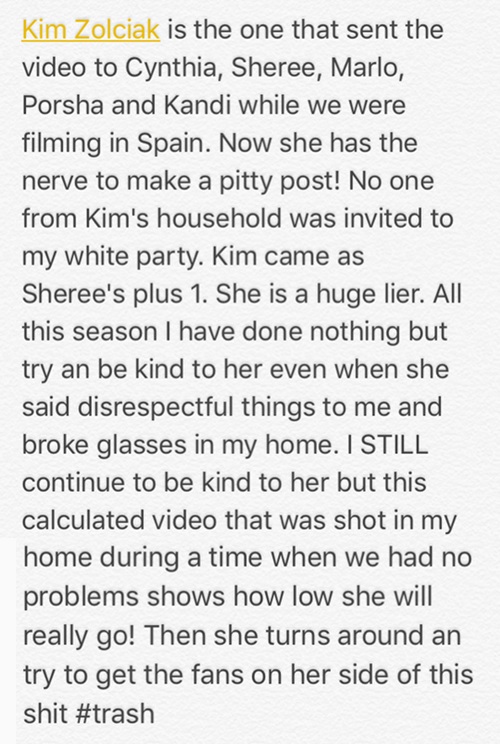 Though it was her video that sparked the feud, Brielle has pretty much stayed out of the social media war between her mother and NeNe. However, she did respond to a comment on her own IG page after a user accused her of calling NeNe a "black roach."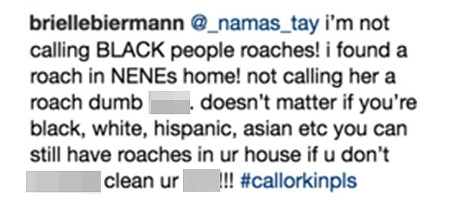 Kim and husband Kroy Biermann appeared on Watch What Happens Live! on Thursday. However, the new episode was pre-taped and she didn't say anything negative about her frenemy nor did she address their latest feud.
"I love [NeNe] always will, we started together so. NeNe, Kim and Shereé have a major connection. There was a lot of drama there."
The RHOA cast returned from their Barcelona trip earlier this week. However, Kim decided not to go at the last minute, hinting on social media that drama within the group factored into her decision.
A source tells LoveBScott.com NeNe and the other ladies disinvited Kim because she wanted to bring Kroy on the all-girls trip. They called Kim during the trip and somehow Kim ended the conversation mad at NeNe and subsequently sent the "roach video" to Sheree. And that's how this whole thing blew up.
And to think, Kim is only a part-time cast member for season 10! The Real Housewives of Atlanta returns November 5 on Bravo.
Be the first to receive breaking news alerts and more stories like this by subscribing to our mailing list.