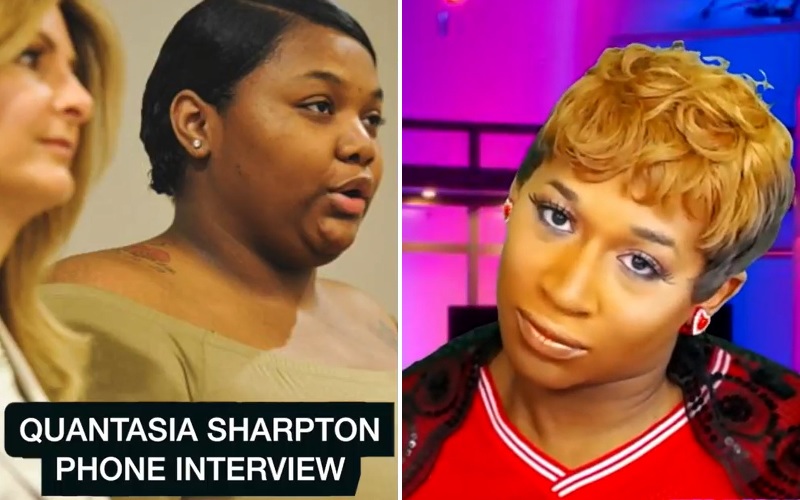 We haven't heard from "Quantasia the Scammer" in a minute. Well, she's back and she just dropped another major (alleged) bombshell!
Quantasia Sharpton is one of the several people suing Usher for failing to disclose to them he has herpes before engaging in sexual activities with them. While many have questioned her case against the singer, she just claimed she has video evidence to help prove she hooked up with Usher.
And by "video evidence," she means a whole sex tape!
In an interview with YouTube vlogger Miss Jacob Kohinoor on Tuesday (Sept. 5), Sharpton claimed she recorded her 2014 sexual tryst with Usher and has saved the videos on her phone.
Kohinoor found it hard to believe a celebrity of Usher's stature would allow himself to be filmed. But, Sharpton insisted the singer knew. "Dead ass serious. That's what I keep saying. People lie, but video don't," Sharpton said.
She also told the YouTuber she did not hold onto the alleged video for so long as blackmail or for malicious intent, claiming she saves everything on her phone in general.
Kohinoor still wasn't buying the 22-year-old's story. The host questioned how Sharpton was going to prove Usher never informed her he had herpes and even went after her lawyer, Lisa Bloom, claiming Bloom is only seeking fame.
However, Sharpton defended her lawyer saying she wouldn't have taken the case if there wasn't some validity to her allegations (presumably referencing the "sex tape"). She also revealed Bloom is currently requesting security footage from the Days Inn hotel where Sharpton claims she and Usher hooked up.
An employee at the Days Inn in question has already come forward claiming she saw Sharpton and Usher together a little after midnight on the night Sharpton says everything went down. The staffer remembers because she asked the singer for an autograph, which she never got.
Social media has labeled Sharpton a scammer because she confirmed that she doesn't even have herpes and it has been revealed that she has attempted to scam other celebrities in the past. People who personally know her also say she has a history of telling major lies.
Usher has denied hooking up with Sharpton, first saying she wasn't his type and then claiming he was in a relationship with his now-wife and wouldn't have cheated on her.
Despite this new development, I'm still inclined to believe Quantasia is scamming us and that there is no sex tape. And we probably won't be able to see it even if there was one because it would be used as evidence in the case and Sharpton says she has no intentions of releasing it herself.
Be the first to receive breaking news alerts and more stories like this by subscribing to our mailing list.