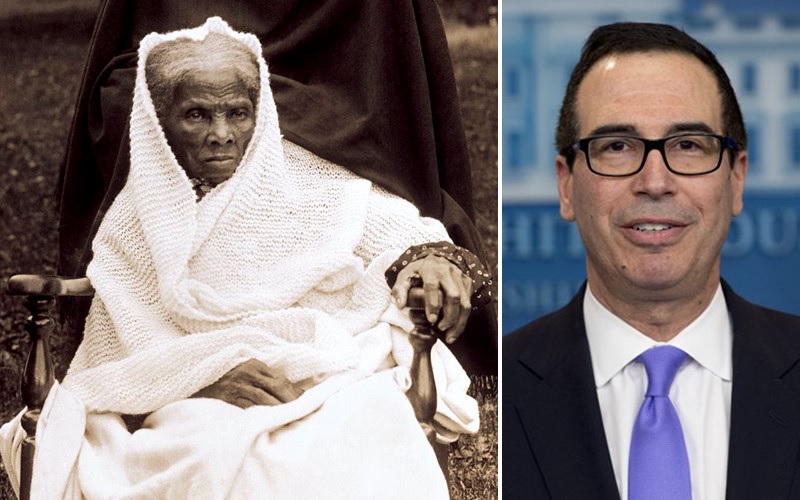 45 and his crew are certainly doing a horrible job at trying to convince us they're not a bunch of racists. The Secretary of Treasury gave us one more example of how much this current administration hates black people by failing to support putting slavery liberator Harriet Tubman on the $20 bill.
RELATED: Ben Carson Thinks Harriet Tubman Should Be on the $2 Bill Instead of the $20 Bill
In a Thursday (Aug. 31) interview on CNBC, Treasury Secretary Steven Mnuchin said honoring a decision to replace 7th US President Andrew Jackson with an image of Tubman was not one if his primary concerns. He even dismissed the idea again after the interviewer noted the "cultural aspects" of putting a black woman's face on US currency.
"Ultimately, we'll be looking at this issue. It's not something that I'm focused on at the moment…

"People have been on the bills for a long period of time. This is something we'll consider. Right now we have a lot more important issues to focus on."
Steve Liesman: Do you support Harriet Tubman on $20 bill?

Steve Mnuchin: "It's not something I'm focused on."

It's a Yes or No question! pic.twitter.com/XjFr92JgOg

— Keith Boykin (@keithboykin) August 31, 2017
Mnuchin defended side-skipping the question by explaining his main concern in preventing counterfeiting and changes to currency could pose security concern.
The former Treasury secretary (under President Barack Obama) announced the decision to put Tubman on the $20 bill in April 2016. Jackson's image would be moved to the back of the bill. Then-candidate Donald Trump called the decision "pure political correctness."
Mnuchin's comments got a collective side-eye from Twitter and caused Harriet Tubman to become the No. 2 trending topic (only behind the reported ending of DACA, another racially motivated move by 45).
Steve Mnuchin: We might not put Harriet Tubman on the $20 bill.

Everyone who is NOT a straight white man: pic.twitter.com/DmlEovWgR0

— TrumpsTaxes (@TrumpsTaxes) August 31, 2017
$1 – white guy
$5 – white guy
$10 – white guy
$50 – white guy
$100 – white guy

"Let's do Harriet Tubman on $20."

"STOP ERASING WHITE GUYS" https://t.co/j7osOBW2Kg

— Charlotte Clymer???? (@cmclymer) August 31, 2017
Has there ever been a larger selection of bait and switch artists in the WH? Why would Harriet Tubman NOT be on the 20 $ bill Mr. Mnuchin?

— Steve Redmond (@sjredmond) August 31, 2017
https://twitter.com/jsench/status/903337257893015556
So Mnuchin won't commit to Harriet Tubman on the $20. I'm marking everything that comes out of an ATM for a month in his honor. pic.twitter.com/2WNMbvYmGf

— David Simon (@AoDespair) August 31, 2017
A Harriet Tubman $20 is not a priority for Trump's team..

BUT DAMMIT WE GOTTA KEEP THOSE CONFEDERATE PARTICIPATION TROPHIES FOR ALL TO SEE!

— Tony Posnanski (@tonyposnanski) August 31, 2017
Harriet Tubman, a blk woman who literally freed the slaves vs white men who owned slaves…interesting?

— toys for thots (@navyplush) August 31, 2017
"Harriet Tubman" a former slave who assisted other slaves, was scheduled 2 be honored on a $20 Bill. Now the Trump Racists are reconsidering pic.twitter.com/LBuwI1FTD8

— A.Silver-MeMEs & GIFs (@SilverAdie) August 31, 2017
Republicans commit to keeping statues of racist, slave-owning Confederate generals but balk at Harriet Tubman. Seems about right. https://t.co/MrQJX6rxUx

— Denizcan Grimes (@MrFilmkritik) August 31, 2017
Steve Mnuchin: "I would be fine with "Harriet Tubman" on the $20 bill if she were only a little whiter and a real American."

— Michael Coates ?????? (@Jukehorse50) August 31, 2017
Treasure Secretary Mnuchin says he's not committed to putting Harriet Tubman on the $20 bill. pic.twitter.com/U1EWwMMWck

— AJ+ (@ajplus) August 31, 2017
Designs for Tubman's $20 bill and a $10 bill honoring the 100th anniversary of the 19th amendment—which gave women the right to vote—were to be revealed by 2020. A spokesperson for the Treasury Department did not elaborate on Mnuchin's comments, but did note no new bills are scheduled to go into circulation until 2026.
Be the first to receive breaking news alerts and more stories like this by subscribing to our mailing list.