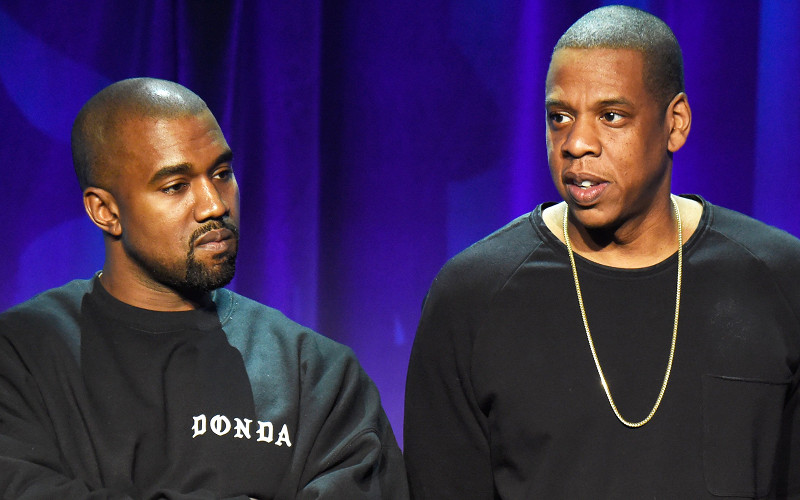 The hip hop bromance between JAY-Z and Kanye West just might be over with for good. Jay reveals in a new interview that Kanye crossed the line when he ranted about Beyoncé and Blue Ivy and it caused major damage to their friendship.
JAY-Z appeared on the Tidal exclusive podcast Rap Radar on Friday (Aug. 18) to discuss the creative process and marketing strategy of 4:44, as well as aspects of his personal life.
While discussing the album's first track, "Kill Jay Z," which name drops Kanye, the rapper was candid on their currently strained relationship. "It's not even about Kanye. It really isn't. His name is there, just because it's just the truth of what happened," he begins.
"But the whole point is 'You got hurt because this person was talking about you on a stage.' But what really hurt me was, you can't bring my kids and my wife into it. Kanye's my little brother. He's talked about me 100 times. He made a song called 'Big Brother'" We've gotten past bigger issues. But you brought my family into it. Now it's a problem with me. That's a real, real problem. And he knows it's a problem."
Kanye let the public in on his grievances with Jay Z during an October concert in Seattle after blasting his friend for not calling after his wife, Kim Kardashian, was robbed at gunpoint. He went on to claim that their daughters Blue and North West have never played together.
In another onstage rant, shortly before his breakdown, Kanye went after Beyoncé for allegedly refusing to perform at the VMAs unless she was guaranteed she would win Video of the Year, a category Kanye was also nominated in.
Kanye has also been vocal about his dissatisfaction with Tidal, officially splitting with the streaming service in July and claiming he's still owed $3 million.
JAY-Z told Rap Radar hosts Elliot Wilson and Brian "B. Dot" Miller, that he and Kanye have had their squabbles before, but he crossed the line with those concert outbursts.
"Because me and him woulda been resolved our issues. He knows that he crossed the line. I know him. He knows. I know he knows, because we've never let this much space go between one of our disagreements, and we've had many, because that's who we are.

"That's what I like about him. He's an honest person, we'll say things, and he's wrong a lot of times, and we'll confront it."
You can listen to Jay's full Rap Radar interview below:
Be the first to receive breaking news alerts and more stories like this by subscribing to our mailing list.