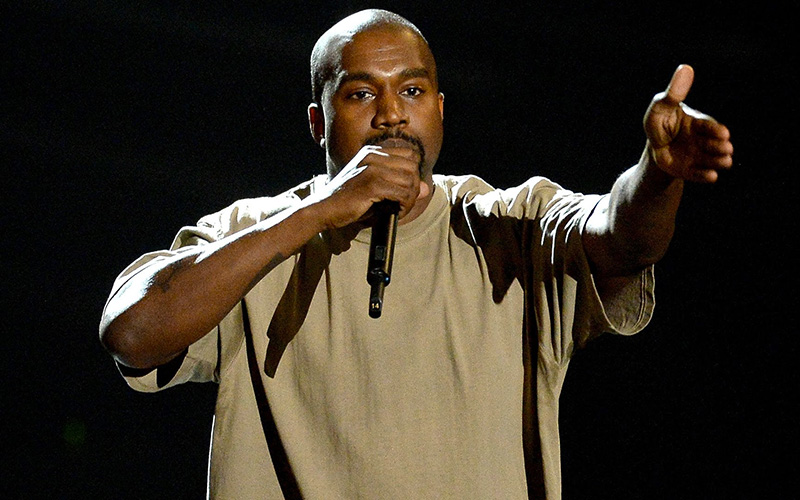 We all know Kanye West likes to a lot of s**t nonsense. But now he has gone too far. The rapper went on 20-minute long rant during a recent concert and blasted Beyoncé in the process.
Kanye took the stage at his Saturday (Nov. 19) concert in Sacramento 90-minutes late. However, instead of giving the fans an awesome show, he ranted about Queen Bey, Jay Z, Mark Zuckerberg, and Hillary Clinton. He even made another Donald Trump reference. The unnecessary 20-minute rant lead to boos from the crowd and Kanye ended the show after performing just two songs.
"Get ready to have a field day press 'cause the show's over," he said before ending the show. And guess what? We are.
Kanye criticized radio DJs for playing the same music over and over. He then called out Drake and DJ Khaled and accused them of purposely making their song "For Free" radio-friendly in order to get more airplay.
Kanye West Called out specific radio stations for OVERPLAYING DJ Khaled and Drake 'FOR FREE'.

— DJ Akademiks (@IamAkademiks) November 20, 2016
"Radio, I done talked to you a bunch of muthafuckin times. Ya'll are behind. The st Pablo tour is more relevant than radio"

— Yaya Martinez (@YAYAMARTINEZ) November 20, 2016
As the rant continued, the rapper seemed to become even more unhinged than usual. He brought up his current beef with Jay Z. He also had to bring Beyonce's name into the mix, alleging she wouldn't perform at the MTV VMAs unless she won Video of the Year. Kanye was also nominated in the category.
Here's what Kanye said about Beyonce last night… #KanyeIsOverParty
pic.twitter.com/dL4gPCVNUa

— E (@esheikh_) November 20, 2016
"Beyonce I was hurt because I heard you said you wouldn't perform unless you won video of the year over me and over Hotline Bling. In my opinion – now don't go dissing Beyoncé, she's great. Taylor Swift is great. We are all great people. But sometimes we be playing the politics too much and forget who we are – just to win. F**k winning, f**k looking cool, f**k being cool.

"Jay Z, I know you got killas. Please don't send them at my head. Just call me—talk to me like I man."
During his San Jose concert Thursday (Nov. 17), Kanye came under fire after admitting that while he didn't vote in the presidential election, he would have supported Donald Trump. He echoed that sentiment in Sacramento.
"This is the future. This is the way of thinking to make America great again."

*boos from audience*

"You don't like that. Guess what? Y'all need the vibes. I was hurt. Feelings matter, bro. The way motherf****** put money up so high. Popularity. Radio spins. Feelings matter, bro.

"It's a new world, Hillary Clinton. It's a new world. Feelings matter. Because guess what? Everybody in middle America felt a way, and they showed you how they felt… It's a new world Barack. It's a new world Jay Z."
Oh, but he didn't stop there. He continued to "speak truth" by alleging Google and Facebook creator, Mark Zuckerberg, has lied to us all.
Kanye West disses American radio and Hillary Clinton #SaintPabloTour pic.twitter.com/ZlyKkzFAiJ

— Music is Life (@ArtOfMusic_) November 20, 2016
"If you keep following old models, your ass is going to get Hillary Clinton'd.

"I ain't here to massage you with the fake truth, telling you that Hillary going to win over and over and over. Then you wake up and you still can't believe it. You know why? Because you was lied to by Google. You was lied to by Mark Zuckerberg."
All of this lead to #KanyeIsOverParty becoming the number one trending topic worldwide. And the BeyHive lead the charge.
The Beyhive woke up OUT THEY SLEEP to drag Kanye. Jsjsjsj

— GothGender (@jessicaSTANchez) November 20, 2016
TODAY, THE BEYHIVE ENDED KANYE WEST IN 5 MINUTES. #KanyeisOverParty pic.twitter.com/0536WGLAuD

— dragon slayer (@EastHive) November 20, 2016
An open letter from the Beyhive to Kanye West… pic.twitter.com/QJ4wt2ex2G

— DevinTea (@thedevintea) November 20, 2016
Making your fans pay for a whole concert then performing only 2 songs is disrespectful #KanyeIsOverParty

— Dert (@Backtrack_Rewin) November 20, 2016
It's about time y'all realized Kanye was garbage #KanyeIsOverParty pic.twitter.com/LHB5T5R7bV

— . (@bluezlimit) November 20, 2016
Kanye: I voted for Trump
Me: ?

Kanye: Stop talking about racism its not
important
Me: ?

Kanye: *shades Beyoncé*
Me: pic.twitter.com/Npfw6vzpYU

— Common White Girl (@girlhoodposts) November 20, 2016
"Can we listen to Famous by Kan-" pic.twitter.com/g5PGe6SHJ3

— foreveryoung (@thomasklm) November 20, 2016
Arriving at #KanyeIsOverParty like pic.twitter.com/iRtza4p9I6

— juliet (@likethiswift) November 20, 2016
Solange when Kanye tries to take a seat at the table….#KanyeIsOverParty pic.twitter.com/9yXYuH8dcw

— PettyAnne (@PettyPettyAnne) November 20, 2016
The Bee Hive is pushing thru to the #kanyeisoverparty ?? pic.twitter.com/Bf3NEFqpoh

— ?K??NG M? (@KiingMontel) November 20, 2016
Beyoncé when people ask her about Kanye. #KanyeIsOverParty pic.twitter.com/1pXEtx8a4v

— B (@_Chrissy_k_) November 20, 2016
#kanyeisoverparty i've been waiting at this party for YEARS now. pic.twitter.com/Azj1r00A1q

— zariah (@zariahsensei) November 18, 2016
Honestly, we've come to expect this from Kanye. However, this rant seemed a little different, which made me wonder "Is he going through something?" As it turns out, Kanye mother, Donda West, passed away in November 2007. He had a very close relationship with her and her passing was unexpected. Maybe, he was reflecting/grieving last night. Who really knows?
I highly doubt the rapper's career is actually "over." However, I think we can all agree he needs to take a break.