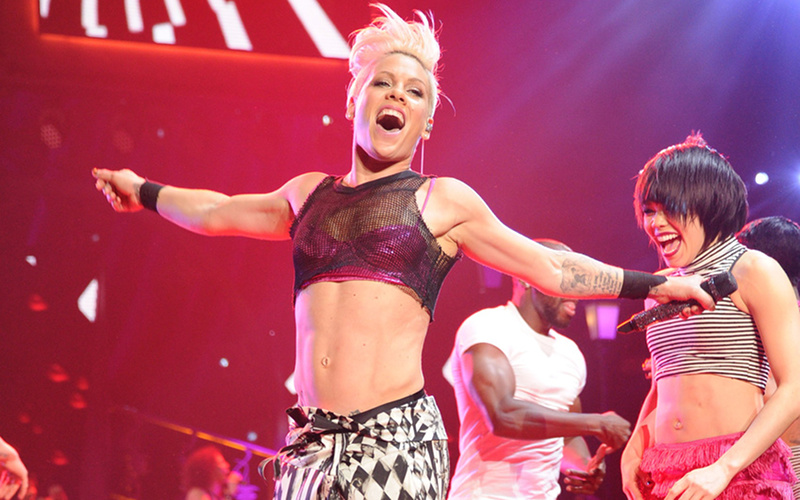 Get ready for another memorable high-flying show-stopping live performance from Pink. The singer has been announced as the recipient of the 2017 Michael Jackson Video Vanguard Award.
Pink is receiving the prestigious honor to celebrate her 17-year career and videography and due to her "impact on music, pop culture, fashion and philanthropy," read a statement released by MTV on Tuesday (Aug. 15). Pink will also perform during the awards show.
The pop/rock singer's history with the VMAs began way back in 2000, taking home her first Moon Person (formally known as "Moon Man") trophy in 2001. She has amassed 18 nominations and has won 6 trophies throughout her career.
Pink's Vanguard announcement was met with mixed reactions, because her videos are not known as being innovative, creative, iconic or even memorable. And because it was previously speculated that her long-time rival Christina Aguilera would receive this year's award.
https://twitter.com/oopslutney/status/897961044030611457
Pink is getting The Vanguard Award. There's nothing special abt her videos! Why does MTV keep disrespecting Missy Elliott like this? #VMAs

— Tia ? (@arollingbeauty) August 16, 2017
https://twitter.com/Krackdashian/status/897615386035843072
PINK for the MJ Vanguard Award ? pic.twitter.com/8SfysMyVzL

— yea yea (@skykmar) August 16, 2017
so they decide to give Pink the Michael Jackson Vanguard award…okay.

— lil uzi flirt (@molestable) August 16, 2017
pink swinging ass getting the vanguard award…. before missy and Gaga……? girl

— ryan (@loveddrought) August 16, 2017
Eminem, Christina Aguilara, Missy Elliot all deserve the vanguard award before Pink and that's the tea

— kurt (@kurtmp3) August 15, 2017
Although @Pink is a good artist in my opinion the video vanguard award should of went to @MissyElliott Missy's videos are more iconic. #Mtv

— ED-ROC (@EDROCTEAMLILKIM) August 15, 2017
https://twitter.com/mariahsknights/status/897944033808576513
https://twitter.com/anthonyh892/status/897857114290372617
Let's celebrate @Pink's Vanguard Award with the only relevant video of her career, starring as Xtina backup singer. pic.twitter.com/x2t98rsGXk

— ? (@BICONlC) August 15, 2017
Pink actually responded to that last tweet, revealing that she and Aguilera had "made amends" and ended their feud which started during the recording process of their hit "Lady Marmalade." Pink has stated in the past that Aguilera was difficult to work with.
Want to point out an awful new phenomenon of the last 10'years. We can no longer be happy for each other. I ??Xtina, we've made amends…. https://t.co/4lcGu2mySV

— P!nk (@Pink) August 15, 2017
Music brings us all together. The best part of music is- there's room for everyone to win at the same time. Don't be what's wrong w/da world

— P!nk (@Pink) August 15, 2017
Let's be an example of inclusion and celebration. You don't have to like me at all, I'm ok with that. Just be a decent person.

— P!nk (@Pink) August 15, 2017
However, she also had a message for her haters and Xtina fans that dissed her music videos.
And you're fuckin rip van winkle if you've never seen one of my videos .

— P!nk (@Pink) August 15, 2017
The 2017 MTV Video Music Awards will air live Sunday, August 27 from Inglewood, California and will be hosted by Katy Perry.
Be the first to receive breaking news alerts and more stories like this by subscribing to our mailing list.