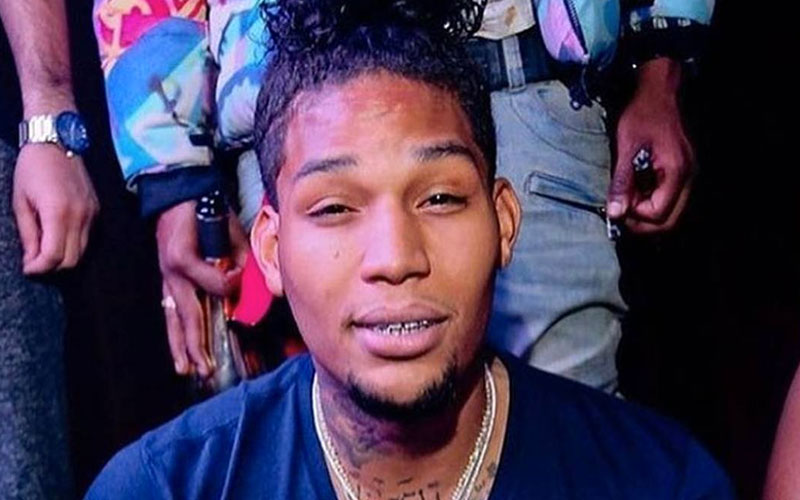 Yung Mazi, an up and coming rapper from Atlanta, is dead after he was shot in his hometown Sunday night (Aug. 6).
Atlanta's 11 Alive News reported that the deadly shooting happened at around 8:55 p.m. in ATL's Kirkwood community near the intersection of Oakview Road and Hosea L. Williams Drive. Police nearby in Atlanta's Precinct 6 heard the gunshots and went outside to investigate.
Mazi (real name: Jibril Latif Abdurahman) was reportedly shot "multiple times" as he was walking out of a pizza restaurant called Urban Pie. Police said the 31-year-old appeared to have been targeted in the shooting.
PREVIOUSLY: "God Made Me Bulletproof": Rapper Yung Mazi Shot Multiples Times in Atlanta Waffle House
Detectives said they didn't believe there was an altercation, and it appears the shooter walked up to Mazi and opened fire. The gunman then took off running west on Hosea Williams Drive, police said.
The suspect was described by police as "a black male, wearing a white t-shirt and with dreads pulled back" and he "was seen running westbound from the scene."
A nearby Mercedes Benz was riddled with bullets. The shooting drew a large crowd, which included a number of Mazi's family members and friends.
Medical Examiner is on scene in Kirkwood. The Mercedes Benz is shot they the windshield and there are lots of shell casings. #fox5atl pic.twitter.com/JUd0d3hxIy

— Jim Zorn (@PhotoZorn_FOX5) August 7, 2017
A crowd is growing in Kirkwood as @Atlanta_Police work a homicide. Family of victim told me they're on scene, no one has been ID'd. #fox5atl pic.twitter.com/WIItaQ1SQp

— Jim Zorn (@PhotoZorn_FOX5) August 7, 2017
Fox 5 Atlanta was on the scene and posted live a live video feed on Facebook:
Though the shooting victim's name wasn't immediately revealed, social media basically confirmed that it was Yung Mazi. It has since been confirmed, however, that the Atlanta rapper was the victim in the shooting.
UPDATE… My sources tell me the B/M shot & killed tonight up the street from my house tonight on Hosea in KIRKWOOD is rapper YUNG MAZI

— Mike Brooks (@tvdetective) August 7, 2017
Rest In Peace to Atlanta Rapper #YungMazi
Photo: @yungmazibwa pic.twitter.com/cxwGSFgnY1

— Koncrete Flava (@koncreteflava) August 7, 2017
https://twitter.com/AllThatHH/status/894393382969147392
https://twitter.com/ScarfoDaPlug/status/894394018842517504
RIP To Atlanta, Ga Artist #yungmazi, he was shot and killed today. ? pic.twitter.com/IKZGZH9tRk

— ChangeofplanZ ??? (@ChangeofplanZ1) August 7, 2017
https://www.instagram.com/p/BXe4CytgNTQ/
If his name sounds familiar, it's because this isn't Yung Mazi's first time making headlines for being shot.
He was shot inside a Waffle House in the Buckhead area of Atlanta last December. While he and a group of friends were ordering at the counter, someone already seated a table with a group of men shot at the rapper.
Immediately following the shooting, Mazi tweeted, then deleted, "God made me bulletproof."

Despite being shot three times, the rapper was able to speak with police and was taken to the hospital by his friends (instead of waiting for an ambulance). And believe it or not, that wasn't the first time Mazi had escaped death.
The ATL-based rapper—who has worked with big names in Hip-Hop such as Kevin Gates, Young Thug and Rich Homie Quan—claimed to have been shot upwards of 10 times over the years, including once in the head that left him temporarily brain damaged and almost killed him.
"I just got shot a couple more times," he said in November 2015 while laying in a hospital bed. "Three more times. It's nothing. We do it [mucho], man. I done got shot 10 times."
An excerpt from his bio on his official website reads:
A couple of years ago… an old beef with a rival hustler came back to haunt him. He was shot five times—one bullet hitting him in the head and leaving him temporarily brain damaged, almost ending his life.

"When the bullet hit me in the head," Mazi recollects, "it greatly affected me. I had to learn how to read, write, and speak all over again. I'm still not 100% right. I tried doing my daughter's elementary school homework and it was hard. I couldn't count money. My brother had to send text messages for me from my phone. It was deep."
One of his last mixtapes was titled Physical Therapy because while he was recording it, he was recovering in a wheelchair from a previous gunshot.
Yung Mazi said back in a June 2016 interview that he believed he kept getting shot because of his skin tone and the expensive jewelry he's always seen wearing.
"Look at me for one. I'm a red dude," he said, "people always don't like the red dude for some reason… and I might walk around with a quarter-million-dollars-worth of jewelry on."
In the hours leading up to his shooting death, Yung Mazi recorded himself on Instagram Live taking his daughter out shopping for back to school clothes and spending time with his other children. "I love all my kids the same," he said in the video.
Watch the entire 30-minute footage below:
Be the first to receive breaking news alerts and more stories like this by subscribing to our mailing list.