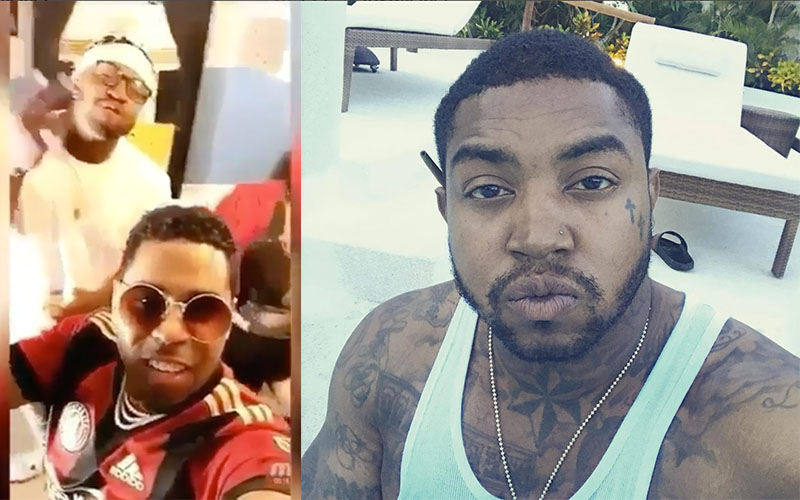 The last rapper to get caught in an awkward scandal with a transwoman was Chingy, and to be honest, his career never really recovered from it.
So with that in mind, it's understandable that Lil Scrappy would forcefully clap back at commentators, trolls and haters who are talking slick after footage of the Love & Hip Hop star partying it up with Bobby V and some "suspicious" looking women emerged on the internet.
The footage from the party is blurry, and we don't know if the transwoman who Bobby got caught creeping with is at this party, but the implication was that Scrappy likes the trans girls too.
But Lil Scrappy is here to let y'all know, in the most transphobic and homophobic way possible, that he absolutely ain't got nothing to do with what Bobby V got himself into and that he is very much a heterosexual man who enjoys the sexual company of biological women.
With regard to his transgender radar, Lil Scrappy claims he knows exactly how to spot transwomen from regular women.
"Y'all know me, bruh, I don't play no muhrfuckin game, nigga. I'm the first nigga to tell y'all muhfuckas, y'all better be checkin' them baby pictures," he said in a rant posted on Instagram Live about the Bobby V situation he got entangled in.
"I've been in a room with some bitches and I know when bitches are bitches. I know the difference, cuz. I ain't no sucka," he said. "Them real bitches. They might've just been ugly bitches…"
In a strange effort to reaffirm his heterosexuality, Lil' Scrappy referenced the fact he came OUT of Momma Dee's vagina, and therefore he would prefer to enter vaginas in general.
"I don't be with that shit. I be with real shit. I love pussy so much, let me tell you. I came out the pussy, I'm going back in the pussy," he said.
Erm…tying your sexual desires and preferences in any way directly to your mother's own vagina is slightly nauseating, bruh, because this comparison you made implies you sexually desire your mother's puss.
Just a friendly reminder: This isn't the first time Scrappy has had something harsh to say about transwomen. Back in 2015, when Bruce Jenner transitioned publicly into Caitlyn Jenner, Scrappy voiced his opposition.
"Stick to what you were made to me. If you got a penis, be a penis. Be a man. Women, if you were made with a pussy, rock your pussy cause can't nobody rock it like you," he said in an interview with VLAD, the YBF reported.
And last year, Scrappy took the Instagram to warn men to "check the baby pictures" to see if the women they mess with are really women.
https://www.instagram.com/p/BCq4Pk1zMSm/
Maybe Lil Scrappy is so indignant about transwomen because he's been fooled once before? There's a real "thou doth protest too much" vibe to Scrappy's angry transwomen rants.
Be the first to receive breaking news alerts and more stories like this by subscribing to our mailing list.