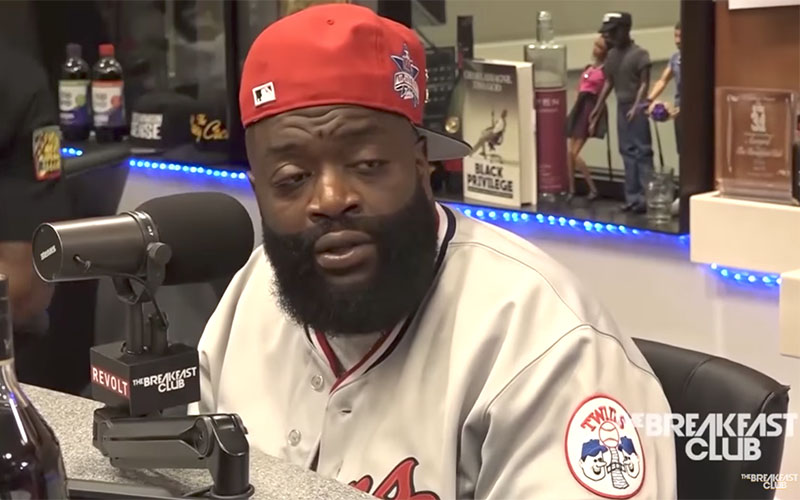 The saying goes that you have to be careful not to put your foot in your mouth when you're a public figure. Rick Ross, however, has somehow managed to stick not only his foot in his mouth, but his ankle, calf and knee too.
During a candid and colorful interview with controversial and ratchet morning show, The Breakfast Club, Ross was asked by the radio hosts about why he hasn't signed a female rapper, like a Nicki Minaj or Remy Ma, to his MMG label. The answer was perhaps a bit more raw and real than anyone was bargaining for.
"You know, I never did [sign a female rapper] because I always thought that like I would end up fucking the female rapper [and then] fucking the business up." said Ross. "I'm so focused on my business. I gotta be honest with you. You know, she looking good and I'm spending so much money on the photoshoots…I gotta fuck a couple times."
Watch Rick Ross make his truly awful sexist confession below:
While it appears that some of what Ross said might have been in jest, it's hard to separate what might have been humorous exaggeration from plain ol' sexism.
Ross' concerns about mixing business with pleasure aren't unfounded, as Biggie couldn't help but "dabble" with his female protege Lil' Kim and Joseline and Stevie J are living and breathing examples of the pitfalls of this exact dynamic playing out on reality TV right now.
But still, the idea that you would avoid signing and working with a talented female rapper because you are completely incapable of controlling your sexual urges is pathetic and speaks volumes about what he perceives to be a woman's true value: her vagina hole.
Unfortunately for Rick Ross, his sexist statements did not fall on deaf ears and before he knew it, a social media backlash began to brew. Ultimately, he was forced to retreat and apologize for his "mistake" and he issued a Facebook press release to beg the social justice warriors to forgive him and leave him alone.
When will pig-headed men like this learn that saying that you love your mama, your sister and your daughter is not going to work as a pass for viewing someone ELSE's sister, daughter and mother as nothing more than something for you to mount and ejaculate into?
What's the difference between Ross' statement and white folks who do and say racist things but then claim cover by saying they have black friends and play cousins?
We'll have to see if this Facebook apology is enough to stop the bleeding, but black women on Twitter are mad as hell and very intent on letting Rick Ross have it.
please, PLEASE STOP giving this douche, Rick Ross, your money, time, or attn. This ain't the first WILD shit he's said about women!!!!

— Amanda Seales ?? (@amandaseales) July 25, 2017
Those Rick Ross comments were unacceptable. Gives the wrong message to up and coming women artists that take their craft seriously.

— J.FEAR (@jelanifearon) July 27, 2017
Rick Ross really wants us to believe he reapects women because of his family members. Like we've never listened to ANY of his music. Oh. ??

— Myrtle Snow (@TeritaTweets) July 28, 2017
https://twitter.com/esotericelle_/status/890739229554356225
Rick Ross pulled the old "some of my best friends are women" trick. pic.twitter.com/tN3Yrlg1f6

— Ashe Elizabeth (@ashe_elizabeth) July 28, 2017
Why be shocked that Rick Ross wants to sleep with female rappers he signs? He degrades women in his music. That's a surprise?? ?

— A'Challa, The Princess of Wakanda (@TheVintageOreo) July 27, 2017
can we just not let Rick Ross speak on Women ever again in ?Life

— Chu. (@CrownThaBrown) July 27, 2017
Kudos to The Breakfast Club though. They continue to be the main platform in hip-hop where celebrities find themselves in hot water for keeping it a little too real.
Be the first to receive breaking news alerts and more stories like this by subscribing to our mailing list.