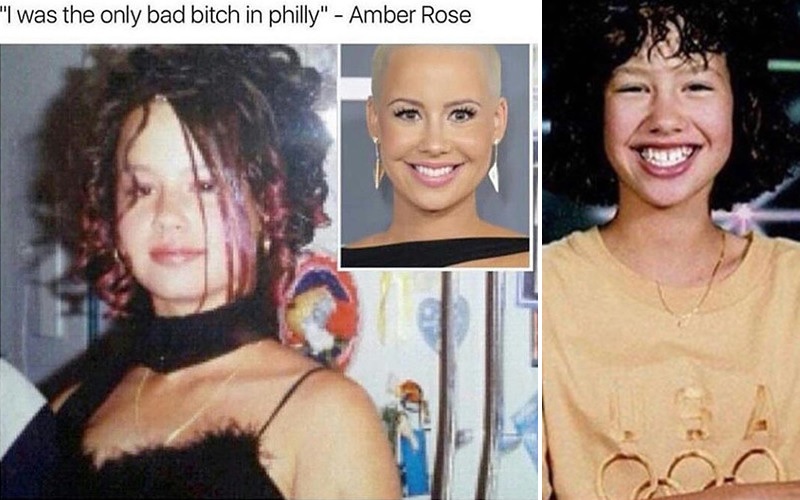 It might be a while before Amber Rose can set foot into her hometown again. The popular model/TV host is being dragged on social media for basically calling the women she grew up with in South Philly ugly.
RELATED: Torrei Hart Blasts Amber Rose for Claiming Philly Women Are Not "Traditionally Attractive"
Let Rose tell it, she's the only pretty girl from South Philly. Rose appeared on N.O.R.E's Drink Champs radio show earlier this month and actually fixed her mouth to say it was hard for her growing up in Philly because she was pretty while everybody else were not "traditionally attractive."
"I grew up in a very poor neighborhood, and I don't know how I can say this without sounding f**ked up, but a lot of the people where I'm from aren't traditionally attractive people. And for me, being blessed with beauty, as beautiful women know, is a blessing and a curse."
"And to grow up in such an area, to be blessed with beauty, it was very difficult for me, and a lot of people used to be like 'you ain't from South Philly; you're from California or somewhere.' And I'd be on the bus and people would be lie, 'Where you from?'"
Social media quickly called out Rose (who is currently all about being a feminist and empowering women) for tearing down other women. Using old school photos of Rose, she was mocked and dragged online for her comments.
https://www.instagram.com/p/BXEh63UF3v8/
Amber Rose let "damn shawty, where you from?" Get to her head ? bitch we say that to everybody ?

— C L I F F O R D (@CLIFFORD56) July 27, 2017
https://www.instagram.com/p/BXFCtIxD1rm/
how does amber rose call herself a "feminist" & says she wants to empower women then turns around & calls women ugly pic.twitter.com/0AdjNfJNB8

— T?? (@tayyy_renne) July 27, 2017
https://www.instagram.com/p/BXFCQf0gkoZ/
Amber rose with 21 savage, her opinion on looks do not matter !

— REE??623 (@prettyRee623) July 27, 2017
Amber Rose look like juntao from Rush hour pic.twitter.com/qpO5TxSgaB

— T-Y?????????? (@tyshawn_choc) July 27, 2017
Amber Rose just said all philly girls are unattractive ??????now she know Philly girls about to go in on her b/c they mouths reckless ????? pic.twitter.com/nTsd1a5SNr

— James ? (@yaboy_neutron) July 27, 2017
Amber rose really tried it, just say you think you're prettier than any philly girl cuz you mixed and go head

— Lyna ? (@KhalynaB) July 27, 2017
so Amber Rose is just gonna act like she didn't grow up looking like Thumbelina? okay. pic.twitter.com/recarxw6hP

— nai. (@byjonai) July 28, 2017
https://twitter.com/MissHaaji/status/890670595074957312
INTERVIEW: Amber explain what you meant in your controversial philly women are ugly comment

AMBER ROSE: pic.twitter.com/FvwrvrjtYi

— Wild Wild Seth (@SpikeReeds) July 27, 2017
https://www.instagram.com/p/BXE3tKZF9s5/
After being dragged, Rose apologized for her comments and said that she "finds beauty in everyone."
"I know that people really want me to be a superficial bitch but I'm just not that person. I find beauty in everyone. Unfortunately, it's not easy doing interviews and always saying things the way you really want to articulate. I wasn't saying that's how I felt, I was saying that's how people treated me."
Be the first to receive breaking news alerts and more stories like this by subscribing to our mailing list.