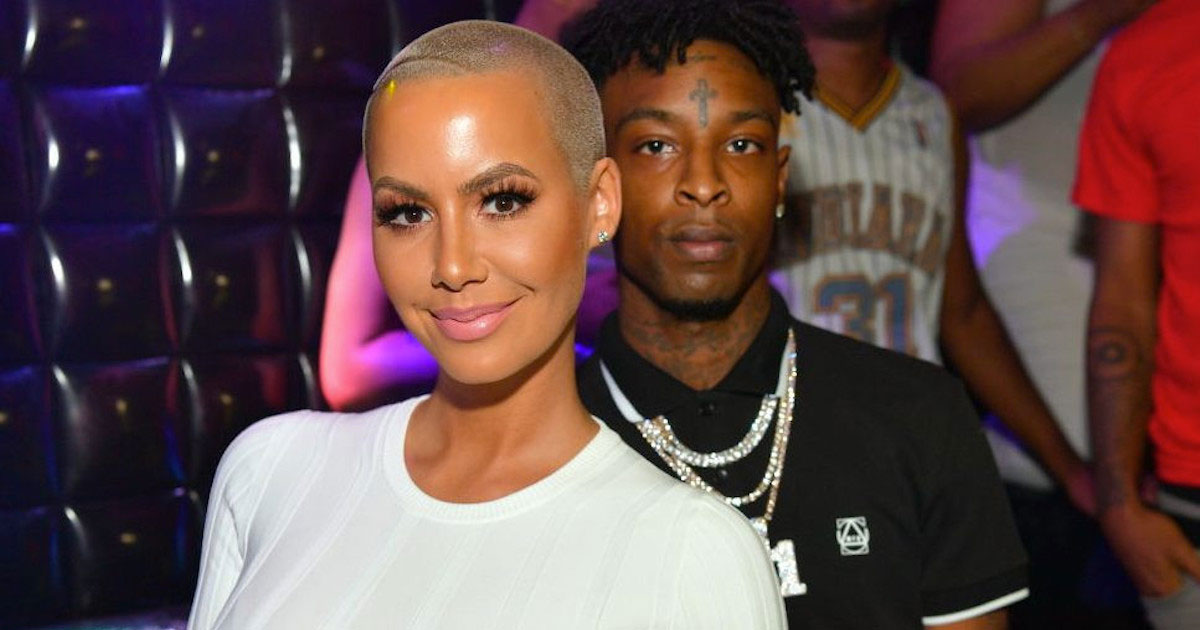 21 Savage says that he's completely over his relationship with Amber Rose. In fact, he says that she's the last thing on his mind because he's "married" and "happily in love" with another woman.
During a press run for his new project Savage Mode 2 earlier this month, the "Runnin" rapper was asked if he missed his ex-girlfriend and whether he'd made a song about her before.
"Do I miss her? Hell nah," he said in an interview with DJ Scream & Big Bank's Big Facts podcast. "I ain't made no songs about her. She in a relationship!"
21 went on to say that he's happy where he is with his own relationship. "I'm happily in love," he said. "I got a family. I'm good."
When Big Bank pressed Savage about his new relationship, he remained mum on the subject, saying: "I can't really tell you all that. You can't let 'em know everything! … I'm happily in love. I'm married. I'm happy."
Wayment. Married? To whom?!
Let us find out 21 Savage has a hold wife out here and we ain't know!
In related news, Amber Rose—who is happily coupled up with her A&R boo and baby daddy #2 Alexander 'AE' Edwards—recently spoke on her relationship with 21 Savage, and revealed that things started to go downhill for them when the rapper was seen at her SlutWalk event in L.A. back in 2017 with a sign that read: "I'm a hoe too."
21 Savage with the I'm A Hoe Too sign is really iconic idc pic.twitter.com/TF3Ub8f8XS

— The Mob (@phillycustoms) October 1, 2017
"Actually, that's what he wanted to do and I think that was ultimately the demise of our relationship," Rose told Adam22 on his No Jumper podcast. "I think that he was being very supportive and he was like, 'Man I should hold a sign that says, 'I'm a hoe too!"
"And I was like, 'That would be really great for feminism! Slut Walk, you know you're a rapper and Black men are always looked at to be very hyper-masculine and I think this would be a great moment.'
"And he was like, 'Yo, I'm down!' So I got the sign made and everything and he held it up and then after that, I think the internet just went in on him too much and it just wasn't good after that."
Rose also said she believes 21 is scared to be loved, but said she saw a softer side of him compared to what everybody else saw.
"Obviously I seen a very soft side of him but he – I think that he's scared to be loved," she shared. "I think he has his own trauma, his own sh*t with him. But he's definitely not like, I don't know. I mean, I wouldn't have been with him for a year if he was just not loving at all."
Asked if she keeps in touch with her ex, Amber said absolutely not because "I have a whole baby and a whole man."
Rose also said that she's not friends with ANY of her exes because she doesn't roll like that.
"I don't believe in that, I don't need friends," she said. "I'm a real loyal, down-home bitch. So when I move on, and I love somebody else, I don't need friends from my past." She added: "I don't need that sh*t. I don't play those games."
Be the first to receive breaking news alerts and more stories like this by subscribing to our mailing list.