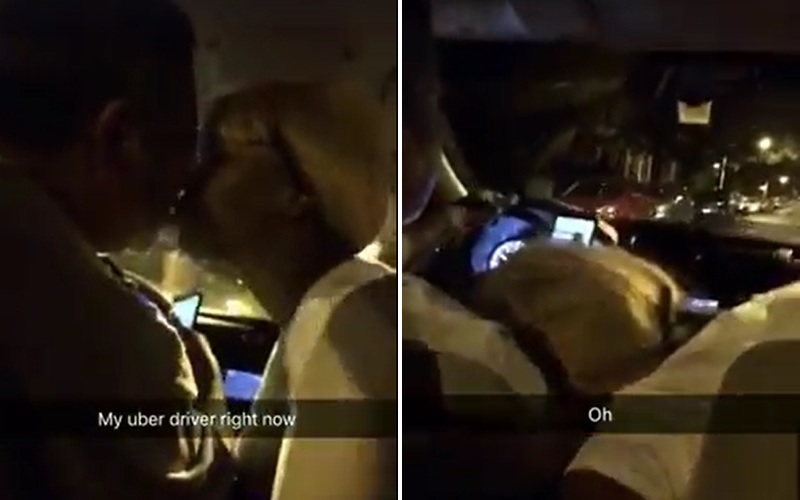 Out of all the Uber horror stories we could share, this one has to be one of the worst. An Uber driver has been suspended after a passenger recorded him receiving oral sex during the trip.
Aner Manuel, of Boston, was visiting Chicago and requested an Uber in the early morning hours of July 17th. However, as he was approaching the vehicle, Manuel noticed a woman sitting in the front seat. He checked the app to make sure he didn't accidentally select UberPool and assumed the unexpected passenger a family member of the driver.
Manuel got into the car and noticed that the woman was "clearly on drugs" and attempted to open the door while en route to his destination. Manuel also quickly discovered the two were not family. The driver and the woman began kissing and caressing each other also while the car was in motion. Then it got worse!
Manuel shared his experience on Uber's Facebook page along with a video as proof. He wrote in part:
"She then began to grope him and grab him. They began to kiss and she began loosening his belt. As we got further and further from my pickup location I had no idea where I was, so I had to stay in the car. She then proceeded to perform oral sex. This was my last straw. I asked the driver to drop me off."
Manuel told Esquire that the driver attempted to apologize during the brief trip, but doesn't believe it was sincere: "He said, 'I'm sorry, I'm sorry,' like twice. But he didn't really prevent it."
Manuel's Uber trip only lasted eight minutes. And it would have ended sooner had he not been in an unfamiliar city at 3:00 a.m.
The current Boston resident (who will be moving to Chicago in the fall) contacted Uber about 40 minutes after the incident and was given a refund and a $10 credit. The company also said it would investigate the matter.
However, four days went by without a follow-up and Manuel says his messages went unreturned. He then shared his experience and the video on Twitter and Facebook. "I did it [shared the footage] to give it a little push," he told Gizmodo.
Since the video footage went viral, Uber has suspended the driver and released a statement:
"The behavior of this former driver is appalling and is not tolerated on the Uber app. As soon as this situation was reported to us, we immediately removed this driver's access."
It is also against Uber policy for drivers to have friends or family in the car during a paid trip for the "safety and comfort" of the riders.
Be the first to receive breaking news alerts and more stories like this by subscribing to our mailing list.