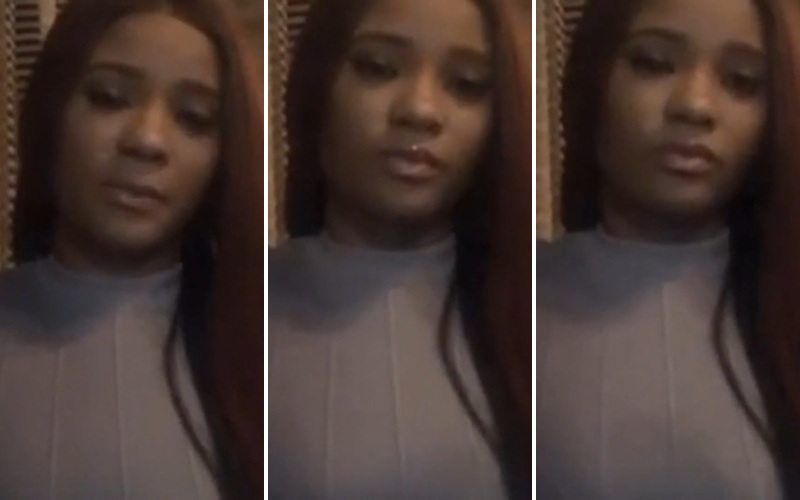 One of the young women allegedly being held hostage by R. Kelly in his "sex cult" denied the allegations in a TMZ interview. However, many Twitter users believe the 21-year-old's statement was coerced.
Joycelyn Savage's parents went public yesterday (Jul. 17), claiming their daughter was being controlled, manipulated, and held against her will by the R&B singer. They have had little contact with her since December 2016 and believe Kelly is using her for sex.
Joycelyn gave a brief on-camera interview to TMZ yesterday. According to her, she is not being held hostage, and is perfectly safe.
"I just mainly want to say that I am in a happy place with my life and I'm not being brainwashed or anything like that. It just came to a point where it definitely has got out of hand. I just want everybody to know – my parents and everybody in the world – that I am totally fine. I'm happy where I'm at, everything is OK with me."
Though she maintained that she is safe, Joycelyn refused to answer question regarding her current location, whether she had roommates, or whether she was able to leave on her own accord without permission from Kelly, all of which her parents claimed.
Some on Twitter felt Joycelyn's recorded statement was coerced because of her vague answers and behavior. However, what really raised eyebrows was the moving shadow that could be seen on Joycelyn's shirt, which seemingly instructed Joycelyn how to answer certain questions.
Slo-mo gif of the shadow that appears on the TMZ video of Joycelyn Savage, whose parents claim is being held against her will by R. Kelly. pic.twitter.com/mbgHo17v7A

— Talal Ansari (@TalalNAnsari) July 18, 2017
https://twitter.com/PimpKDot/status/887342220571029505
If you look closely.. To the shadow on her shirt … they are telling her what to answer and what not to answer….. https://t.co/qAwgG1CDWq

— Spark_Vader (@OchoOrEight) July 18, 2017
um the way her voice shakes and the fucking shadow at the end scares me so much i hope she's okay and get out soon https://t.co/sVaUHaWE9R

— jess ? (@ssgssjess) July 18, 2017
I watched that video of Joycelyn Savage again. She was flustered and there was someone in front of her instructing her. It's bone chilling.

— Niggamort (@Blike_Dante) July 18, 2017
https://twitter.com/PhillyTheBoss/status/887136384267563009
Something ain't right about this video.. she being coached.. look at the shadow in the back https://t.co/Fo3EPpNdN2

— Erik Trillmonger (@kl_OB4L) July 18, 2017
I'm not saying R. Kelly has a cult, but during Joycelyn Savage's TMZ interview, you can see a shadow on her shirt instructing her answers. ?

— Grown Azz Kid (@DaKidGowie) July 18, 2017
Tim and J. Savage exclusively spoke with BuzzFeed News, along with two other parents claiming R. Kelly was brainwashing their daughters and holding them in a "sex cult." Following the explosive report, the Savages also held a press conference regarding the matter.
Three former members on Kelly's inner circle (including two who had a sexual relationship with him) confirmed the parents' fears, claiming that Kelly was keeping at least six women at his Atlanta and Chicago rental properties. They say he controls every aspect of their lives and uses them for his own sexual gratification.
R. Kelly denies the allegations and had threatened to sue the Savages. His rep released a statement:
"Mr. Robert Kelly is both alarmed and disturbed by the recent revelations attributed to him. Mr. Kelly unequivocally denies such accusations and will work diligently and forcibly to pursue his accusers and clear his name."
Be the first to receive breaking news alerts and more stories like this by subscribing to our mailing list.