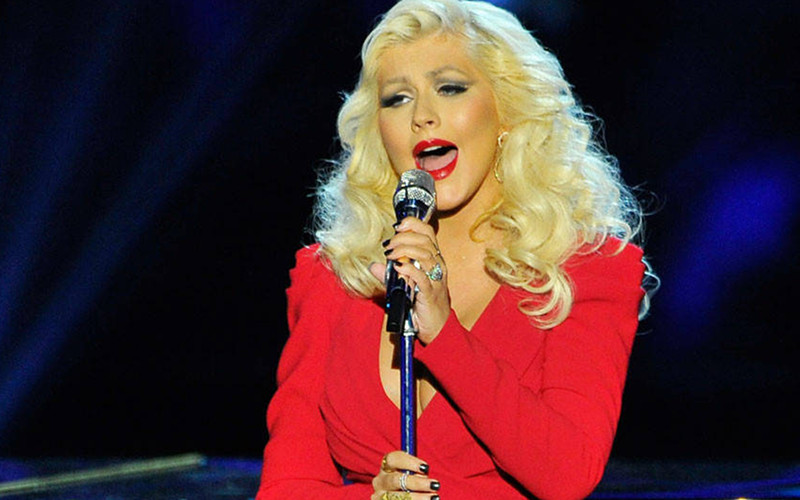 Christina Aguilera is still determined to make a musical comeback.
We're hearing rumblings that the former The Voice coach is ready come off the sidelines and take center stage with a new album and new sound. She has even sparked speculation she may be the 2017 recipient of the MTV Video Vanguard Award.
Like many of her 2000s contemporaries (with the exception of the visionary Beyoncé), the talented singer has struggled to find mainstream success in a digital age that has been pretty much dominated by the likes of Taylor Swift.
However, a source tells Hollywood Life Christina is ready to return to the pop scene.
"The comeback is brewing. Christina has been working on new music and is ready to take over the pop world again. She really is looking forward to making a serious splash and be in the limelight all over again."
The 36-year-old and mother of two hinted back in February that she was working on the final touches of a new album. She even missed the last three seasons of The Voice so that she can fully focus on her comeback.
Finishing touches to my heart ?? ? pic.twitter.com/aKFCOYhpTj

— Christina Aguilera (@xtina) February 8, 2017
Earlier this week, Aguilera sparked more speculation that a new album was on the way. Though she has amassed 16.4 million followers on Twitter, she only follows 24 accounts, with the Video Music Awards (@vmas), being added to her selective list on Tuesday (Jul. 11).
Fans of the singer immediately took this as a sign she would be receiving this year's coveted Michael Jackson Video Vanguard Award.
Let's go #XtinaDeserveMtvVanguardAward @MTV @vmas @xtina pic.twitter.com/AkAyqJ61hX

— Marlon ? (@marloon_p) July 11, 2017
YESSSSS FIGHTERS !!!!! Let's go. #XtinaDeserveMtvVanguardAward !!!! We are going in full force today. Let's get it trending. #xtina

— QUEEN X (@LegendXAguilera) July 11, 2017
Xtina reinvented herself every year she went to a @vmas and nailed everytime,shook us again this year queen #XtinaDeserveMtvVanguardAward pic.twitter.com/hhs3zFlGY2

— . (@TwicexXtina) July 12, 2017
Thing w @xtina it's not even the whole collection that earns her…it's ANY 1 particular vid makes her worthy!#XtinaDeserveMtvVanguardAward pic.twitter.com/0pq9f4EMHW

— dadsgonewild (@phxliberal) July 12, 2017
#XtinaDeserveMtvVanguardAward pic.twitter.com/NnT29mWLJu

— Xtina Back to Basics (@XtinaB2B06) July 11, 2017
Imagine have such an iconic carrer @Xtina @Mtv @vmas #XtinaDeserveMtvVanguardAward pic.twitter.com/JBPQOZE9L2

— Watch Help Me MV on youtube! (@MercuryftXtina) July 11, 2017
Though this year's Vanguard Award recipient has not been confirmed, one source does say Aguilera would like to attend the VMAs to promote her new album.
"It's gearing up to start at the MTV Video Music Awards. She is looking to drop an album by the holidays and announce a tour next year. She can't wait to get back into the swing of things and get back to being the Diva she is."
Aguilera has attempted two comebacks in the past seven years with Bionic (2010) and Lotus (2012). Both albums received mix reviews and disappointing sales, even despite The Voice momentum/promotion for Lotus.
There's no word on what influenced her "new sound," but, as a huge Aguilera fan, I have long wished she could bounce back, particularly with a duets album.
Aguilera has had several successful duets and collaborations throughout her career. Working with current chart-toppers would allow her a space in today's music scene and to, again, become musically relevant.
A duets album is the perfect formula for someone in Aguilera's position. It most recently worked for legends Barbra Streisand (Partners, Encore: Movie Partners Sing Broadway) and Tony Bennett (Duets II), earning them both No. 1 debuts on the Billboard 200, something Aguilera hasn't achieved since 2006.
Here's to hoping 2017 is the year of the Christina Aguilera comeback!
Be the first to receive breaking news alerts and more stories like this by subscribing to our mailing list.