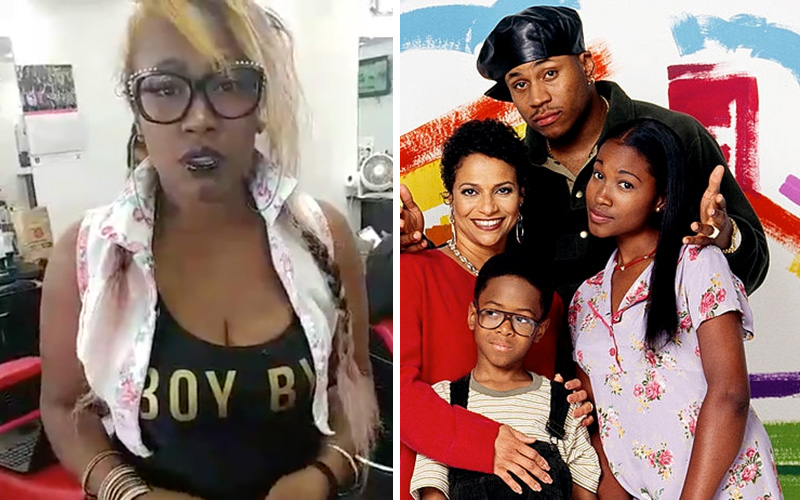 This Maia Campbell situation just keeps getting sadder and sadder.
After seeing the video of Maia Campbell on the streets of Atlanta begging for crack, her former "In the House" co-star LL Cool J made an attempt to reach out to her via social media. He wrote on Instagram: "If someone has a contact on Maia pls let me know.."
WATCH: Maia Campbell Spotted in Atlanta Toothless, Strung Out and Begging for Crack
He also tweeted: "Instead of pulling out your phone and filming someone who's obviously having trouble, maybe lend a helping hand? A kind word?"
SEE MORE: LL Cool J Is Looking for Maia Campbell After Seeing Viral Video
Instead of pulling out your phone and filming someone who's obviously having trouble. Maybe lend a helping hand? A kind word? @MaiaCampbell

— LLCOOLJ. (@llcoolj) July 10, 2017
Well, apparently Maia Campbell saw the messages, and she has responded to LL's request to reach out to her.
In a new video that's making the rounds on the Internet, Maia herself can be seen telling LL Cool J (real name: Todd Smith) she DOES NOT need his help in the least bit:
"Hey Todd, look bro… I love you! I don't need help. I just need a benefit concert for mental health… Don't TMZ me! It's really me… This is Darrell [the guy behind the camera recording]… And this is the shop that I camp at, or whatever. We're good! I'm good. I'mg doing property, I have investments, I'm a real serious person. And my show is called From the Bottom Up Season 2."
Compared to the first video, her hair looks a lot better in this one, and she actually has on decent clothes (she's ironically wearing a shirt with "BOY BYE" on it), but you can tell she isn't well.
When Darrell, the guy behind the camera and who apparently owns the barbership/hair salon she's in, asks her how LL should get in touch with her, she snaps back, saying "Uhm… don't call me, I'll call you… I really don't want it to go down. I don't know, pray to God I don't start rapping. OOPS!"
When the cameraman presses further, she throws a tantrum like a child, jumping up and down, screaming, "I DON'T KNOW! LEAVE ME ALONE!!!"
You can clearly tell she was coerced into doing the video, and after some prodding, Darrell gets her to give out various ways to contact her (via Instagram, e-mail, Facebook, etc.) She also mentions her "mom's number," but it's not clear what she means by that, considering her mother, author Bebe Moore Campbell, passed away in 2006.
Regardless, she's refusing LL Cool J's help, and it looks like he got the message, because he has since tweeted this:
You can't help someone who doesn't want your help.

— LLCOOLJ. (@llcoolj) July 11, 2017
Maia Campbell's mental disorder and issues with drug abuse are well documented, especially in the media. She was diagnosed with bipolar disorder in the late 90's after acting out on the set of "In the House," and after giving birth to her daughter in 2000, she stopped taking her medication and instead turned to drugs, which resulted in her losing custody of her child.
Campbell has been arrested several times over the years and also spent some time at a mental health facility after being arrested in 2010 for theft. In 2012, she opened up about her bipolar disorder—which explains her mood swings ranging from depressive lows to manic highs—and drug addiction on an episode of Iyanla: Fix My Life.
"There's still pieces of my life that I'm working on right now … that it's going to take me some time to refocus and rebuild and reinvent who I am within those pieces," she said at the time. "I'm not going to let this old me tear me apart anymore."
"There's a lot of pain that goes into my story, a lot of issues with my mom," she told Vanzant. "A lot of times when I was out there running the streets, I bumped into the wrong person and they brought me down."
Three years later, in 2015 (not too long after her TV appearance), Maia was back to her old ways. In January of that year, she was arrested after going crazy at a Burger King in Atlanta, and that following February, she was arrested at a Waffle House in Riverdale, GA for disorderly conduct.
Be the first to receive breaking news alerts and more stories like this by subscribing to our mailing list.