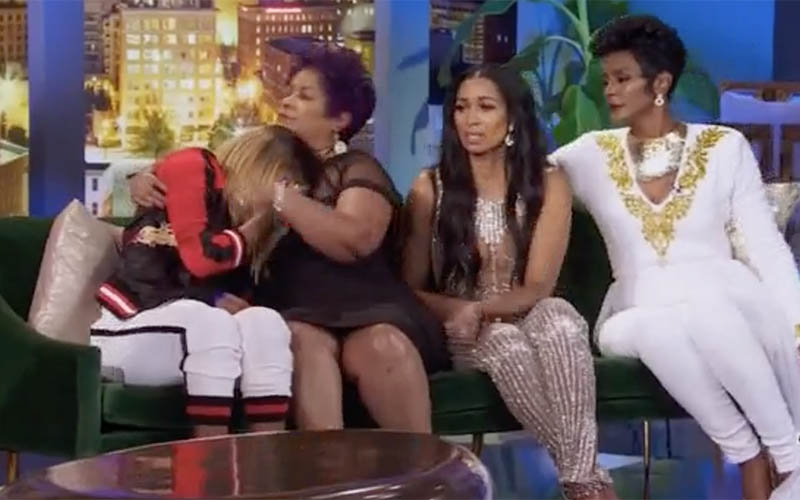 Even a strong woman has her breaking point, and when Kirk Frost crept on Rasheeda and impregnated a sloppy, stripping side chick, the Boss Chick reached hers. The infidelity alone tore at Rasheeda's heart but the lingering, painful drama over the lovechild that Kirk spawned with Jasmine played out on national television in front of the world for months on end.
As the cast of Love & Hip Hop Atlanta gathered for its season 6 reunion, the hurt and betrayal in Rasheeda and Kirk's relationship took center stage and brought a somber note to an otherwise wild and ratchet affair.
"I wouldn't wish this on nobody," said Rasheeda, as she started to break down and turned to her mother Shirleen's bosom for comfort. "He's hurt me and it's crazy because he's also helped me grow to become the woman I am today. But when you hurt somebody and you dismantle a bond, that's the hardest thing to get over."
Dirty-dick Kirk sat over on the other couch lookin' like a dog with his tail between his legs.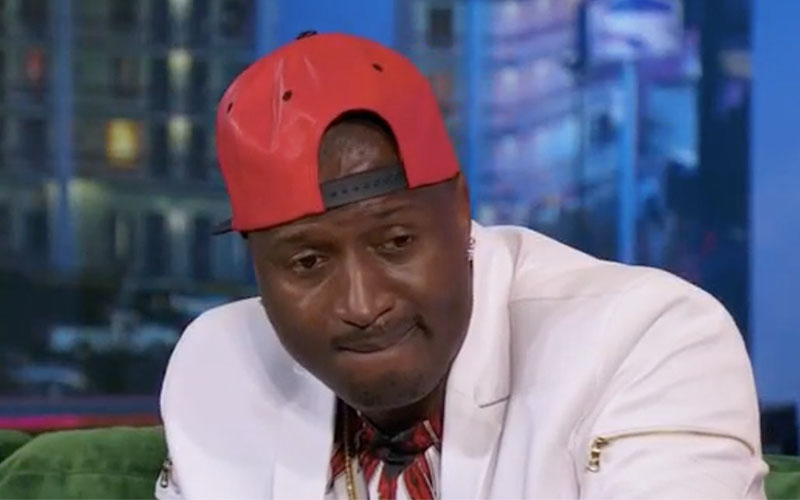 What were you thinkin', KIRK FROST? What made you think you could treat the Boss Chick like an Employee of the Month?
"Not only did you hurt me, but you broke me," said Rasheeda, with some serious punctuation.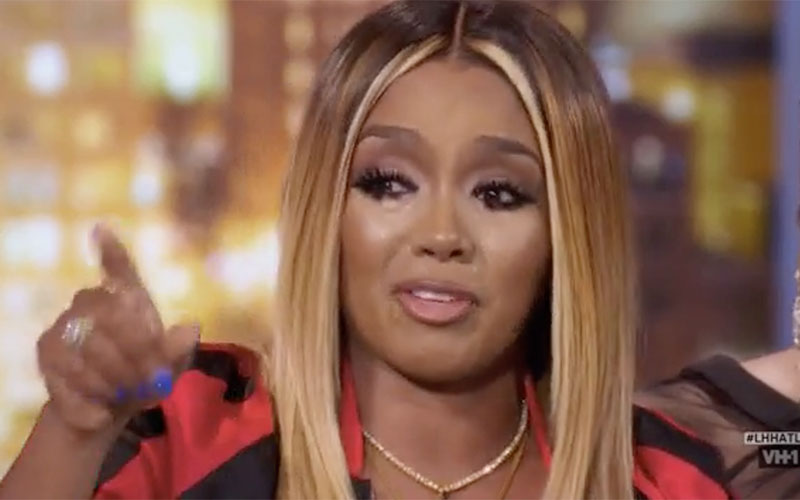 At that point, every live-in girlfriend, ex-wife, baby mama, jumpoff and side chick present during this powerful testimony was either in tears or sitting in complete silence out of respect.
Mimi Faust and Jessica Dime had tears streaming down their faces as Rasheeda poured her heart out. This makes sense since Jessica Dime is happily engaged and Mimi has almost been a wife more than once. Plus, Mimi knows the sting of infidelity since she faced it more than once as Stevie J's baby mama.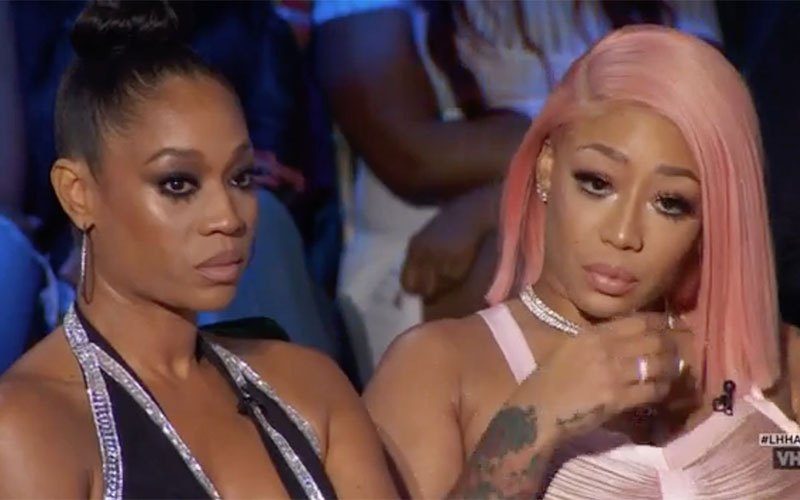 Messy Karlie, who was the number one detective in this Kirk/Rasheeda baby mama drama, also shed a few tears for her gal pal.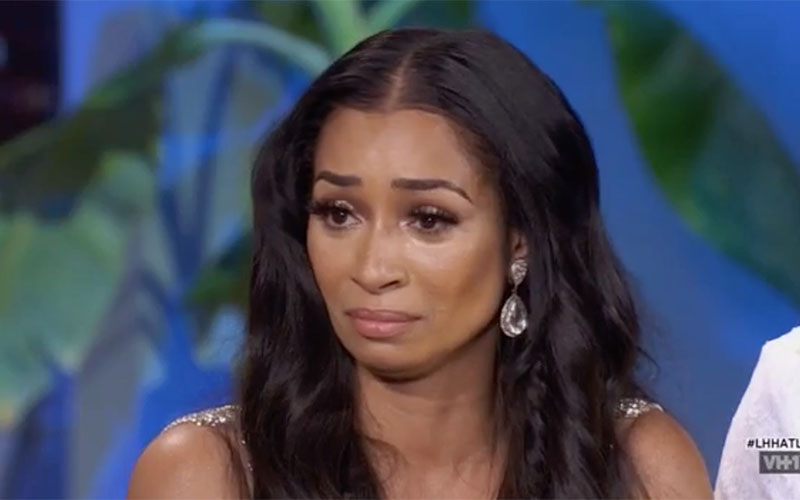 Even Kirk's fuckboy friends, Lil' Scrappy and Joc—who have histories of infidelity of their own—hung their heads in shame over Kirk's shameful betrayal.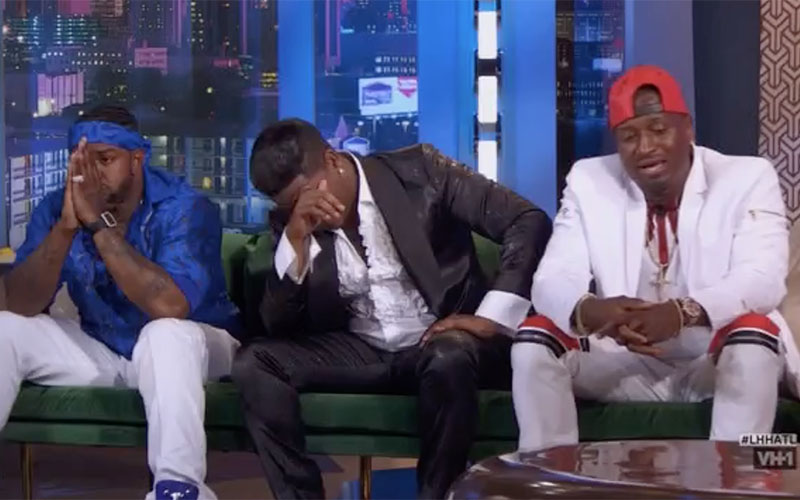 "Do I love Rasheeda? I love Rasheeda to death. That is like my soulmate," said Kirk. "I just pray that things get better."
I hope Kirk has a good Bible handy cause it's gonna take a WHOLE lot of prayer, holy water and worship to get our Lord and Savior to clean up this mess.
By the way, if you were holding out for a confrontation between Jasmine and Rod with Kirk and Rasheeda, you can forget it because Kirk and Rasheeda used their seniority to block Jasmine and her pimp from appearing on the reunion, and the dirty duo refused to Skype in for the reunion too.
Tacky Tommie Talks Trash to Everyone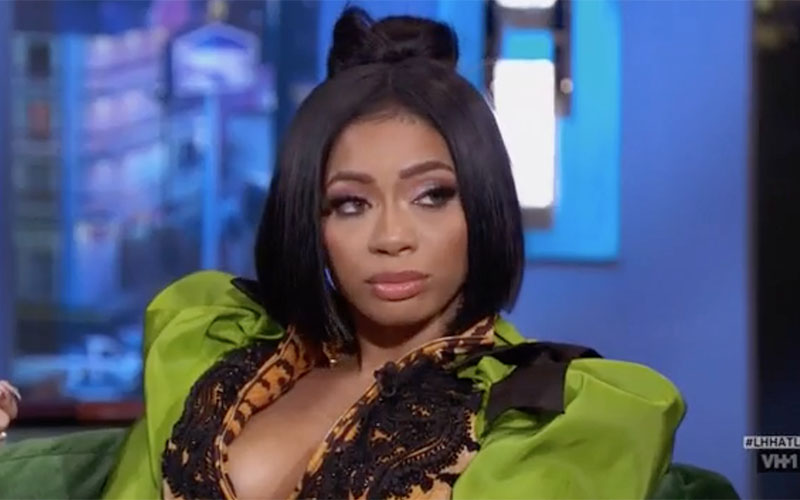 I know that Tommie's last name is Lee, but I didn't realize she had real, Asian heritage to throw back to. At least, that's the only explanation I can come up with for why Tommie showed up to the LHHATL Season 6 reunion looking like the Dragon Lady.
Wearing a mean Chinese bob, a sassy Shanghai top-knot, and a Geisha-inspired, jade-green, Shaolin jacket, Tommie looked like her name should've been General Tso, because her fried rice was poppin'.
Tommie's presence on LHHATL has been a bit all over the place this season. She was cast as Lovely Mimi's friend, which meant she was forced into pointless beef in support of Lovely Mimi, who is essentially the imitation crab meat version of a hood black chick. So she scrapped with Treasure, Joc's sometime assistant and Jessica Dime's rag doll, because Treasure made a comment about Tommie being "low" or beneath her.
Tommie also got into it with Jessica Dime during the season because she felt that Dime came at Tammy Rivera, Waka's bae, wrong. And later, Tommie nearly got her wig knocked off by Dime when Tommie talked about how chicks who come at her slick could "get that work" from her. At which point, Jessica Dime promptly let Tommie know that when it comes to her, Tommie better keep her name in the unemployment line 'cause she's not the one.
Surprisingly though, the two women were largely cordial at the reunion. Tommie saved most of her hot fire for Karlie Redd, her arch nemesis. In case you forgot why these two hate each other, Karlie was creeping with Tommie's ex-boyfriend, Scrapp, behind her back. Which is reason enough to hate a bitch, to be honest.
Tommie has since made it her mission to pay Karlie back. On the show, she popped up with Karlie's on-again, off-again boo thang, Yung Joc, in one episode. But during the reunion, things got really ugly when Karlie revealed that she went to Ceaser's house recently and discovered that Tommie had snuck her way into Ceaser of Black Ink's bed too!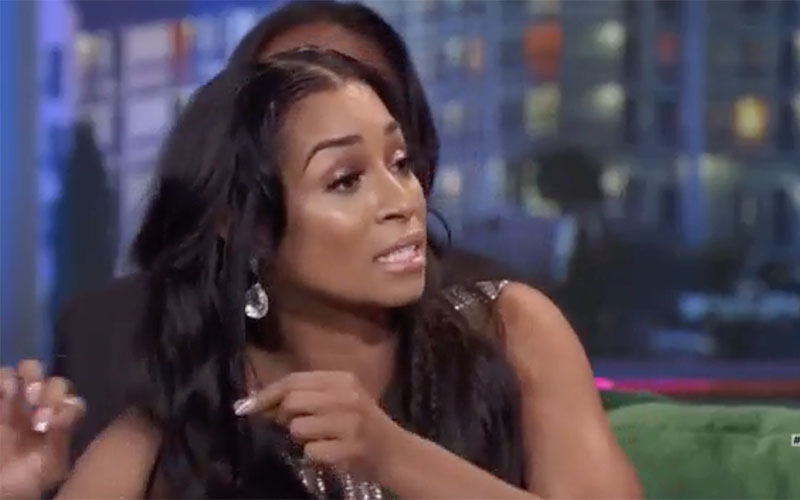 "I usually pick Ceaser up from his house almost every night to take him to my house, cause he ain't got a car in Atlanta," said Karlie. "They tell me, soon as I pull up to the house, 'Yo, Tommie downstairs about to get f**ked.'"
This was especially painful since Karlie hooked up with Ceaser to make Joc jealous in the first place. So not only did Tommie sink her claws into Joc, but she licked her chops with his replacement too?
Karlie, you takin' a whole lotta L's from Tommie, boo.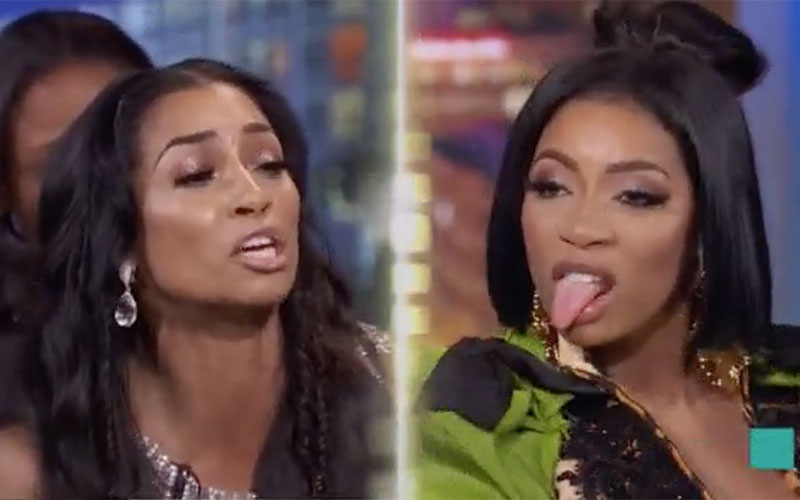 "I'ma play with you till the death of you, bitch" said Tommie tauntingly.
Yo, Tommie is evil as hell. In fact, she could easily be cast as the black Cruella DeVil cause I'm sure her mean ass could skin puppies alive and not feel a damn thing about it. Then again, Karlie started it by stealing her man first, so you can't be too mad at Tommie.
Shooter Shows Off His Abs, Moriah Shows Her Ass
In between the hot mess that was Kirk and Rasheeda's marital breakdown, Joseline and Stevie's paternity pettiness, Waka and Tammy's road to reconciliation, and Tommie's battle with her mother, depression and alcohol, season 6 of Love & Hip Hop Atlanta also played host to a ghetto subplot that played out in a nail salon you never heard of in Atlanta called the Glam Shop.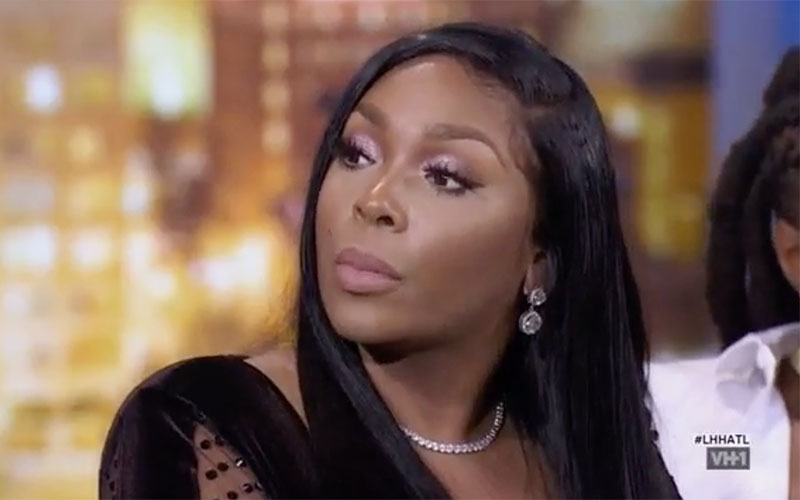 Sierra Gates, the owner of the Glam Shop, was the vehicle for our introduction to Lovely Mimi, aka Imitation Crab Meat. She "hired" Lovely Mimi but clashed with Mimi because Mimi was too extra. At least that's the storyline that producers tried to shove down our throats.
However, the real tea was that Lovely Mimi should have been the least of Sierra's concerns, because right underneath her nose and behind her back, her "best friend" and employee, Moriah, was sleeping with her husband, Shooter.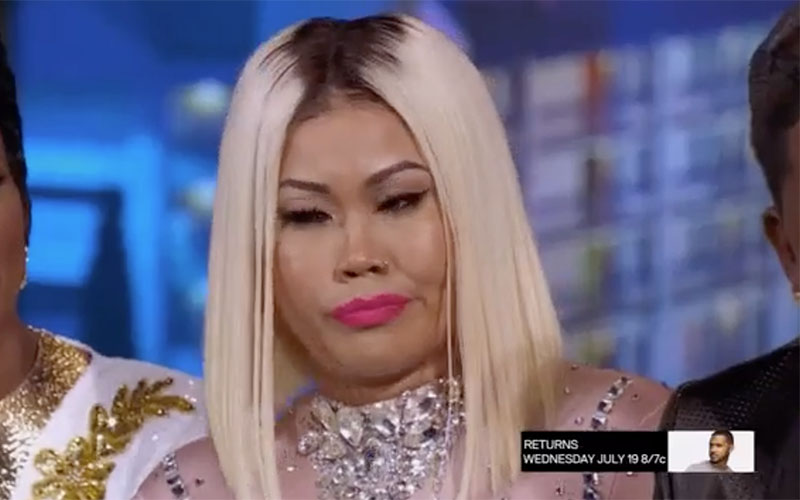 Lovely Mimi later exposed this deep deception and it ended explosively for Sierra and Moriah, which brings us to the reunion where Shooter, for some unknown reason, is dressed in white, ripped, distressed jeans with a button-up shirt that's wide-open, showing off his bare torso.
Now, I'm not gonna say that Shooter is fat, 'cause he's not. He's in decent shape. But he's also nobody's Tyson Beckford with a ripped six pack, so it's not entirely clear why Shooter is out here giving us all that body. Maybe he felt like "Shit, the ladies come out here showing all their wares and goods, why can't I?" which…ok, that's fair. But I still don't think Shooter has any chance of becoming anyone's sex symbol with that stunt.
And his wife, Sierra, makes this point herself when she mid-argument tells Shooter to button up his shirt in frustration.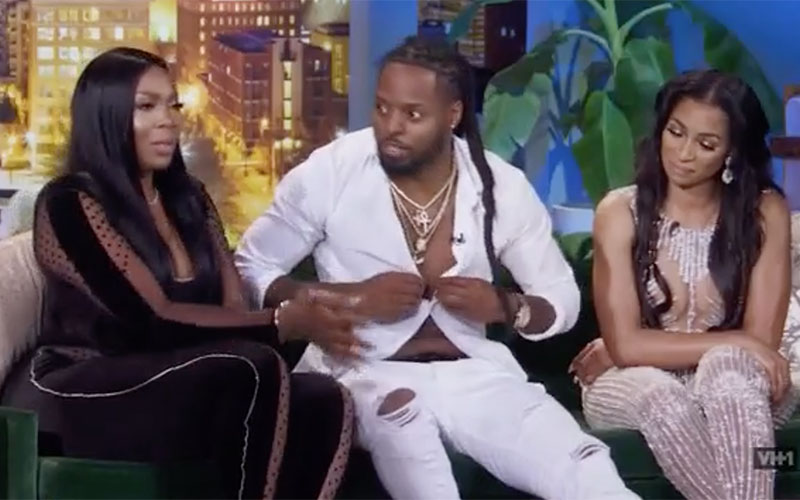 "I just feel like you need to button up your shirt, because…" she said as she trailed off.
Shooter thankfully complied with Sierra's request, though I wonder why the hell she let him walk out on stage like that in the first damn place.
There was a bit of a wild exchange between Moriah and Sierra, as Moriah, who was wearing a blonde wig that looked like it had been plucked straight off the head of a Mattel doll, half-heartedly apologized for sleeping with her boss and best friend's husband in one breath, and then bragged about him eating her ass out in the next breath.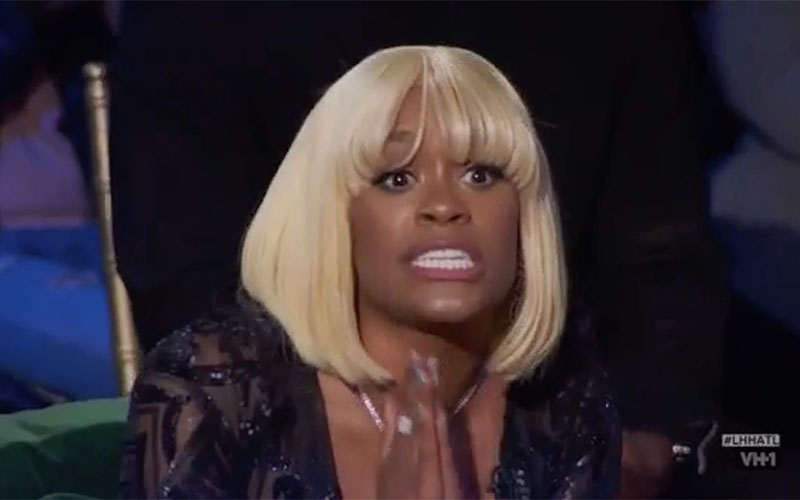 "Woman to woman, I give you a real sincere apology: I apologize," said Moriah.
"Get on your knees, bitch" responded Sierra.
"Bitch, I aint' gettin' on my knees, your n**ga got on his knees when he ate my asshole!" said Moriah in a vicious mic drop.
Y'all gon' learn to stop baiting these side chicks with fighting words, cause these bitches will go there every damn time.
The Ghost of Joseline Hernandez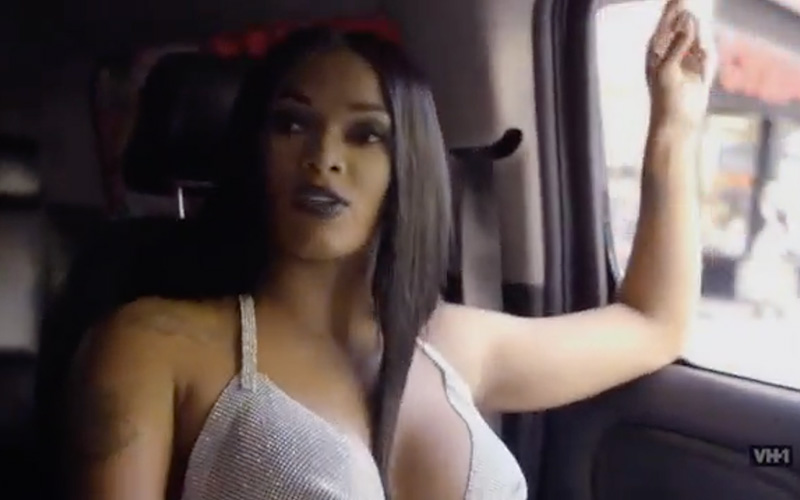 Throughout the episode, the LHHA producers teased that Joseline was protesting and fighting production and refusing to participate in the reunion unless her demands were met. Mona Scott-Young is clearly DONE with Joseline's antics but we're gonna have to wait till part 2 of the reunion to see if the producers are able to coax Joseline the tiger out of her cage for the cameras.
Be the first to receive breaking news alerts and more stories like this by subscribing to our mailing list.