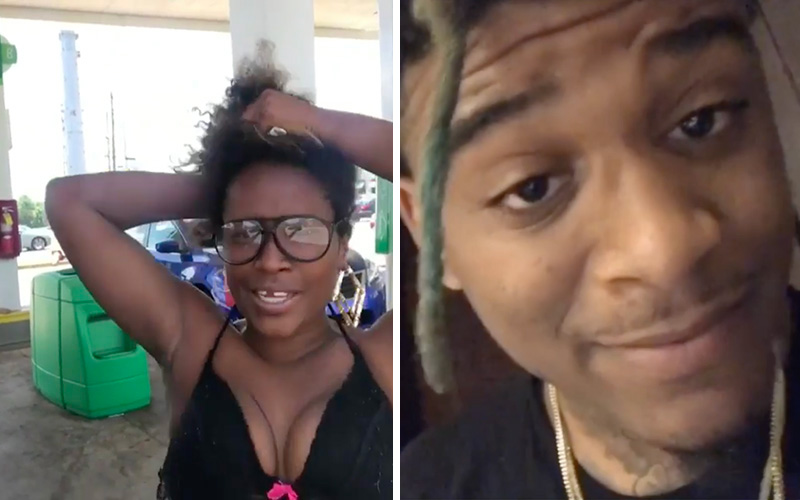 The man who shared that video of "In the House" actress Maia Campbell at a gas station in Atlanta Saturday (Jul. 8) with missing teeth, looking strung out and begging for crack has spoken out about the incident on Instagram.
The Internet as a whole was shocked and saddened to see the former child star in the state that she was in. Not only was she missing teeth and looking strung out, but she was also dressed in nothing but a bra and panties.
Campbell was also clearly out of her mind (or maybe she wasn't?), talking about being raped by a guy who called himself Bill Cosby.
"This guy raped me, but he used a condom and his d**k was big… He said he was Bill Cosby," she told the man in the video. Then she yelled, "I want some crack!" She then went into a story about a Persian stripper who "wanted to f**k me so bad, bruh."
SEE MORE: Fix It, Jesus! Maia Campbell Spotted in Atlanta Toothless, Strung Out and Begging for Crack
After the disturbing video footage went viral on blogs and social media, the guy in the video — a rapper based in Atlanta who calls himself "T Hood" and "One Dread" — caught a bunch of backlash online. He has since responded with a video on Instagram saying he doesn't care what anyone thinks, and he's not sorry for sharing it.
"F**k off my page with all that lame sh*t. Y'all n**gas would not be mad if I posted a white girl," he said. "If I would've ran into Hillary Duff, Lizzie McGuire, and she was geeked up, and she was asking me for some crack, and she was out there trying to suck every n**ga d**k at the mothaf**kin gas station… for money… for crack… Y'all would not give a f**k."
He continued, "Just because she was a black actress from back in the day, who we already all know from reading, she been on the block for years… we been knew this b*tch. She been doing dumb sh*t… been doing stupid sh*t. Went in the industry, got geeked up, f**ked the whole industry, n**gas sent her back to Atlanta and she got geeked up some more."
Fans of the 40-year-old actress have mentioned that she suffers from mental illness and in lieu of taking prescribed medicines from a doctor, she self-medicates with drugs like crack cocaine, something that even her mother, author Bebe Moore Campbell, knew about and wrote a book about before her death in 2006.
But, T Hood isn't buying that argument in the least bit, and thanked those who shared the video while slamming those who didn't like it. "This ain't no mental disorder," he said. "Shawty is just high as f**k… So please stay off my page with that sh*t. Salute to everybody who posted it. F**k you if you hating."
T Hood aka One Dread wrote in the caption of his video response:
One time and one time only for you dumb ass hypocritical ass black people.. if I would have posted a white person or some crack heads fighting y'all would be hype but no just cause y'all think y'all know someone cause they "WAS" famous at one point doesn't make shit cool for her to be on drugs PERIOD.. I'm just a real person I don't discriminate on who I post.. if you out here and u walk up on me begging me to buy you crack FOR YEARS.. I will post yo stupid ass too.. if y'all care so much why y'all stop supporting her and got her on the block being a junkie? For Hypocrites only.. **middle finger emoji** #OneDread
The rapper wrote in another post on IG:
One thing I can say.. this is a sad situation where everyone from Stone Mountain has been knew this lady and she has always got food from me and money or whatever she wanted not because I knew who she was but because she was a addict in my neighborhood. She does not want help I have seen multiple people try to help her but she stole from them and ran back to crack.. I never tried to disrespect or try to harm her in anyway by posting the video. Right before the video she came up to me asking for crack and told me who she was so I recorded it. She started telling me about all the industry d**ks she has had in Hollywood and it reminded me of girls these days so I tried to show the world that crack is real and people not seeing the bigger picture. Nobody has asked me where she at to go help everyone just want to think I was making fun but I was showing y'all drugs f**ked up no matter who you are. I'm sorry to any of my fans or friends I hurt in the situation but please remember that I help this lady all the time and she doesn't want the help. Love one dread.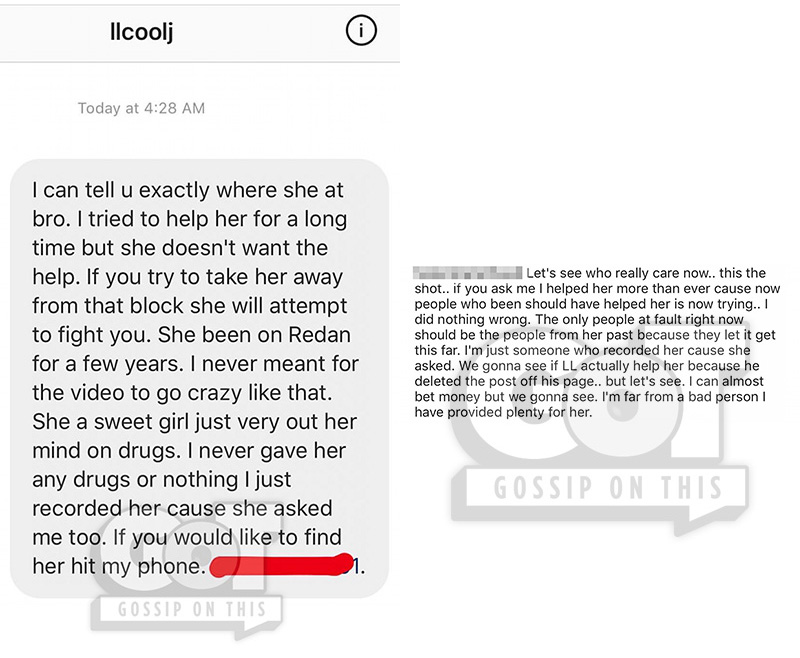 T Hood also shared a screenshot (above) of a DM he sent to rapper/actor LL Cool J, who saw the video and attempted to get contact information for Maia Campbell via Instagram.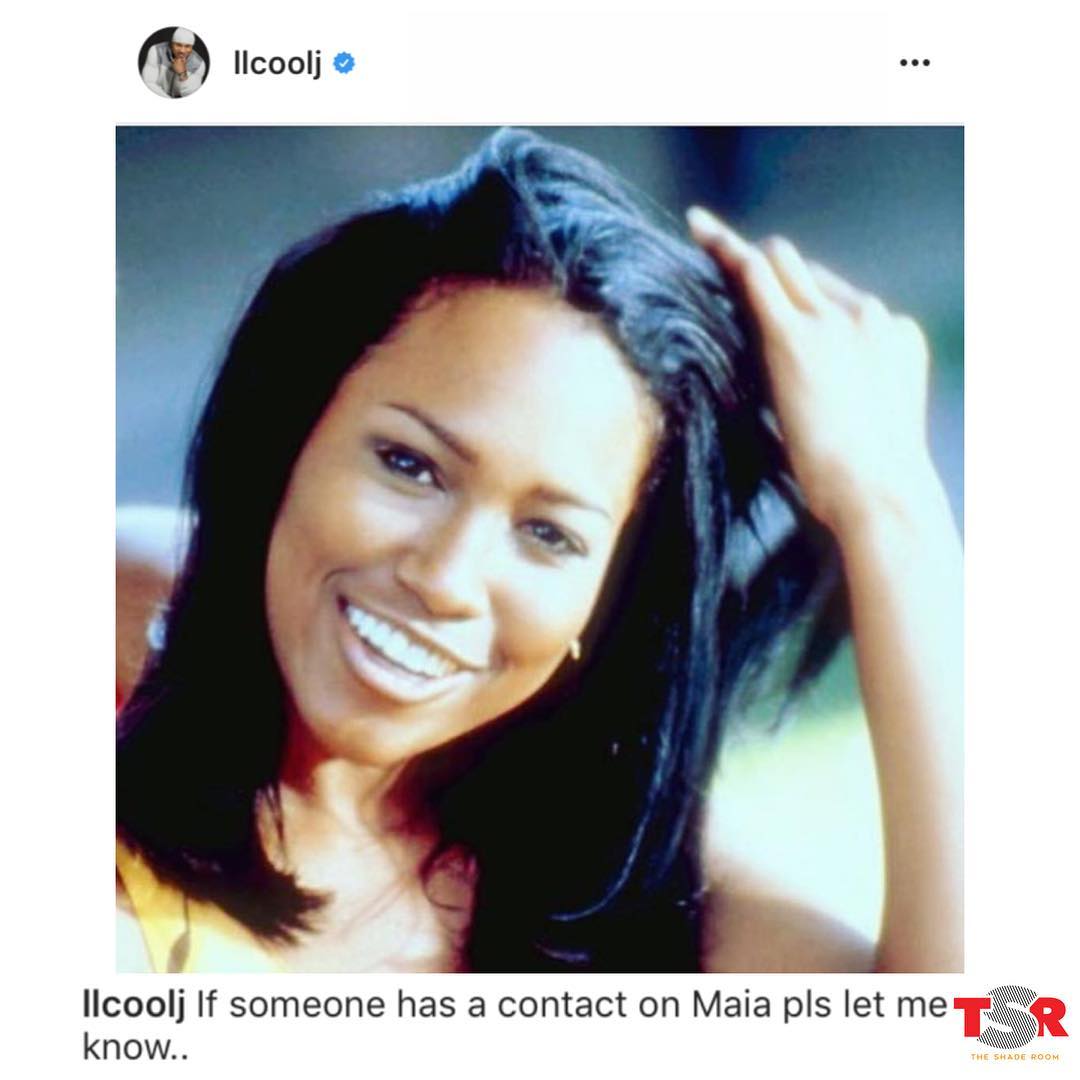 Apparently after getting the info he needs regarding Maia's whereabouts, he posted an image of the words "Thank You."
https://www.instagram.com/p/BWWqwH4F-yv/?taken-by=llcoolj
And he also also said this on Twitter:
Instead of pulling out your phone and filming someone who's obviously having trouble. Maybe lend a helping hand? A kind word? @MaiaCampbell

— LLCOOLJ. (@llcoolj) July 10, 2017
Now that all of this has been made public, hopefully LL Cool J can get in touch with her and she'll actually listen to him, and possibly get cleaned up so that she can get back to work as an actress. It's never too late to take back control of your life.
What are your thoughts on this? Do you think T Hood/One Dread was wrong for posting the video?
Be the first to receive breaking news alerts and more stories like this by subscribing to our mailing list.