An unarmed black father of three was shot in the back four times by a white police officer. Meanwhile, the victim's girlfriend was the one sitting in jail for attempted murder.
UPDATE: DeQuince Brown Released From Jail After Witnessing Louisiana Cop Fatally Shoot Dejuan Guillory
27-year-old Dejuan Guillory was killed by Officer Paul LaFleur in Mamou, Louisiana on Thursday, July 6th. LaFleur was reportedly responding to a burglary in progress when he encountered Guillory and his girlfriend, DeQuince Brown, riding an ATV on a dirt road. The officer pulled over Guillory and a physical altercation erupted between the two men.
Guillory was reportedly on the ground with his hands behind his back when LaFleur opened fire. Brown tried to stop the cop from shooting, which caused LaFleur to suffer injuries.
Guillory died on the scene, while Brown was arrested and charged with attempted first-degree murder of a police officer. Here are some things you need to know about the police killing of DeJuan Guillory.
Dejuan Guillory was killed by Officer Paul LaFleur after being shot four times in the back. Guillory's girlfriend has been charged with attempted murder for trying to Protect Guillory from his killer.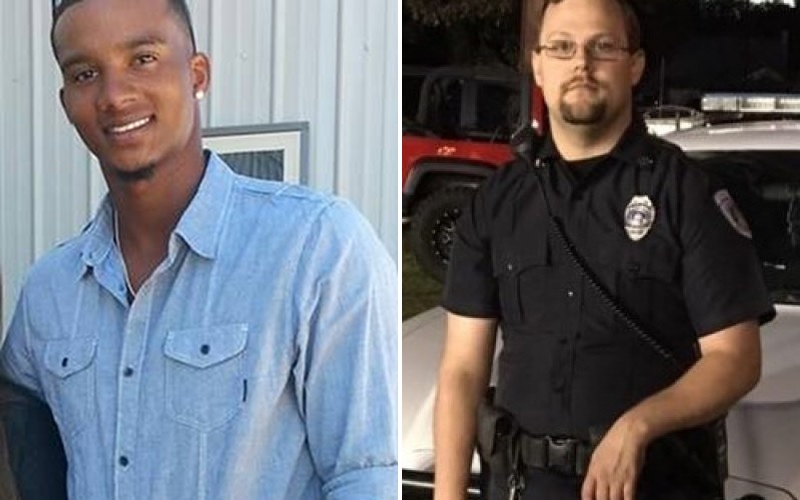 Around 4 a.m. on Thursday, July 6th in Mamou, Louisiana, Dejuan Guillory and his girlfriend DeQuince Brown, 21, were riding an ATV on a secluded gravel road. The two had been frog hunting, known as "frogging" in Louisiana, and celebrating a big payday Guillory had just received for completing two concrete jobs.
The couple passed Evangeline Parish Officer Paul LaFleur, who was in a parked vehicle, but reportedly responding to a burglary in progress. The officer flashed his lights at the couple, causing Guillory to stop.
(FYI: Several media outlets have reported that Guillory was a burglary suspect, however, it doesn't seem he was involved in the alleged burglary LaFleur was sent to investigate.)
LaFleur asked to see their ID's, but they didn't have them. A verbal argument then began between Guillory and LaFleur, which escalated into a physical altercation. At some point, the cop asked both Guillory and Brown to lay on their stomachs on the ground.
Though, Guillory was on the ground, as instructed, with his hands behind his back waiting to be handcuffed, he was arguing with the officer and begging for his life.
"Please don't shoot me, I have three kids," Guillory allegedly said. LaFleur suddenly shot one round into Guillory's back.
In an effort to prevent the officer from shooting her boyfriend to death, Brown got up from the ground and jumped on LaFleur's back. The two scuffled with Brown biting LaFluer. The officer fired three more shots, all into the unarmed black man's back.
LaFleur then went back to his patrol car. However, he had dropped his radio on the ground during the altercation and it was Brown who actually called for help.
Two ambulances arrived. But according to Brown, one transported LaFleur to the hospital to be treated for his injuries, while the other left empty. LaFleur has since been released.
Dejuan Gullory was pronounced dead on the scene.
Brown says she never even saw CPR performed on him. And while she was being taken into police custody, she says her boyfriend's dead body continued to lay in the middle of the street.
Brown has been charged with first-degree attempted murder of a police officer for protecting her boyfriend from his killer.
My sister DeQuince Brown was charged with 1st degree attepted murder of a police officer. She is 5'5 and 110 pounds. Bullshit. Send prayers. pic.twitter.com/RYqbQhJDdq

— johanna (@thedutchdoll) July 7, 2017
Meanwhile, Officer Paul LaFleur has been placed on administrative leave while the Louisiana State Police Department investigate the shooting.
DeQuince Brown shared her recollection of the shooting through her lawyer, Joe Long. Her attorney gave a 14-minute interview with Pen Point News.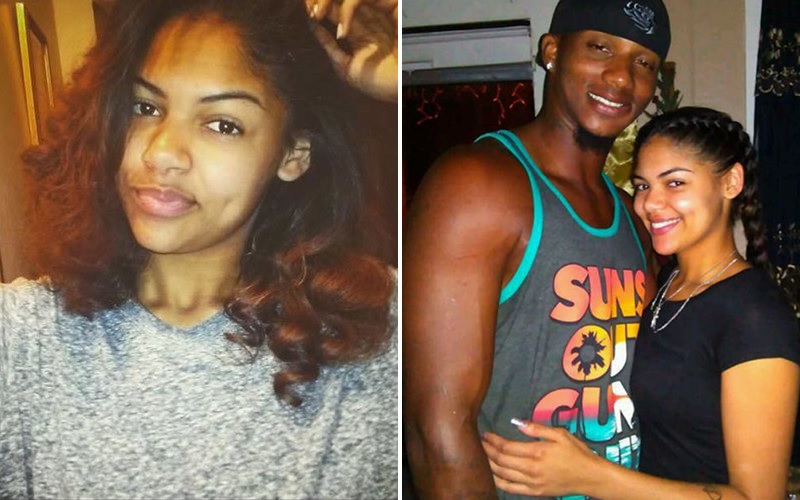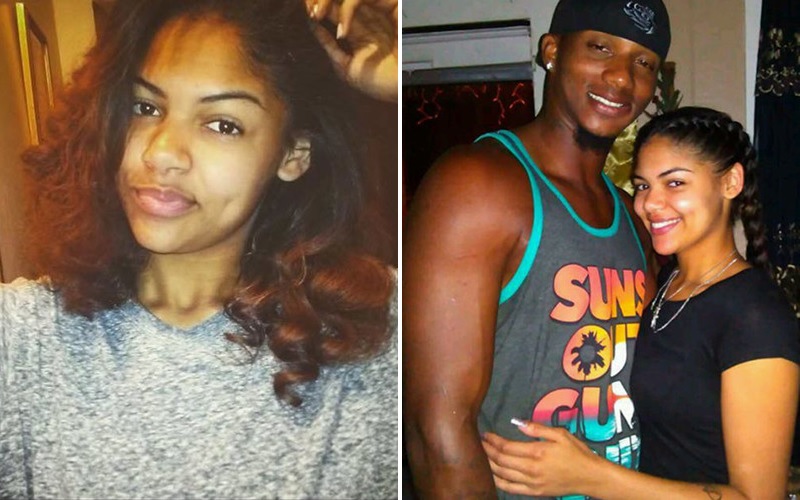 Louisiana State Police offered few details regarding the shooting during a very brief press conference. The designated spokesperson called the incident an "officer-involved shooting" and noted there was an altercation between the officer and Dejuan Guillory.
DeQuince Brown, Guillory's girlfriend and witness to the shooting, was initially unable to tell her side of the story, as she was jailed and charged with attempted murder of the officer. However, her lawyer, Joe Long spoke out on her behalf.
Attorney Joe Long spoke at length exclusively with Pen Point News investigative reporter Daniel Banguell. Long says his client and Guillory were stopped by Officer LaFleur and he became angry when the two did not show their ID's
On behalf of Brown, Long described the altercation that occurred between Guillory and LeFleur:
"I think it started out a traffic stop, and the officer's temper got the best of him. It was a fistfight and he (Guillory) had retreated. If he retreated, there's no need to kill the man.

"[The altercation] started out verbal. The officer was in Guillory's face giving him grief about not having his ID on his person, and Guillory was arguing back… the officer wasn't satisfied with the answer. The officer was in his face, pointing his finger.

"[LaFluer was] way up in Guillory's face, and Guillory pushed the officer back to get him out of his private space. The officer then came back and shoved Guillory… a fight began and Guillory hit the officer at least twice."
Brown pleaded Guillory to stop and he began to walk away from the altercation and back toward Brown and the ATV.
According to Long, this is the moment "the officer drew his weapon and told both of them to get on their ground on their belly. That's what they did… Guillory put his hands behind his back, waiting for the officer to handcuff him."
You can listen to Long's 14-minute interview with Banguell in its entirety below:
Long continued:
"They were both on the ground. Guillory was on the ground, on his belly, his hands behind his back, and the officer had a gun trained at Guillory's back, maybe a foot or two from Guillory's body. They were still arguing back and forth but Guillory was on the ground as directed. His hands were behind his back. He was not resisting. All of a sudden, a shot rang out."
Brown then jumped on the officer's back to stop him from shooting. She bit the back of LaFleur's neck, causing an injury. LaFleur then fired three more shots into Guillory, and Brown used the officer's radio to call for help.
According to Long, Guillory urged the officer not to shoot before being killed.
"Guillory was begging for his life. Guillory was saying 'please don't shoot me, I have three kids.' He was very afraid."
"Shut the f*ck up or I'll shoot you," Long says the officer threatened as Guillory begged for his life.
Once help arrived, Brown says she never saw CPR performed on Guillory. She says LaFleur was transported to the hospital and her boyfriend's body lay in the middle of the street as she was being taken into police custody.
Dejuan Guillory was a beloved father of three sons who brought joy to everyone he encountered.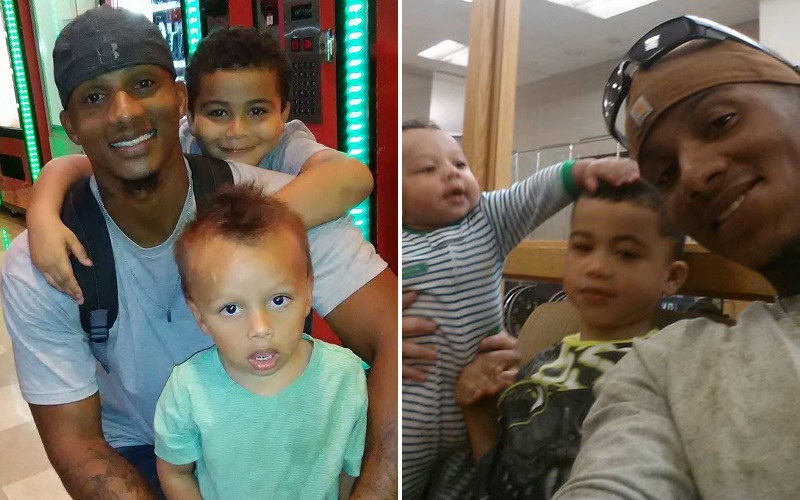 Dejuan Guillory was the father of three sons and was beloved by those who knew him.
Daniel Banguell of Pen Point News, who extensively covered the shooting, described Guillory as a "beloved family man, stellar athlete, and fun 'country-boy,' who people loved to be around."
"He was such a good and caring guy, where ever he went he always made everyone laugh. He was closer than a friend, kind of like a brother to me," close friend Ronald McGee told local news station News 13.
"When you were down, he would lift you up," Lessie McGee added.
Guillory often posted pictures and videos of his children on Facebook.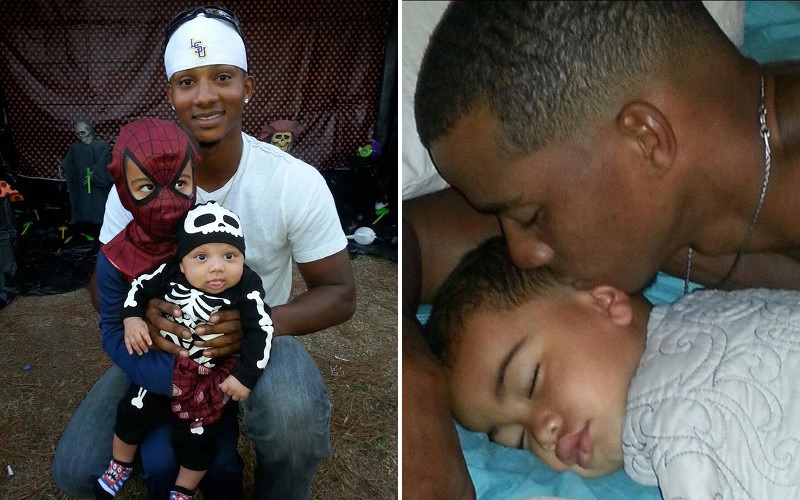 Several family members and friends have shared their shock, grief, and condolences on social media.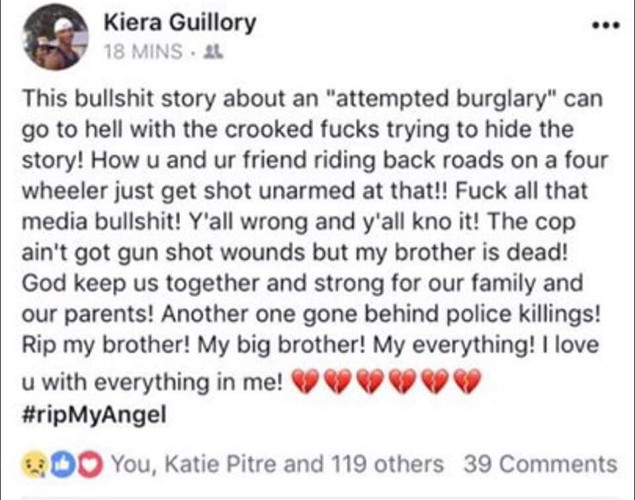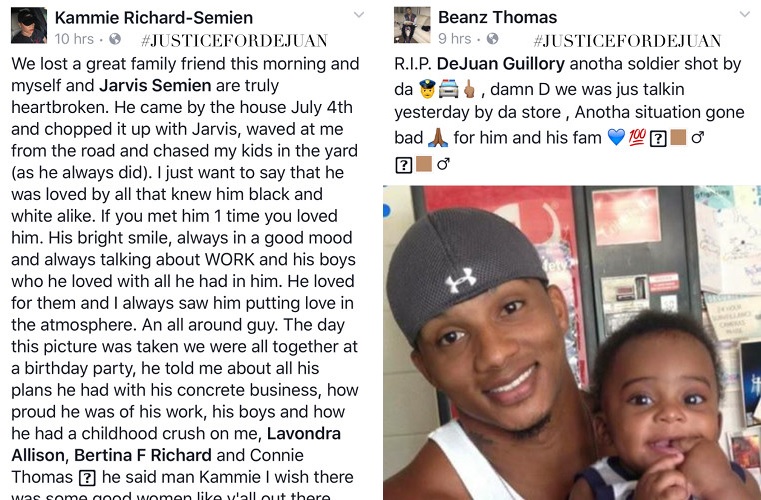 Dejuan Guillory had a promising future as a concrete contractor, however, police and some media outlets have chosen to focus on his 2015 robbery charge.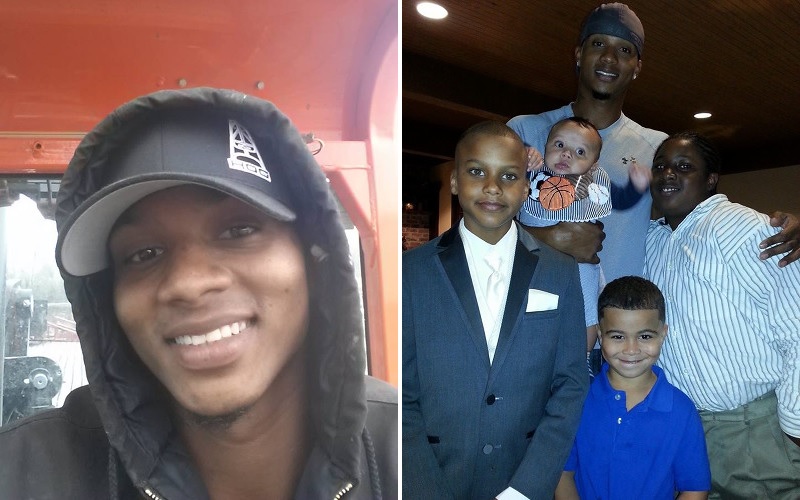 Police and some media reports have attempted to portray Dejuan Guillory as a career criminal, due to his past. However, his family says the 27-year-old was attempting to turn his life around and had a bright future.
At the time of his death, Guillory was doing well for himself as a concrete contractor. He was celebrating a big payday from two concrete jobs with girlfriend DeQuince the morning he was killed.
However, prior to this promising future, Guillory turned to crime when his family faced hardships a few years ago. In 2015, he was arrested for attempting to steal an ATM using a backhoe.
Also firing at police officers during the incident, Guillory was charged with attempted murder, aggravated criminal damage to property over $150,000, criminal damage to property and felony theft of $100,000.
Guillory pleaded no contest to the charges, and in December 2016, was sentenced 10 years in prison, with five suspended.
It's unclear why he is not in jail for the 2015 incident, however, the Guillory family attorney, Pride Doran, says he will share more details on this in the coming days.
Doran wrote in part in a lengthy statement on Facebook:
"I've seen some news outlets pose the question 'Why was he not in jail?'. As the lawyer who handled the referenced matter, I can tell you without reservation, the answer to that is 'Because he did not belong in jail.'

"Over the next day or so, I'm going to detail exactly what happened in that case, and you'll see how and why it is important that each person within a keyboard's stroke of this message, any of us who cares about truth and justice in this Nation, do all we can to let the world know who Dejuan really was … we can't expect the media to accurately do it for us."
Officer Paul LaFleur has been placed on administrative leave as the shooting is being investigated.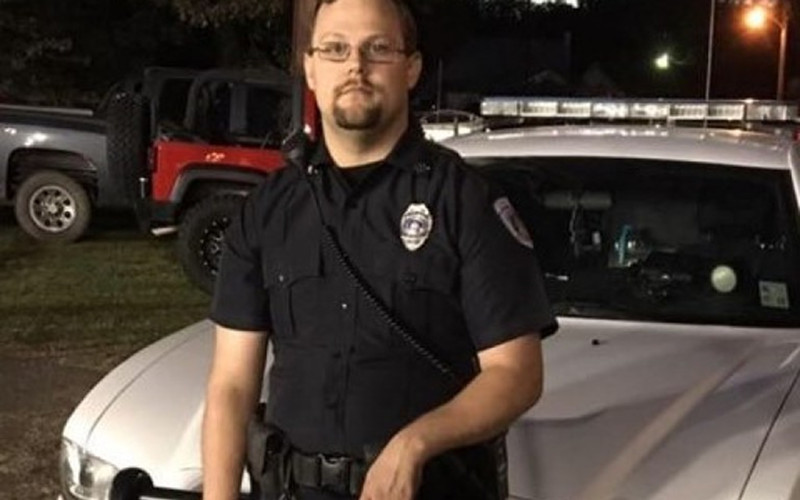 Although police have not officially released the name of the officer involved in the shooting, the Guillory family has identified Officer Paul LaFleur. A spokesman for the department has confirmed that he has been placed on administrative leave.
Louisiana State Police say they aren't releasing any more details as the investigation is ongoing.
Be the first to receive breaking news alerts and more stories like this by subscribing to our mailing list.