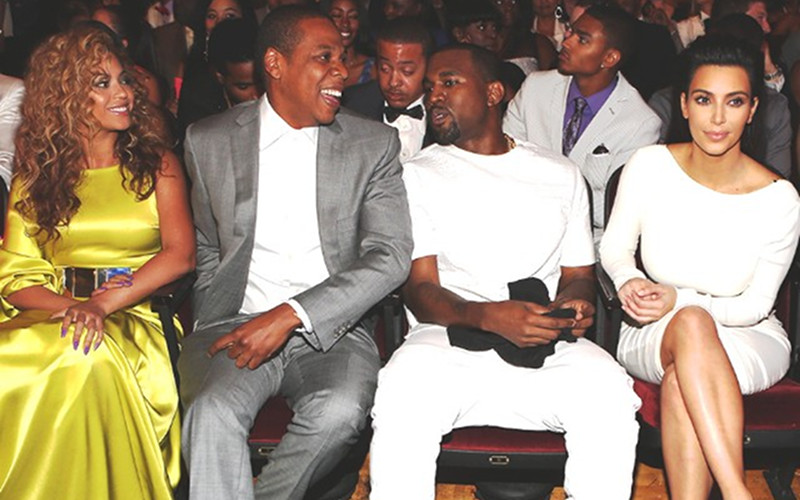 JAY-Z got extremely personal on his latest album, 4:44, including addressing the beef between him and close friend Kanye West. Though, we're still unsure exactly what caused a rift in their bromance, some believe Kim Kardashian may have sparked the issue.
On the album's opening track, "Kill Jay Z," Jay makes a clear reference to Kanye and his behavior as of late.
I know people backstab you, I felt bad too
But this 'F*ck everybody!' attitude ain't natural
But you ain't a saint, this ain't kumbaye
But you got hurt because you did cool by 'Ye
You gave him 20 million without blinkin'
F*ck was he thinkin'?
The verse most likely refers to Kanye's on-stage rants about Jay and Beyonce last year during his Saint Pablo tour.
"Beyoncé, I was hurt. I went down seven years on behalf of your fake sh*t," he said during a show in Inglewood, California. "Jay-Z. Call me bro, you still ain't call me. I know you got killers, please don't send them at my head."
During another show in Seattle, he revealed that he was not satisfied with TIDAL and claimed Blue Ivy had never played with his daughter North.
Kanye was admitted to UCLA Medical Center and subjected to a psychiatric evaluation following these rants and after exhibiting other bizarre behavior. The rapper had allegedly suffered a nervous breakdown and was hospitalized for over a week.
However, a source tells Page Six that Jay and Kanye had been having issues even before breakdown, and Kim Kardashian may be to blame. The source says Jay and Beyonce distanced themselves from their friend because he was "forcing Kim Kardashian" on Beyoncé.
"[Kanye's] rant was really about Kim and Beyoncé not being BFFs. Kanye is frustrated that his wife does not have a better relationship with Beyoncé. He wanted to put that pressure on Jay. It's like, 'We're cool and we do business together, and now our wives should be friends?'"
The unnamed source says the little relationship Bey has was with Kim "is not organic. It's not real." The two women are just too different to be friends. "Beyoncé is a Southern, God-fearing woman, despite what you may see when she's entertaining. She may not have much in common with Kim," the source added.
Jay was brutally honest about his strained relationship with Kanye on 4:44. "It's like, Jay believed in you and now you've alienated him to where he's like f**k you," the source tells Page Six.
Since the release of 4:44, Kanye has officially severed ties with TIDAL, citing a money dispute. The rapper claims Jay's streaming service still owes him $3 million. However, I'm sure Jay's diss made the decision a little more personal rather than strictly business.
Though Kanye already told us last year, now, we really shouldn't expect a Watch the Throne 2. The longtime bromance between rap's biggest stars may have officially run its course.
Be the first to receive breaking news alerts and more stories like this by subscribing to our mailing list.