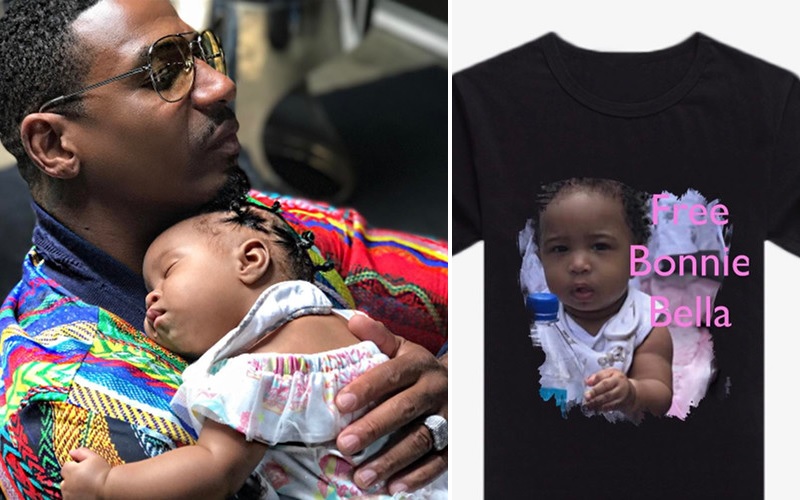 Long before she was even here, I urged you all to keep baby Bonnie Bella in your prayers. Well, now she needs us more than ever because her parents are back to their old tricks.
Stevie J claims Joseline Hernandez is keeping his daughter away from him and has created a t-shirt and a hashtag to get her back. This is no joke, people.
RELATED: Joseline Explains Why She Quit Love & Hip Hop Atlanta
On Wednesday (Jul. 5), the Love & Hip Hop Atlanta star started a social media campaign urging Joseline to let him see their 7-month-old daughter. He posted a "Free Bonnie Bella" t-shirt on Instagram accompanied with the hashtag #FreeBonnie.
"Gonna go hard for mine until she's back in my arms," he wrote. "This is not a joke or a game."
This isn't the first time Stevie claimed Joseline was keeping his daughter away from him. Earlier this month, he posted a video of himself playing with Bonnie in his backyard pool.
He wrote:
"Missing my Bella, I love my children more than I love myself & it's foul for you to be used as a pawn but trust me when I say once you're in my arms again that's where you'll stay forever."
The off-and-on couple seemed to be in a good place just a few months ago, but things have certainly changed. As seen on LHHATL, Stevie and Joseline began to butt heads again after a tense on-screen confrontation between Joseline and Stevie's eldest daughter, Savannah.
SEE MORE: Joseline Dragged for Attacking Stevie J's Daughter Savannah on Twitter
Stevie urged Joseline to apologize, but she didn't back down and is now keeping Bonnie Bella away from her father due to the family drama. "She been keeping my daughter from me, that's not cool," he said on the show. "You didn't answer my call to see my baby. When I call — I want to see her."
Joseline retaliated by threatening to move to Miami with Bonnie. However, Stevie told her that his daughter stays with him and that he wouldn't allow her to use their daughter as a pawn.
RELATED: Love & Hip Hop Atlanta Season 6 Reunion Spoilers
Joseline recently attacking Savannah on Twitter and calling her a "nappy-headed hoe" most-likely didn't help the situation either.
Whoo, chile! Even an innocent baby can't get Stevie J and Joseline to get their act together.
The LHHATL season 6 reunion (which Joseline allegedly quit) will air on VH1 this coming Monday, July 10th.
Be the first to receive breaking news alerts and more stories like this by subscribing to our mailing list.