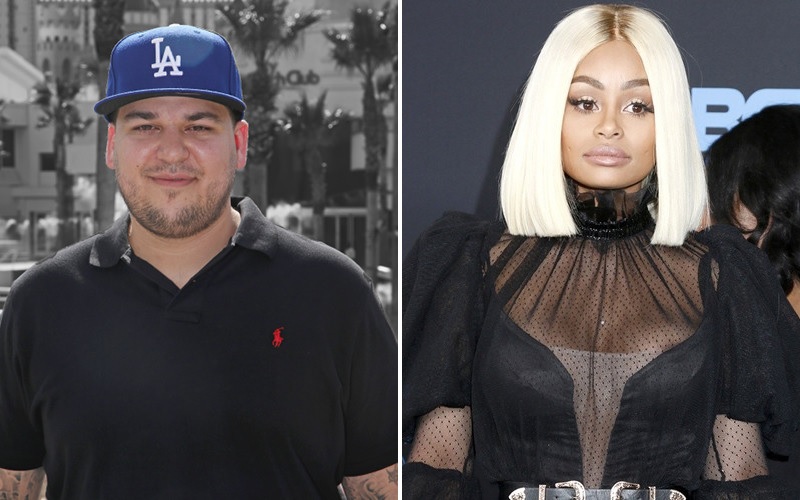 Before we even begin, I just want to forewarn you that this is a twisted mess of a story. Rob Kardashian and Blac Chyna have sparked Social Media War number I-Can't-Even-Count-At-This-Point. And their choices of weapons include accusations of cheating, assault, drug use, and revenge porn.
It seemed the on/off again couple had reconciled a few weeks ago. However, after Chyna taunted him with a video of herself in bed kissing another guy (an R&B singer named Mechie), Rob went nuclear on his baby mama on Wednesday (Jul. 5).
"Hahahaha Chyna just sent me this video saying happy 4th of July what a crazy person. Come spend time with your daughter instead of f–king me and then this dude right after. U need help."
In response, Rob posted three nude photos of Chyna (breasts, vagina, butt) on Instagram. However, the photo sharing app removed the photos for violating its no-nudity policy. According to TMZ, Rob reposted them, but they were, again, removed. His account has since been deleted by Instagram for continuously violating their TOS.
But Rob didn't stop there. In a series of social media rants, he accused Chyna of cheating on him with several guys during their relationship, claimed that he still pays her rent and bills, buys hundreds of thousands of dollars in jewelry and gifts, paid for her plastic surgery, and that she was only with him out of spite because his sister Kylie Jenner took Tyga.
https://twitter.com/robkardashian/status/882684690221674496
https://twitter.com/robkardashian/status/882685398690013184
https://twitter.com/robkardashian/status/882689885735452673
https://twitter.com/robkardashian/status/882690073753522176
https://twitter.com/robkardashian/status/882690256918781952
https://twitter.com/robkardashian/status/882690373054853121
https://twitter.com/robkardashian/status/882690660037529600
https://twitter.com/robkardashian/status/882690803335868420
He also claimed Chyna abuses "alcohol and drugs and cocaine and X and E."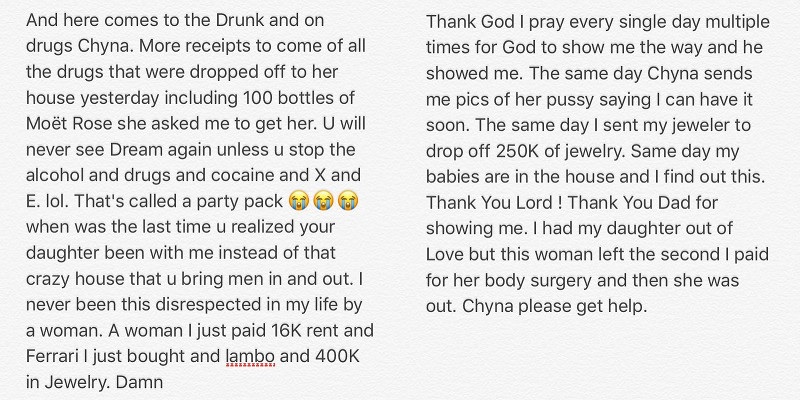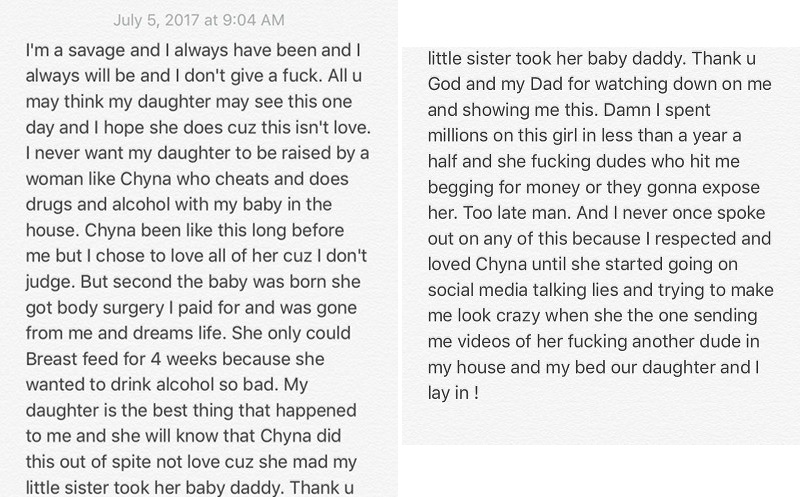 Rob also posted a note to rapper Ferrari (another guy he says Chyna cheated on him with), who posted an IG pic of his own, laying in Chyna's bed wearing Rob's Versace robe.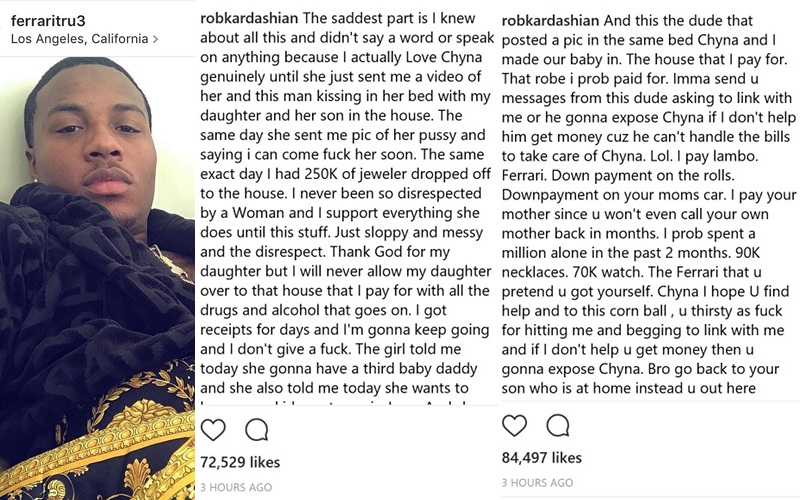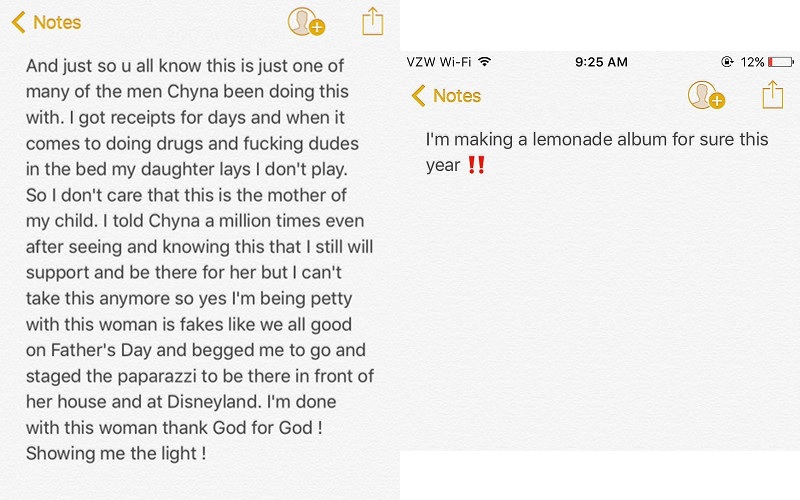 After being exposed by her ex-fiancé, Chyna retaliated by claiming on Snapchat that Rob physically abused her and forced her to be quiet about it. Her snaps have since been deleted.
https://twitter.com/ShadeSaturdays/status/882618190773276674
Prior to their latest social media war, Rob said the two were in a good place. He posted alleged text messages as receipts and said Chyna had sent him a nude photo the other day, giving him a preview of what was to come when next hooked up.
Honestly, I can't with these two anymore. Their relationship is twisted and clearly toxic. We all need to pray for their daughter, Dream.
Be the first to receive breaking news alerts and more stories like this by subscribing to our mailing list.