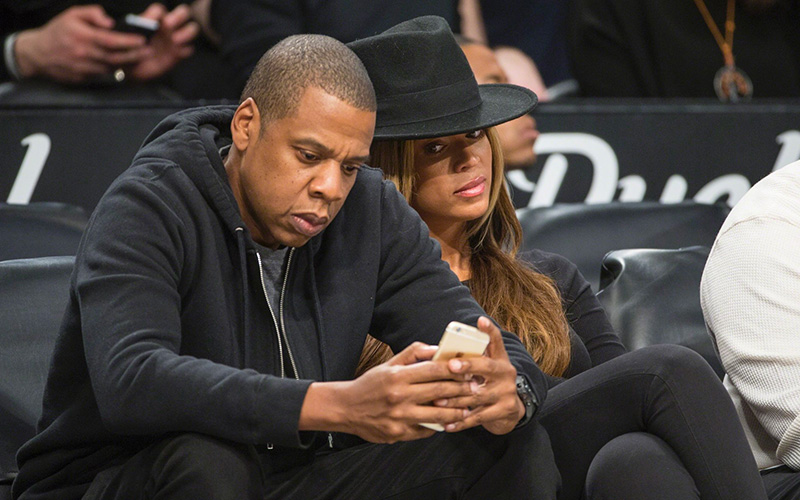 After a unique and somewhat confusing marketing campaign, JAY-Z dropped his 4:44 album on the world Thursday night/Friday morning, and social media can't get enough of it.
The album touches on a number of things, including him confirming the infidelity Beyoncé exposed on Lemonade, that infamous elevator incident with Solange, his relationship with Kanye and much more.
RELATED: Eric Benét Claps Back at JAY-Z on Twitter for "4:44" Diss
From people praising the lyrical content to making jokes about how the album makes them feel while listening, Twitter is LIT with reactions and memes about Hov's 13th studio album.
Check out some of our faves below:
The general consensus on Twitter: "Wait, so JAY-Z really did cheat on Beyoncé and Lemonade wasn't just an album?!"
Everyone all surprised tonight like oh wow Lemonade was all true??? DaFuk did you think it was???

— MSF (@mfromthesfbay) June 30, 2017
I always thought Lemonade was Bey mind fucking the industry but jay really admitted to cheating on 4:44.. this wasn't part of the plan pic.twitter.com/ntIlcpLH5X

— KUNTYEWEST (@kuntyewest) June 30, 2017
Jay-z responded to Beyoncé Lemonade on 4:44. Takes the blame and takes shots at the haters. #JAYZ #JayZ444 pic.twitter.com/MGmHeEQgBp

— George M Johnson (@IamGMJohnson) June 30, 2017
Beyoncé spilled Lemonade and Jay-Z is spilling tea. A true couple. #444 pic.twitter.com/aNcJ63I0xi

— Lin-Z ??(10-2-0) (@LindseyNoLohan_) June 30, 2017
Jay Z and Beyonce giving us Arnold Palmer…Lemonade and Tea

— Good On Any MLK Blvd. (@eleven8) June 30, 2017
Yooooo. Beyoncé really gave us Lemonade and Jay- Z giving us the Hennessy. #JayZ444 pic.twitter.com/CAMtj0oOXg

— Jasmyn Lawson (@JasmynBeKnowing) June 30, 2017
Lemonade and 4:44 are great PSAs in favor of therapy.

— KB (@KaraRBrown) June 30, 2017
Amd people really thought Solange whooped Jay for no reason pic.twitter.com/1lnkDlLbY6

— ???? (@Kelsie_G18) June 30, 2017
Now it makes sense why Solange beat up Jay Z in the elevator and Beyoncé didn't do nothing about it. #444 #JayZ444 pic.twitter.com/Tg6rHGWsvc

— Basicpug ? (@Basicpugs) June 30, 2017
Remember the beyhive told me he didn't cheat and Lemonade was from a different perspective. Nah that nigga really cheated on y'all queen. pic.twitter.com/ZHfcXpdC0M

— k (@tsunamikira) June 30, 2017
When you get so lost in #JAYZ444 that you forget who he's talking about for a second then realize… pic.twitter.com/OApI8OrTOJ

— Tony. (@SoLyrical) June 30, 2017
Bumping Jay-Z's album even tho he basically confirms he cheated on Bey. #444 pic.twitter.com/GutbfSlg7n

— ? (@The__Prototype) June 30, 2017
This just gives greater meaning to Lemonade. She really did capture her emotions/experience in the most authentic & artistic way possible. https://t.co/KCi5hJX8wv

— ? (@The__Prototype) June 30, 2017
#444album the beehive at Jay-Z after he admitted to cheating on Beyonce pic.twitter.com/weAPzFZBJi

— DKT (@darleneturner53) June 30, 2017
https://twitter.com/bansky/status/880643931741892608
https://twitter.com/TheBeyHiveTeam/status/880644611127087104
https://twitter.com/wyetthasspoken_/status/880645820563042304
https://twitter.com/Izzyx91/status/880646361661702148
"I apologize for all the stillborns, cuz I wasn't present your body wouldn't accept it…"

Now i gotta play lemonade pic.twitter.com/7cBDflFOQm

— you take the clothes off my back (@chamoniIIe) June 30, 2017
Folks thought Beyonce was lying in Lemonade and Jay confirmed it ALL. Lord….

— Good On Any MLK Blvd. (@eleven8) June 30, 2017
Where are the ones who told me to shut my whore mouth bc Lemonade was "just a story"? pic.twitter.com/4yrEBAZBZQ

— waves.mp3 (@chasemylovex) June 30, 2017
4:44 honestly made me love and appreciate Lemonade 1000% times more. pic.twitter.com/49sOV2qEeu

— J. (@jjahmanit) June 30, 2017
https://twitter.com/TheBeyHiveTeam/status/880654362829352960
https://twitter.com/kateleext/status/880656472316801024
Jay z confirmed he cheated but he man'd up,took responsibility and got his woman back. ????? behind closed doors like it's supposed to be

— E (@callmeEDIDDY) June 30, 2017
https://twitter.com/WickedBeaute/status/880666765453381633
Jay really said "you matured faster than me I wasn't ready" when Bey was 21 and he was at least 33. Niggas are awful.

— Shamira ?? (@_ShamGod) June 30, 2017
https://twitter.com/RuledByApollo/status/880666892121378818
Here lies the body of the love of my life who's heart I broke without a gun to my head. Mother of my children both living and dead…

Whew.

— ?kyrie kringle? (@random_weighs) June 30, 2017
This would be the perfect time for a joint tour.

OTR was so good. Just imagine the story that LEMONADE and 4:44 would tell collectively. pic.twitter.com/2O7y3nWRtG

— Shea J. Smith (@shea_jordan) June 30, 2017
Beyonce spilled her truth, jayz spilled his. Now it's time for a fire joint album. Let's all heal pic.twitter.com/ib0qqppCYH

— brandon (@RoyalLightness) June 30, 2017
https://twitter.com/MADBLACKTHOT/status/880663351994527745
Jigga even poked a little fun at himself:
"I be skipping leg day, I still run the world."

Jay is fed up with the leg jokes. pic.twitter.com/iBnrh3Ln8R

— philip lewis (@Phil_Lewis_) June 30, 2017
Bish. Jay-Z is throwing shots everywhere @ everyone. Even at himself #444 #JAYZ pic.twitter.com/AOMn896c8Q

— AB ?????? (@Lajj_B) June 30, 2017
And he was also really open about his relationship with his mother and her sexuality:
Jay said his mother is a lesbian and came out in support of her same-sex relationship. Rap really has grown up pic.twitter.com/3cYqgJrfM7

— Insanul Ahmed (@Incilin) June 30, 2017
Some folks caught the shade JAY-Z was throwing at other rappers and celebs:
Future: "ooh this kill Jay z sound HARD"

"…..in the future other niggas playing football wit ya son"

Future: pic.twitter.com/IBnft7Sb7M

— FIRST PLACE BEARS (@FlowsAndolini) June 30, 2017
"in the Future other niggas playing football witcha son" pic.twitter.com/ybfigrcSL6

— king crissle (@crissles) June 30, 2017
When Kanye heard "Kill Jay Z" pic.twitter.com/U0KWVy1Fkx

— Spitta (@VuhSayCee) June 30, 2017
Kanye sitting with Kim right now like "Jay don't love me no more ?" pic.twitter.com/ttcdxhGXKc

— Adrian Martinez ????? (@Kontra402) June 30, 2017
Eric benet just rubbing his temples this morning like "why hov what did I do to you"

— Desus Nice (@desusnice) June 30, 2017
"You almost went Eric Benet. And let the baddest girl get away. Never go Eric Benet" #JayZ444 #EricBenet

Eric benet: pic.twitter.com/zahpc0B7qP

— Baked Ziti ? (@Zito215) June 30, 2017
When Halle hears that Eric Benet line! #444 #EricBenet #JAYZ #TIDALXSprint pic.twitter.com/A1tFfSj1Mm

— youwillrise ? (@Youwillrise) June 30, 2017
"Al Sharpton in the mirror taking selfies. How's him or Bill Cosby sposed to help me?" #444 #JayZ #Hov pic.twitter.com/VZwyzE2HRK

— Miss TLC (@IAmMissTLC) June 30, 2017
So basically when HOV said all those new rappers inspired him… he was inspired to shit on them… ??

— El Viejo Ebro (@oldmanebro) June 30, 2017
https://twitter.com/UrbanNoize/status/880779111819608064
And others were thankful for the gems he dropped:
https://twitter.com/itzBKdudee/status/880651548283609088
Y'all who have been posting pictures holding money to your ear ?: #444album pic.twitter.com/rVnhunre1p

— Amandala (@MickeyNekomba) June 30, 2017
"You wanna know what's more important that throwing money at the strip club??? Credit" – Jay Z pic.twitter.com/voPFcQQhxL

— Tolu Ayeni (@naturallylu) June 30, 2017
https://twitter.com/WickedBeaute/status/880693888108945408
Me right now looking up stocks and investments I can afford after listening to the story of OJ by Jay z pic.twitter.com/BNtElU3olF

— n. (@Prechid) June 30, 2017
https://twitter.com/uknow_jno/status/880666397596151808
this album feel like ya OG pulled you to the side, sat you down, had a talk with you & told you get ya shit together young man

— Fat Daddy (@iamFatPapi) June 30, 2017
https://twitter.com/KickRaux/status/880671048156545024
When Jay Z said "a loss ain't a loss it's a lesson, appreciate the pain it's a blessing" pic.twitter.com/VhrTH7IHUv

— X (@NonsoHendrix) June 30, 2017
4:44 is a great reminder to never fall for these niggas.

— king crissle (@crissles) June 30, 2017
While others simply praised the man for being the lyrical GOAT that he is:
https://twitter.com/Abelsxoxo/status/880672412622356480
I don't usually use this word when it comes to albums but 4:44 is an instant classic

— Lo Life (@kickzNkush) June 30, 2017
https://twitter.com/vinC__1/status/880657205279821825
https://twitter.com/Yaboy_Skeete/status/880638889647628288
Even other artists and celebs were giving Hov his props:
Words from Hov. #444 #TIDALXSprint pic.twitter.com/uDz2wEsHrm

— T.I. (@Tip) June 30, 2017
another masterpiece by JAY Z. these lyrics…powerful!!

— tiller (@brysontiller) July 1, 2017
Some of y'all forgot Jay Z know how to rap. Like, really well.

— Talib Kweli Greene (@TalibKweli) June 30, 2017
A masterful album !!!!! SALUTE the rocnation family ….creativity at its finest !!! I'M LOST… https://t.co/0DbpdDFWnH

— Raekwon Da Chef (@Raekwon) June 30, 2017
I hope y'all truly listening to what he's saying. Giving the game and blueprint once again for damn near free! This is a testimony.4:44 #Hov

— LeBron James (@KingJames) June 30, 2017
Jay Z Just Reminded All Of Us How To Rap…. Rhythm And Poetry

— Jaden Smith (@officialjaden) June 30, 2017
This Jay Z album just changed me

— Terrace Martin (@terracemartin) July 1, 2017
Jay Z lyrics so potent

— Russ (@russdiemon) June 30, 2017
Might be my favorite Jay Z album ever.

— MACARONI TONY? (@MirFontane) June 30, 2017
When the G.O.A.T. makes a new album, you listen to the new album by the G.O.A.T. Still giving sick beats & rhymes. Catch the message. #444

— Uzo Aduba (@UzoAduba) June 30, 2017
Rapping about money next level. Rapping about women next level. Delivering the message we ordered. #444

— Uzo Aduba (@UzoAduba) June 30, 2017
Just got off the plane in Portugal and went straight to that jay z album shit is fire

— FAT JOE (@fatjoe) June 30, 2017
So glad y'all finally get to hear the album, and make the faces we been makin' for months… #444 #jayz via @ebrojiapp pic.twitter.com/gTkeTXGHhd

— jesse Williams. (@iJesseWilliams) June 30, 2017
I love Jay Z

— HOOD POPE (@ASAPferg) June 30, 2017
"….I'll be damned if I drink some Belvedere while Puff got CÎROC?Y'all need to stop…" y'all catch that?

— Punch TDE (@iamstillpunch) July 1, 2017
HOV!!!! I don't… what did I just hear?

Wow. Wow. Wow, @S_C_

— Justin Timberlake (@jtimberlake) June 30, 2017
4:44. WOW. MASTER TEACHER.

— Kendrick Lamar (@kendricklamar) June 30, 2017
Meanwhile, some people are sad that they don't have TIDAL and can't enjoy the album like the rest of us:
Bruh Jay Z dropped an album and you need tidal to get it pic.twitter.com/lIGJ59VbjO

— ?Leon Duncan? ? (@KlNG_Leonidas) June 30, 2017
Me when Jay -Z 4:44 dropped and I don't have Tidal pic.twitter.com/3cEj8TRcda

— Ace?? (@hunchoacee) June 30, 2017
Reading y'all Jay Z lyric tweets, tryna imagine how the songs sound, since I don't have tidal. pic.twitter.com/05yC7Dmac8

— DR€W? (@yalljust_myfans) June 30, 2017
https://twitter.com/heym22/status/880659404986699782
Me, an intellectual, watching y'all discuss 4:44 and refusing to download Tidal again pic.twitter.com/rCAMuwzfKd

— yogi bitch (@TimelineAngel) June 30, 2017
Apple Music & Spotify users looking at us enjoying this new Jay-z album like pic.twitter.com/rkNBTz21Iy

— Matthew A. Cherry (@MatthewACherry) June 30, 2017
When errybody talking bout Jay Z new album but you still waiting for the link pic.twitter.com/zueqBRtUZr

— Legends (@LegendsofCH) June 30, 2017
watching all the people who didn't already have tidal beg for someone to rip 4:44 pic.twitter.com/Zx1CFcFHvE

— tony the scribe. (@tony_the_scribe) June 30, 2017