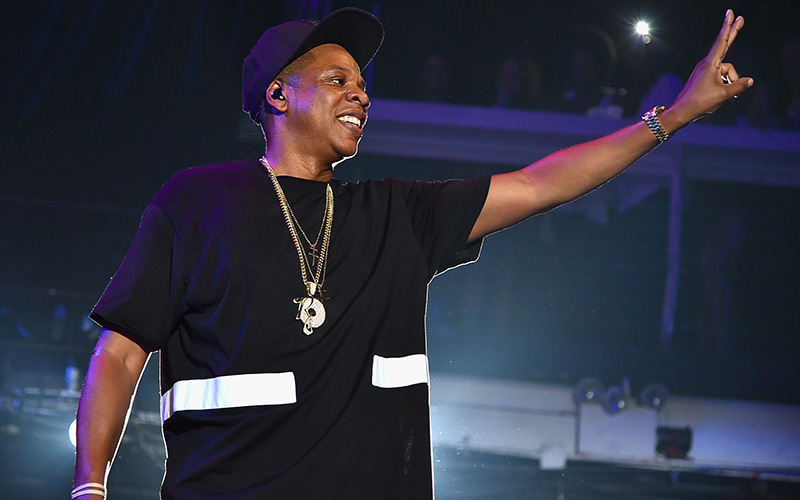 Hov is officially back!
Hot on the heels of his induction into the songwriter's hall of fame, JAY-Z has returned with his highly-anticipated 13th studio album 4:44, much to the delight of the internet. But how can you listen to it? What options do you have to stream it online? Keep reading to find out!
According to Tidal.com, the album is a Tidal exclusive, meaning that it is only available to stream via that platform, which is owned by JAY-Z, so as of right now, the easiest way to listen to 4:44 is through Tidal.
But it won't always be like that. Variety reports that after a week of streaming exclusively on Tidal, the album will eventually be released on other streaming services such as Spotify and Apple Music. And, if you're reading this, you probably want to listen to it not now, but RIGHT now.
If you're a Tidal member already, then you can just fire up the app and get to listening. But if you're not, then, sucks to be you, because thanks to Tidal's new deal with Sprint — which purchased a 33 percent stake in the service earlier this year AND gave them a $75 million budget for exclusives as part of its $200 million investment — only Sprint subscribers are able to sign up for Tidal and obtain access to the album for the time being.
During 4:44's promotion, each trailer noted that the new album would only be available via sprint.tidal.com, which means that it's currently only available to pre-existing subscribers of Tidal and Sprint users. If you don't have Sprint and failed to subscribe to Tidal before June 26th, then unfortunately, you will NOT be able to stream it through Tidal.
In other words, you can sign up for Tidal and listen to everything in their library EXCEPT for 4:44. So, for those of you who like to try and "game the system" by signing up for a 30-day trial just to cancel on the 30th day, you won't be able to do this to listen to 4:44.
Go on ahead and try to sign up for an account (which you'll be able to do), then try to stream 4:44, and you'll be presented with the following message: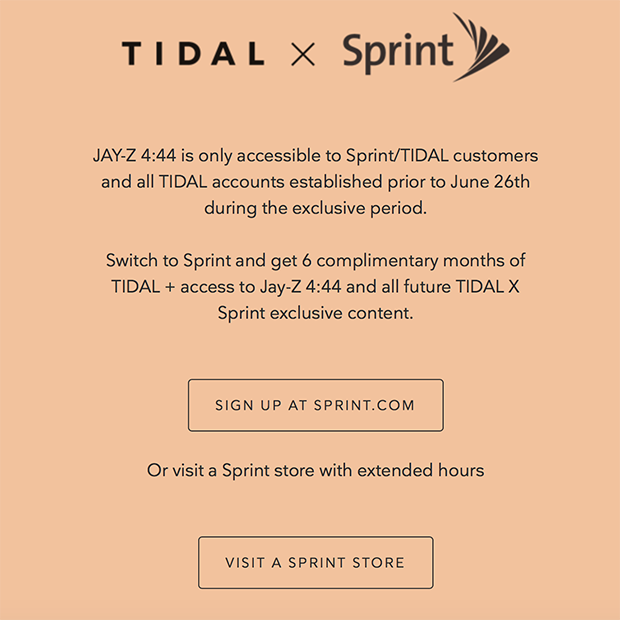 So… the question remains, HOW THE HELL DO I LISTEN TO 4:44?!? Well, if you're neither a subscriber of Tidal nor Sprint, then you're in luck! But only for today (Fri, Jun. 30).
For the next 24 hours, fans can stream the album for free via iHeartRadio. As of 12:01 a.m. EST, 4:44 will air in its entirety across all of iHeartRadio's 160 Pop, Rhythm and Urban radio stations throughout the country.
The album, along with commentary from the Hip Hop mogul, will continue to play throughout the day on iHeartRadio's Rhythm and Urban stations until July 1st at midnight. And if iHeartRadio isn't available in your market (CLICK HERE TO FIND OUT), you can listen to the album via their website, iHeart.com.
"This is a perfect storm of sharing music with fans," JAY-Z said in a statement. "Sprint allows for and promotes creative freedom. Every artist strives for support of their vision, and I have that in not just a partnership with Sprint but also in iHeart. The iHeart team are creating an experience for millions of fans across the country."
Sprint CEO Marcelo Claure said in another statement, "We're giving customers an incredible opportunity to be among the first to experience [Jay's] new album 4:44. Our loyal, existing customers, and customers who switch to Sprint, can experience the album exclusively, plus access a complimentary six-month trial of TIDAL HiFi, giving them access to content they can't get anywhere else."
Claure added, "JAY-Z fans couldn't be more excited about the release of '4:44,' and we're incredibly thrilled that Sprint's partnership with TIDAL puts our customers first in line to hear this long-awaited album. Together, Sprint and TIDAL are connecting people who are passionate about music with the world's most iconic artists through special experiences like this — and there are many more to come."
Bob Pittman, chairman and CEO for iHeartMedia Inc. said, "We have a long history of partnering with JAY-Z in innovative ways, and he was one of the artists to join our first-ever iHeartRadio Music Festival in 2011. He's once again proved that he's a true innovator, and we are honored to partner with him on the historic launch of his first album in over four years. Our nationwide world premiere of 4:44 will reach tens of millions of JAY's fans across the country — while creating millions of new ones."
4:44, which was produced entirely by No I.D., marks JAY-Z's first album release since 2013's Magna Carta Holy Grail. The new album features 10 tracks with appearances by his wife Beyoncé ("Family Feud"), Frank Ocean ("Caught Their Eyes"), Damian Marley ("Bam"), Kim Burrell ("4:44"), The-Dream ("Marcy Me"), his mother Gloria Carter ("Smile") and even his 5-year-old daughter Blue Ivy ("Legacy").
The 35-minute album also comes with an animated visual directed by JAY-Z and Mark Romanek called "The Story of O.J."
Check out the full tracklisting for 4:44 below:
1. Kill Jay Z
2. The Story of O.J.
3. Smile (feat. Gloria Carter)
4. Caught Their Eyes (feat. Frank Ocean)
5. 4:44
6. Family Feud
7. Bam (feat. Damian Marley)
8. Moonlight
9. Marcy Me
10. Legacy
Be the first to receive breaking news alerts and more stories like this by subscribing to our mailing list.