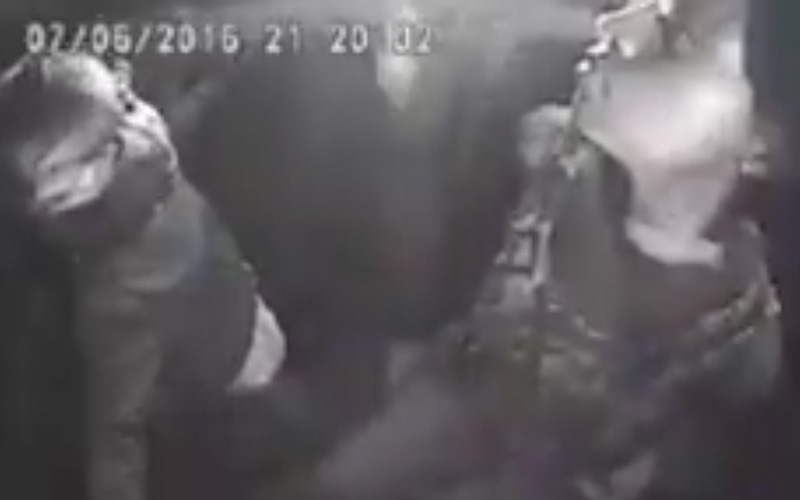 In the moments following the shooting of Philando Castile, his fiancée's daughter begged her to "stop saying cusses and screaming because I don't want you to get shooted."
An extremely heartbreaking 2-minute video clip showing Diamond Reynolds and her 4-year-old daughter sitting in the backseat of a police car after witnessing Castile's death has been released (see above).
The footage shows Diamond Reynolds screaming "F**k!" right before her daughter pleads with her to calm down so that she doesn't get shot too.
"I can keep you safe," the child says after kissing and hugging her mother. "It's OK, I got it, OK?" Reynolds tells her. "Come here… I can't believe they just did that," Reynolds whispers as she embraces her whimpering daughter.
After Reynolds makes a comment about trying to remove her handcuffs, her daughter yells, "No, please don't! I don't want you to get shooted!"
Reynolds responds, "They're not gonna shoot me, OK? I'm already in handcuffs." Her daughter says, wiping her eyes, "Don't take them off, because if you take them off, then everything starts…"
In possibly the most gut-wrenching moment of the footage, Reynolds' daughter says, "I wish this town was safer… I don't want it to be like this anymore."
Philando Castile was shot and killed in a suburb of St. Paul, Minnesota on July 6th 2016 by St. Anthony police officer Jeronimo Yanez, who was recently found not guilty of manslaughter in Castile's shooting death.
WATCH: Philando Castile's Shooting Aftermath Captured on Facebook Live by Fiancée Diamond Reynolds
Castile and his fiancée Diamond Reynolds were reportedly pulled over in Falcon Heights for a broken tail light, and not too long afterward, Yanez opened fire on Castile ("out of fear," he said in court), killing him.
The moments immediately following the shooting were recorded and shared on Facebook Live by Reynolds, who had been in the car with Castile, along with her young daughter.
Reynolds said in the now viral video that Castile had told the officer he was in possession of a firearm, and as he attempted to hand over his license and proof of insurance, as requested by Yanez, Castile was shot several times.
"He let the officer know he had a firearm, and he was reaching for his wallet, and the officer just shot him," Diamond said to the camera. "He just shot his arm off." As Reynolds continued recording the video on Facebook Live, Yanez was seen pointing his firearm at the couple through the vehicle's window.
Reynolds' 4-year-old daughter could be heard in the background crying after Reynolds was told to get out of the vehicle by another police officer.
The dashcam video footage, which actually shows the shooting, as well as the moments leading up to and following it, was also released this week.
WATCH AT YOUR OWN DISCRETION BELOW:
Charged with manslaughter, Yanez recently had his day in court over the shooting, which took place shortly after Yanez had alerted one of his partners that Castile looked like a suspect in an unsolved armed robbery case.
Prosecuting attorney Jeffrey Paulsen argued during his closing remarks that Yanez had failed to control his own traffic stop and he didn't give clear commands about what he wanted Castile to do after the 32-year-old had disclosed to him that he was carrying a firearm.
Paulson told the jury:
"We all know what happens next. (Yanez) pulls out his gun and without warning, without saying 'Stop, or I'll shoot,' he fires seven rounds into that car. He killed Philando Castile and endangered the lives of Diamond Reynolds and (her 4-year-old daughter). … And (Yanez) says, 'I was nervous,' but everyone in this case agrees that is not a justifiable use of deadly force."
"He got nervous and he put his safety above the safety of everyone else," Paulsen said.
The dashcam video clearly shows Yanez asking Castile to provide him with a driver's license and proof of insurance. Castile appears to give him his insurance information, and while reaching for his driver's license (as requested by Yanez) he informs Yanez that he's carrying a firearm, which he had a license for.
"Sir, I do have to tell you, I do have a firearm on me," Castile said. Yanez responded, "OK, don't reach for it then," followed by, "Don't pull it out."
Yanez, haphazardly reacting to the word "firearm," fired seven shots into the vehicle, killing Castile as Reynolds and her daughter watched. The backdoor flings open just before Reynolds' daughter runs out and is escorted away by another cop.
Castile's gun permit and driver's license were later found in his wallet.
Yanez was heard describing his version of the incident to another cop as Castile's body was removed from the vehicle, and officers attempted to perform CPR on him to no avail. He told the officer that his reaction, which resulted in Castile's shooting death, was a result of him being "nervous."
Yanez said to Officer Tressa Sunde:
"[Castile] was sitting in the car, seat belted. I told him, can I see your license. And then, he told me he had a firearm. I told him not to reach for it and (sigh) when he went down to grab, I told him not to reach for it (clears throat) and then he kept it right there, and I told him to take his hands off of it, and then he (sigh) he had his, his grip a lot wider than a wallet."
Yanez went on to say:
"And I don't know where the gun was, he didn't tell me where the f***ing gun was, and then it was just getting hinky, he gave, he was just staring ahead, and then I was getting f***ing nervous, and then I told him, I know I fucking told him to get his fucking hand off his gun."
In an interview with the Bureau of Criminal Apprehension after the shooting, Yanez said:
"It appeared to me that [Castile] had no regard to what I was saying. And, he put his hand around something. And his hand made like a C-type shape and it appeared to me that he was wrapping something around his fingers and almost like if I were to put my hand around my gun. It was dark inside the vehicle. I was trying to fumble my way through under stress to look and see what it was to make sure what I was seeing."
Later in the same interview, Yanez continued:
"I know he had an object and it was dark. And he was pulling it out with his right hand. And as he was pulling it out, a million things started going through my head. And I thought I was gonna die. … He just had something in his hands."
Though Yanez said he "thought [Castile] was reaching for the gun," he could never truly confirm in his BCA interview that he had seen Castile brandish a firearm that day.
However, he did use various terms to suggest that there was a firearm present, saying at one point that "it seemed like he was pulling out a gun and the barrel just kept coming." Yanez said, "It was to me it just looked big and apparent that he's gonna shoot you, he's gonna kill you."
Later, Yanez was asked again about "the object" he thought he witnessed Castile holding, and if he could describe how big it was. "It was, to me it looked like [Castile's hand] was wrapped around the butt of a gun," he said.
In his testimony during the trial nearly a year later after the incident, Yanez sounded more certain of what had happened. He testified that he was "able to see the firearm in Mr. Castile's hand," forcing him to shoot.
"I had no other choice," Yanez told the jury. "I didn't want to shoot Mr. Castile. Those were not my intentions."
Yanez's defense attorney argued that  that Castile "ignored" orders from Yanez because he was "stoned" on marijuana, and the officer "did what he had to do" when he shot Castile.
Be the first to receive breaking news alerts and more stories like this by subscribing to our mailing list.