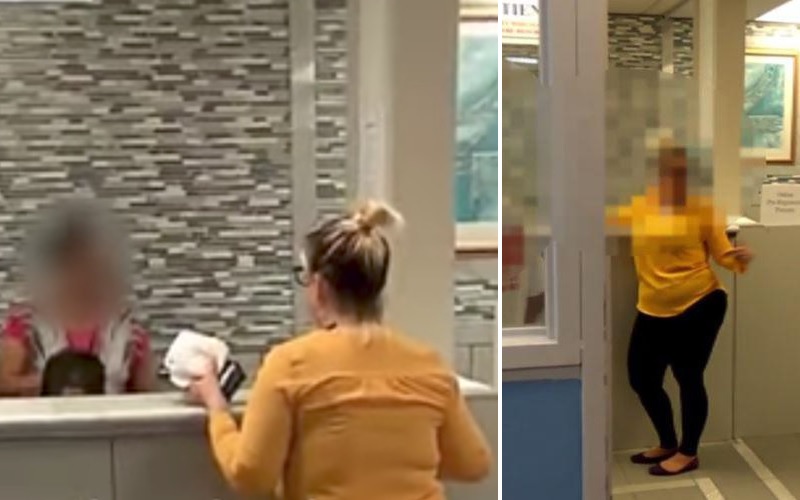 Video footage of a racist mother with a sick child has gone viral. Despite her son's needs, the white Canadian demanded her son only be treated by a white doctor, even though none were available at the time.
An unidentified woman in Ontario brought her son complaining of chest pains to a walk-in clinic on Sunday (Jun. 18). However, after being approached by a non-white doctor, the woman demanded to see a white doctor who "doesn't have brown teeth and speaks English."
"So, you're saying, in the whole entire building there isn't one white doctor? You're telling me that my kid has chest pains and he's going to have to sit here until four o'clock? Can I see a doctor that's white, that doesn't have brown teeth and speaks English?"
"God, what type of horrible country do I live in?" she complains after being repeatedly told the qualified doctors available don't fit her racist demands.
Hitesh Bhardwaj, who immigrated from India to Canada five years ago, was disturbed by the comments and began recording the woman's outburst. The 4-minute long footage has gone viral and already amassed nearly 100,000 views.
Ha! Apparently ?? hasn't cornered the market on the craycray.#Canada

— TruthSeeker (@Informed_Un) June 20, 2017
That kid is so embarrassed of his mother. She should be ashamed of herself. Sad shit

— Dee (@wonderwomen_dee) June 20, 2017
Oh. Em. Gee. Someone needs an ass kicking.

— ImpoliteArrogantWoman (@rhondarealtor) June 20, 2017
Love how y'all blurred this racist woman's face ? https://t.co/h3SBmzGyYc

— Matthew A. Cherry (@MatthewACherry) June 20, 2017
Some also waiting to be seen by a doctor could no longer stand the racist mother's comments. One "brave young girl," as Bhardwaj described her, confronted the woman.
"Your child has more issues with you being his mother than him needing to see a doctor. You are extremely rude and racist. You want to talk about 'Paki' people being in a hospital? Maybe you should check yourself in."
Other agreed and also began to express their thoughts on the woman's racist behavior. The woman claimed they were calling her out because she's white.
"You're brown and you're attacking me because I'm white. It's because I'm white… Being white in this country… I should just shoot myself."
Throughout this ordeal, the mother's son continued to experience chest pains. She finally conceded that her son was "part not-white" and said she would settle for a doctor who spoke English. The video ends.
According to CTV News, the mother was eventually escorted out of the building after police were called to the clinic due to a "disturbance" of a woman "being verbally aggressive."
Bhardwaj told CTV Toronto he was shocked by what he witnessed.
"Seeing it so openly without any fear and in front of so many people, without even fearing that someone can report her, it was really shocking."
He added the incident bothered him for the rest of the day. "It was a mixed feeling of being angry and being frustrated."
Be the first to receive breaking news alerts and more stories like this by subscribing to our mailing list.