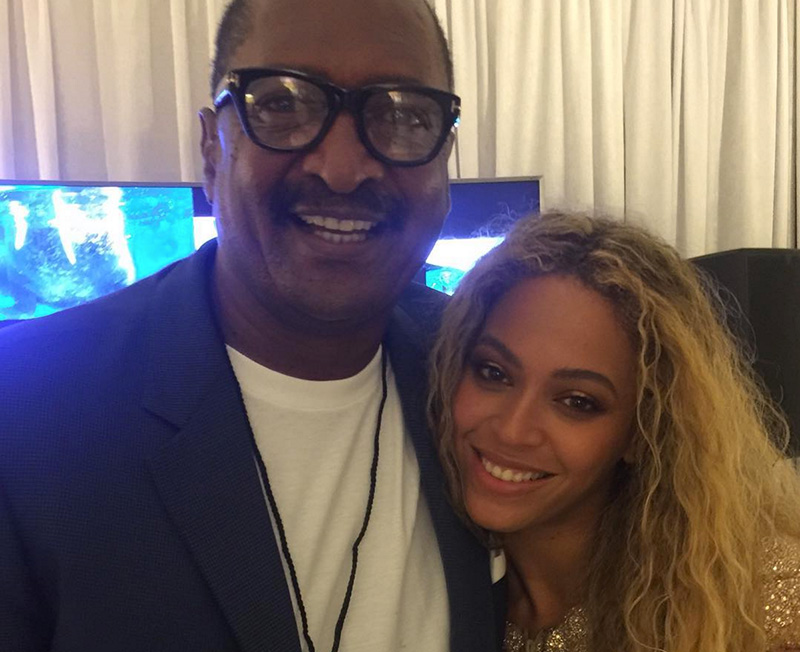 As most of us know by now, Beyoncé ALLEGEDLY gave birth to her twins with Jay Z last week, and while we have yet to receive confirmation from the Carters themselves, one family member has decided to let the world know that the reports are true.
That lone family member is Beyoncé's father and former manager, Mathew Knowles, who decided to tweet about the birth of his new grandchildren early Sunday morning (Jun 18), which also happened to be Father's Day.
They're here!#beyonce #twins #jayz #happybirthday pic.twitter.com/woFRKoL7eO

— Mathew Knowles (@MathewKnowles) June 18, 2017
"Happy Birthday to the twins! Love, Granddad," Mathew wrote in a cheesy photo of a card with a balloon backdrop. While we still don't know exactly when the twins were born, Papa Matt's image suggests their "birthday" was Sunday (Jun 18), though reports say they were born last Monday (Jun 12).
Also, note the hashtags in the tweet and the shameless plug of his Instagram handle in the photo (REALLY, MATHEW?). Couple that with the fact that NO ONE ELSE IN THE FAMILY has spoken about the twins' birth (Neither mom Beyonce, dad Jay Z, Grandma Tina nor Auntie Solange) and you have the perfect excuse for the BeyHive to go in.
And that's exactly what they did. See below:
DID ? SHE ? TELL ? YOU ? TO ? DO ? THIS? pic.twitter.com/WBNA3GiBRl

— ?? (@beyunsae) June 18, 2017
That was for Beyoncé to tell not you pic.twitter.com/Knf7zYYqKO

— Brit (@Britxciv) June 18, 2017
— Angie ? Grace (@AngieGraceLA) June 18, 2017
Mathew: "I'm here to see the tw…"

Tina knowles: pic.twitter.com/RIqORnVooc

— George M Johnson (@IamGMJohnson) June 18, 2017
She didn't even tell you she was pregnant…worry about the other 3 kids u have! pic.twitter.com/kliJZthCe7

— IASF always wins! (@MrBeyonceFan) June 18, 2017
can i see your phone real quick? pic.twitter.com/CdvNMRBFMr

— nene knowles ?? (@neneknowles) June 18, 2017
— brendon skolat (@brendonSkolat) June 18, 2017
https://twitter.com/MrLovettKnowles/status/876445095855366144
To Mathew's credit, there were a FEW Beyhivers who were nice to him:
https://twitter.com/stepupindisbih/status/876445538538991617
Everyone knows for sure that Beyonce didn't want her dad to announce it? They know the convo that took place? *sits back and eats popcorn*

— Scooby Snack (@Shade_and_Quips) June 18, 2017
Still… overall, the BeyHive is NOT pleased with Mathew right now:
— Brian (@criticforlife) June 18, 2017
You even using hashtags….if you gotta hashtag ya own child name and put your Instagram name on her news it says a lot on yalls closeness pic.twitter.com/yjWB3MeSB0

— ??????? (@stunningselmg) June 18, 2017
— rjhours (@rjhours) June 18, 2017
how many times does she have to fire you pic.twitter.com/5hf86NAniS

— Yanga Ndamasé (@yanga_nm) June 18, 2017
Beyoncé tried to be a good daughter by keeping you informed but you always gotta mess it up pic.twitter.com/q6DdMyhnJT

— icon. (@LoveMayaJ) June 18, 2017
https://twitter.com/hokagebeyonce/status/876444963676008448
this thread has more responses than he has followers ?? pic.twitter.com/KhXxxcSCcy

— RXZ (@shehrxz) June 18, 2017
https://twitter.com/BarbieDia/status/876458689682706432
Dear Mathew: If you don't know, now you know… the BeyHive is not to be messed with, even if you are part of the reason why we even have Beyoncé:
Don't he know that damn beyhive do not play. ???? They stingin his a** pic.twitter.com/dy7d4uNbSj

— I speak Diva..? (@DameDiva) June 18, 2017
— nele. (@jorjasfentys) June 18, 2017
Be the first to receive breaking news alerts and more stories like this by subscribing to our mailing list.