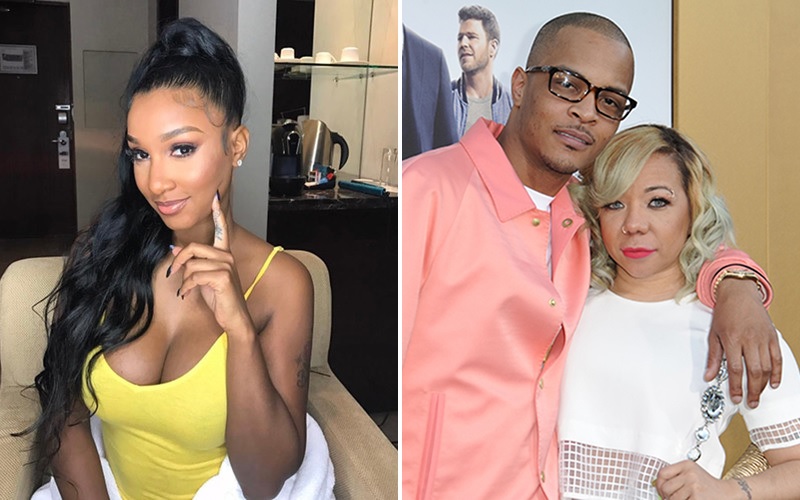 T.I.'s alleged side chick is tired of being a side chick. Bernice Burgos is reportedly upset Tip continues to be close with his estranged wife Tiny Harris and is ready to move on.
A source tells Hollywood Life that Bernice is feed up with the rapper because he has been lying to her regarding the status of his relationship with Tiny. Despite T.I. claiming the two are no longer intimate, Bernice can't help but feel like she's being played.
"Bernice had no idea T.I. was still seeing Tiny the way he is. He totally lied to her and she's not taking it well. Bernice feels like he's been playing her and it really hit a nerve. Bernice knows she deserves to be treated better than this and she's ready to find a new man."
The 37-year-old Instagram model was already (allegedly) feeling some type of way because T.I. has refused to publicly confirm their relationship, but she might actually have reason to worry.
Though the recent pregnancy rumors are most likely untrue, during a June 6 interview on Jules UnCut, Tiny did admit that she Tip are in a much better place.
"We are back talking now and that was really mistake, I don't know how that started happening. He always does that, he finds a way to get in a call and then we start talking again."
Bernice also went on an Instagram rant Thursday (Jun. 8) that many assumed was a shot at T.I. She wrote:
"A n**ga do will anything to impress a female for some pu**y, is that true fellas? Whether it's a celebrity or regular female, I need answers…"
https://www.instagram.com/p/BVF3qaJgZ2p/
Bernice is reportedly done playing games and if T.I. doesn't get right, she's prepared to move to the next dude, which just may be Chris Brown. A source says Bernice is interested in Chris because there's no better way to get under the skin of a player (T.I.) than to date a younger version of himself.
Be the first to receive breaking news alerts and more stories like this by subscribing to our mailing list.