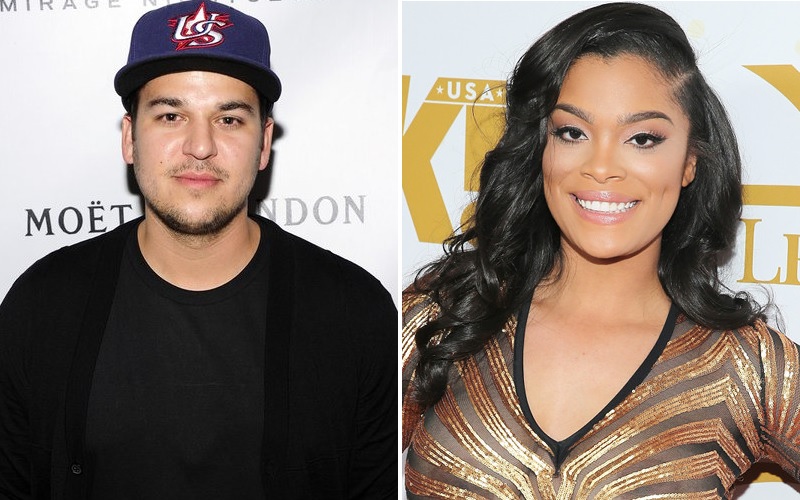 If you thought Rob Kardashian and Blac Chyna was an odd couple, wait till you find out who he's rumored to be dating now.
Several publications are reporting the sole Kardashian brother is dating reality star Mehgan James. Mehgan made her TV debut on Oxygen's Bad Girls Club, appeared on Basketball Wives: LA after dating NBA player, Kedrick Brown, and most recently filmed an upcoming season of Marriage Bootcamp: Reality Stars with her ex.
In Touch first broke the news about the new couple. A source tells People Rob and Meghan have been "close friends" for about three months. (I should note, it's been three months since Rob and Chyna officially ended their relationship).
"Mehgan is living for this moment right now… [She's] been supporting Rob and his business for some time now. They've been really close friends for about three months."
The new couple is not winning any fans within the Kardashian clan though. Rob's sisters and mother reportedly are "not thrilled" about Mehgan because of they don't want him to be in another chaotic relationship like with Chyna.
"Most of the Kardashians are very upset about it because Mehgan is known for being out of control and volatile. The Kardashians want Rob to find a woman who is kind and calm."
"They hope it's short-lived, because she seems like drama as well," another source added. In fact, only Khloe has met Meghan. The others refuse to meet her.
However, a close friend is coming to Mehgan's defense. The source tells People, the reality star is "not a social climber" and Rob's family has nothing to worry about.
"She is smart and business-oriented. She has her own business — a fashion line called 800 West — and went to school for business at the University of Houston. She was in TV long before she met Rob, so she's not trying to be with him to be famous. She was famous before that.

Mehgan is level-headed and grounded, and also very loving, humble and kind-hearted. But she also doesn't take any B.S. from people; she will stand on her own two feet."
Neither Rob nor Mehgan have actually confirmed their relationship. The sudden odd coupling has some wondering if the rumor is just a blind item Mehgan is using to her advantage, particularly since the news came just one day after Rob called Chyna the "woman I love" on Instagram.
He wrote in a now-deleted post:
"On my first episode of Rob's Random Cornball Thoughts is This young lady who grew up to be the woman I love and the mother of my child. She is beautiful and gave me my first child. @blacchyna."
So, yeah, Rob's love life seems to be all over the place right now.
Be the first to receive breaking news alerts and more stories like this by subscribing to our mailing list.