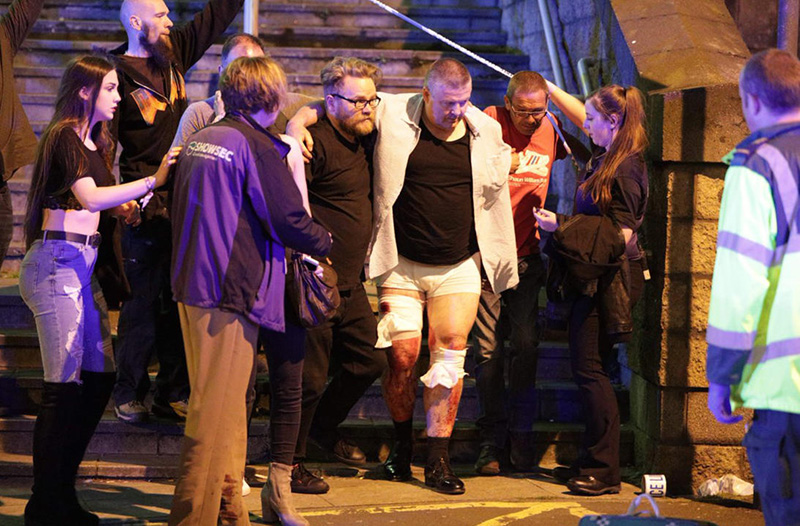 At least 22 people are dead and dozens more were injured Monday night (May 22) after a suicide bomber detonated an explosive in the moments following an Ariana Grande concert at the Manchester Arena in England.
The Greater Manchester Police said the attacker's remains were recovered at the scene and he is believed to have used an improved explosive device (also known as IED). Manchester police also confirmed that a 23-year-old male has been arrested in connection with the attack.
With regards to last night's incident at the Manchester arena, we can confirm we have arrested a 23-year-old man in South Manchester.

— G M Police (@gmpolice) May 23, 2017
"It is now beyond doubt that the people of Manchester and of this country have fallen victim to a callous terrorist attack. An attack that targeted some of the youngest people in our society with cold calculation," British Prime Minister Theresa May said after in an emergency Cabinet meeting Tuesday morning.
Witnesses said a "loud explosion" was heard, followed by screams and a stampede of thousands of people trying to leave the crowded building, which is one of the largest indoor arenas in the world.
Reps for Ariana Grande have confirmed that the singer was not among the injured, as the incident happened in the foyer outside the arena about 10:30 p.m. local time after Grande had already left the stage.
Around 21,000 fans were in attendance at the sold-out concert, including many teenagers, young people and their parents. Though details about the victims haven't been released yet, reports have indicated that a number of children, including young girls, were among the victims.
The story is still developing, but here's everything we know so far:
The blast, a suspected suicide bombing, reportedly happened outside the arena in the public foyer area.
British Transport Police confirmed with UK newspaper The Sun that the blast went off in the foyer area of the arena. Authorities believe the explosion, a suspected suicide bombing, may have been caused by a nail bomb in a backpack, though those details have yet to be confirmed.
Two U.S. law enforcement officials confirmed with CBS News that the attack was conducted by a suicide bomber, who took the Tube (i.e. subway) to Victoria Station, went to the ticket area of the arena and detonated the explosive device as people were leaving the concert. Investigators reportedly recovered ball bearings and are tracing the bomber's movements through CCTV.
CBS News also reported that parts of the suicide bomber's body had been recovered.
According to the Washington Post, Grande's last song incorporated falling balloons, leading some to believe that some of them had popped, inciting needless panic. However, as fans were frantically leaving the arena, they noticed still bodies of those killed or injured as well as others with blood all over them struggling to reach safety.
"There were just a loud bang and a flash and everyone tried to scramble out," 18-year-old Jade Baynes told The Guardian. "An alarm came on telling everyone to stay calm but leave as quickly as possible."
Another witness, 17-year-old Oliver Jones, described the chaotic scene he witnessed:
"I was in the toilet and heard a loud bang just after the concert had finished and people had started to leave. The bang echoed around the foyer of the arena and people started to run. I seen people running and screaming towards one direction and then many were turning around to run back the other way.

"Security was running out as well as the fans and concert goers. Reports of blood and people injured. In so much shock and panic. You see this on the news all the time and never expect it to happen to you. I just had to run and make sure me and my sister were safe."
Video footage shows the moment the explosion happened as well as the chaotic scene surrounding the area moments after the incident.
If you look towards the left you see the explosion and hear the bang. I hope to GOD everyone is ok, and so glad Jess and Em are. #manchester pic.twitter.com/q81KHGEJ6E

— Joe Gregory (@JoeAaronGregory) May 22, 2017
One video posted to Twitter (above) purports to show the exact moment the explosion happened. The footage, apparently recorded by a dashboard camera, shows a few seconds of a bright light near the building and you can hear a loud blast just moments later (because light travels faster than sound).
Another video shared on Twitter (below) shows the chaotic scene inside the seating area of the stadium:
EXPLOSION AT MANCHESTER ARENA AND EVERYONE RAN OUT SO SCARY? pic.twitter.com/pJbUBoELtE

— hannah (@hannawwh) May 22, 2017
And here's another video showing the chaos outside the arena:
Two loud bangs heard around Manchester arena. People running out of the arena. No idea what's going on pic.twitter.com/KaRzQckvEE

— Alan Brennan (@alan_brennan92) May 22, 2017
Another video shows a scene of panicked concertgoers fleeing from the venue, which is directly connected to London Victoria station railway.
https://twitter.com/Breaking911/status/866787058903371776
A bomb disposal unit has just arrived outside the Manchester Arena. Can also hear sniffer dogs being brought out of the vans pic.twitter.com/SgTPZxMLyg

— Chris Slater (@chrisslaterMEN) May 22, 2017
At least 22 people have been confirmed dead and at least 59 more were reported injured.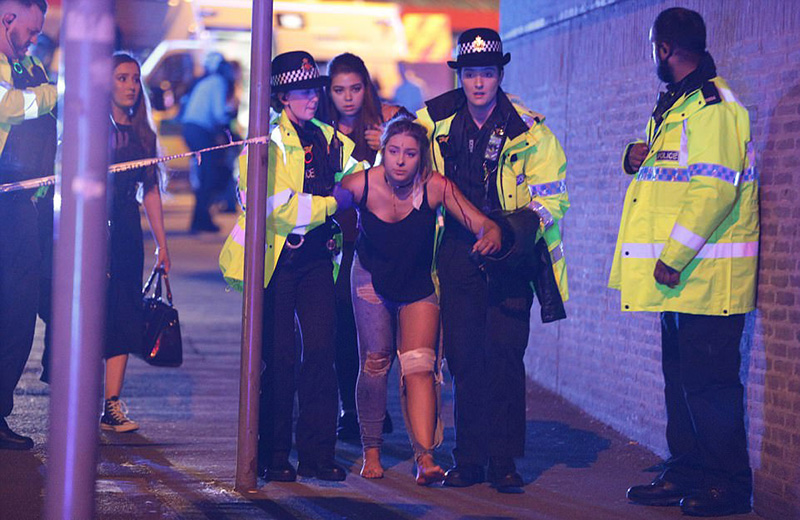 The identities of those killed or injured have yet to be confirmed, however, police have confirmed that at least 22 people died and at least 59 more were hurt in the suspected terrorist attack.
The local medical service, North West Ambulance, said it had taken 59 casualties from the Manchester Arena to various local hospitals, and they also treated a number of "walking wounded" at the scene of the bombing.
The Greater Manchester chief constable Ian Hopkins has released a statement regarding the tragic the incident:
I can confirm the details of events tonight that we currently know. At around 10.33pm last night we received reports of an explosion at the Manchester Arena in the city centre. It was at the conclusion of an Ariana Grande concert.

Currently we have 19 22 people confirmed to have died and around 50 59 people injured.

The injured are being treated at six hospitals across Greater Manchester. My thoughts are with all those who have been affected and we are doing all we can to support them.

Officers from GMP and emergency services are working at the scene and are supporting those affected. We are coordinating the response from GMP headquarters.

An emergency number is available for those who are concerned about loved ones or anyone who may have been in the area. It is 0161 856 9400.

We are currently treating this as a terrorist incident until we know otherwise. We are working closely with the national counter-terrorism policing network and UK intelligence partners.

This is clearly a concerning time for people but we are doing all we can, working with local and national agencies to support those affected and gather information about what has happened tonight. As you will understand, we are still receiving information and updates, so will provide more details when we have a clearer picture.

I want to thank people for their support and would ask them to remain vigilant and if they have any concerns report them in confidence to us on the anti-terrorist hotline: 0800 789321.

It is important people avoid the area so that we can effectively deal with the incident.
Initial reports stated that at least 19-20 people had perished and 50 were injured in the attack, however, updated reports have confirmed that the death toll had risen to 22 and there were at least 59 people who were injured.
Due to the severity of those injured, the death toll could unfortunately continue to rise, as well as the number of those injured, as more people are admitted to hospitals for treatment.
People have been asked to avoid the area while the situation and the circumstances of the explosion are under investigation.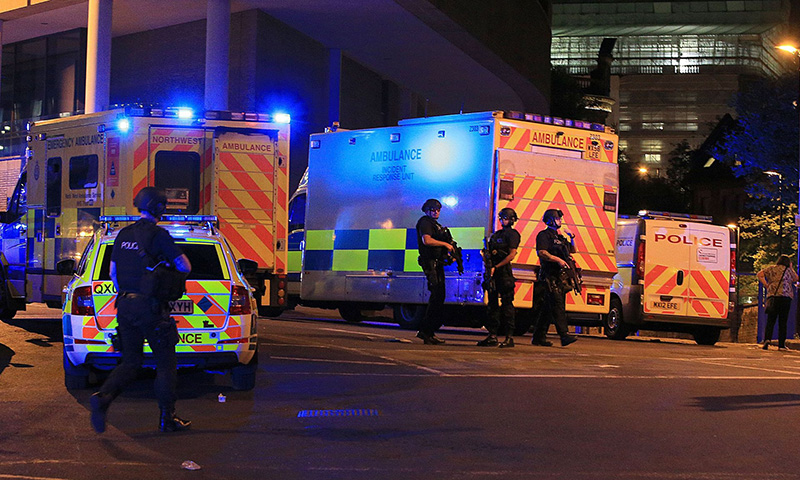 Immediately after the alleged terrorist attack, a large police presence could be seen outside the arena, and people were advised by police to avoid the area around the Manchester arena. Additionally, the train station near the arena, Victoria Station, was evacuated and all trains for the night have been canceled.
"Due to an incident involving the emergency services [Manchester Victoria] has been evacuated," Northern train service officials said. "We will provide further updates when possible."
Due to an incident involving the emergency services #ManchesterVictoria has been evacuated. We will provide further updates when possible.

— Northern (@northernassist) May 22, 2017
Parents separated from their children during the mayhem were told to go to a Holiday Inn, where many children had taken refuge. Local residents offered stranded concertgoers places to stay in their homes.
Parents who were separated from their children during the mayhem were advised to go to a nearby Holiday Inn, where many children were being held as precaution.
A spokesman has confirmed that Ariana Grande, her band/crew and other performers were not injured in the incident.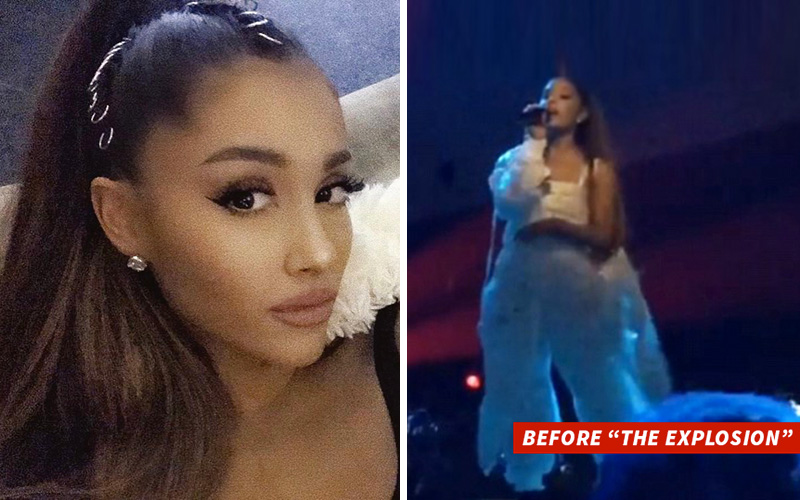 TMZ reported that Ariana Grande was "inconsolable" and "in hysterics" after finding out that at least 19 people were killed after her concert:
Sources in contact with the singer tell TMZ, Ariana is devastated that young people who came for a good time are now lying dead and injured.
Ariana had just left the stage when the explosion happened in the rotunda area near the front door, where tour merchandise and concessions were being sold, as people were leaving the concert.
According to a statement from her reps (via Billboard), neither Ariana Grande nor members of her band and stage crew were injured in the incident:
Billboard has confirmed Grande is "okay" with the singer's rep and that her team is further investigating what happened.
Though Ariana was not physically hurt, as confirmed by her publicist, she has obviously been emotionally scarred by the tragedy.
She tweeted:
broken.
from the bottom of my heart, i am so so sorry. i don't have words.

— Ariana Grande (@ArianaGrande) May 23, 2017
Grande's supporting act, Boston rapper BIA, tweeted that she and her team were also "okay," though that tweet has since been deleted. She updated with the following posts on the popular social media site:
My heart is broken ???

— BIA (@PericoPrincess) May 23, 2017
Praying for everyone tonight please gets home safe ???

— BIA (@PericoPrincess) May 23, 2017
Be the first to receive breaking news alerts and more stories like this by subscribing to our mailing list.