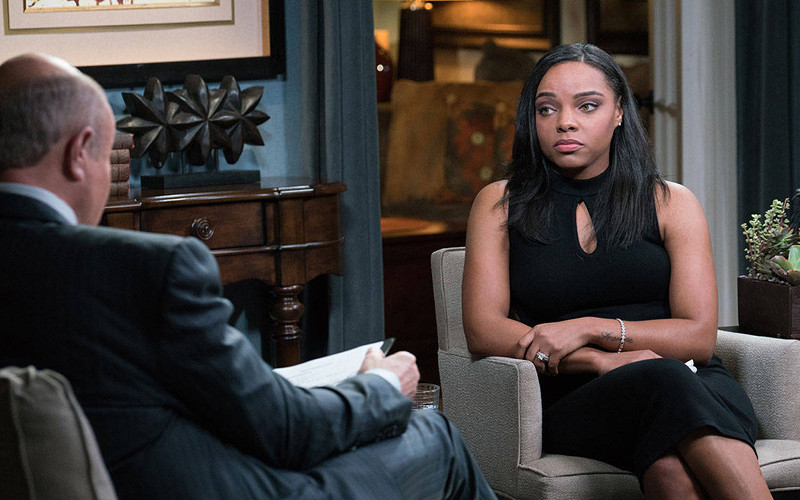 Aaron Hernandez's fiancée is speaking out for the first time since his shocking suicide. Shayanna Jenkins-Hernandez will discuss their relationship and how she's handling Hernandez's death in a sit-down interview with Dr. Phil McGraw.
In the two-part interview, set to air May 15-16, Jenkins reveals Hernandez did not seem suicidal during what would be their last conversation. She even thought the suicide was a hoax.
"Our last talk had nothing to do with suicidal thoughts. I felt we were looking so bright. We were going up a ladder to a positive direction."
"I thought it was a hoax – that this was some cruel person playing a trick on me," Jenkins said of her reaction upon getting the call of her Hernandez's suicide.
Serving a life sentence for the murder of Odin Lloyd, Aaron Hernandez hanged himself in his jail cell in April, just five days after being acquitted in a separate double murder case. The former Patriots tight end left three suicide notes with one specifically addressed to Jenkins.
The note left for Jenkins reportedly ended with the phrase, "YOU'RE RICH." This has caused many to speculate that Hernandez killed himself to ensure Jenkins and their 4-year-old daughter would be financially stable.
"Did he kill himself so that you could collect $6.5 million?" Dr. Phil asks Jenkins.
On Tuesday (May 9), a judge formally vacated Hernandez's murder conviction since he died before his appeal could be heard. This means he is no longer legally a convicted murder and the Patriots may be required to pay Hernandez's estate $6.5 million in unpaid salary, which could go to Jenkins or their daughter if one is the beneficiary.
Jenkins will answer Dr. Phil's question and reveal more in the two-part interview next week.
Be the first to receive breaking news alerts and more stories like this by subscribing to our mailing list.