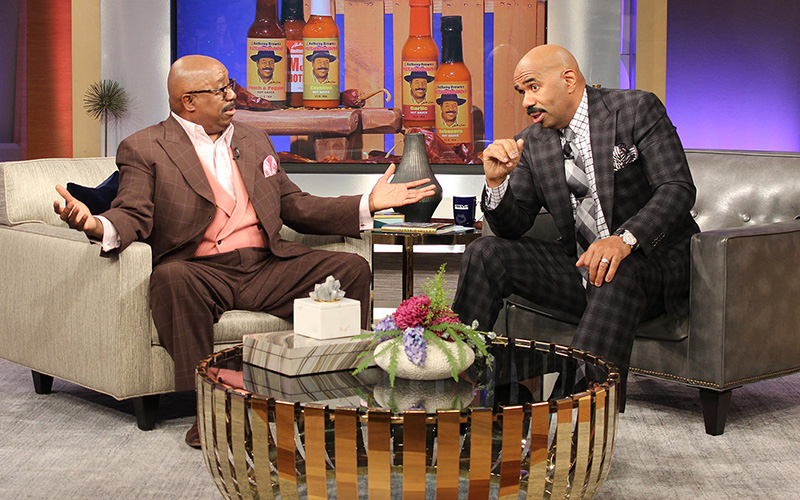 Following months of rumors and speculation, The Steve Morning Harvey Show has officially welcomed their newest on-air personality: J. Anthony Brown!
The comedian and veteran radio personality began his new role as a daily contributor to Steve Harvey's nationally syndicated radio show Monday morning (Apr. 24).
Brown said in a statement, "I'm cooking up a brand new funny to bring to The Steve Harvey Morning Show while I kick it with the crew, and of course, a couple of your favorites from me. Watch out deh now!"
Harvey added, "I've known J since my very first comedy gig outside of Cleveland, and it's my joy to be reunited with the man who taught me real comedy … Get ready folks – we're 'bout to turn the funny meter up 10 notches. Having 'J' join Shirley, Nephew Tommy, Carla, Junior and myself is going to create bend over, stop the car, spit on your computer, spray your drink, gut-busting laugher. We've also got lots of new stuff planned, so hang on, this is the best ride in all of radio."
After 20 years, J. Anthony Brown abruptly left the Tom Joyner Morning Show without warning last fall, leaving many longtime listeners scratching their heads wondering where he went.
Though he didn't have a proper send-off and was unable to say his goodbyes on-air, he eventually was able to thank his fans, Tom Joyner and the TJMS crew through his own platform days later, chalking his exit up to the nature of the radio business.
He told the AJC that his departure from TJMS had nothing to do with a salary dispute, as previously rumored. "It was based on me wanting to venture out and have my own weekend show. That's it," he explained. "We couldn't come to terms. It was just time for me to leave… Sometimes people just disagree and part ways. That's just what happened."
Brown added, "It was absolutely the best job I've ever had. The most fun I ever had."
Rodney Ho of the AJC has a recap of Brown's first day on the show:
In the first hour, Brown did not mention Joyner's name but most of the listeners clearly knew where he is coming from. He jokingly said he drove by his old employer and honked his horn for 30 minutes. Plus, he is thrilled to be able to be heard in his current long-time residence of Los Angeles, a market Joyner is not on. Then he said he'll be able to be heard "in full" in Miami and Atlanta, markets where Joyner's show is cut off early. "Can you hear me in D.C.? What?" he added, referencing a market where Joyner is now on an AM station.

He said he claimed he hesitated at first when Harvey first offered him the gig. "When he offered me how much money? I see you all in the morning, man!" That sounded more like a joke. I suspect he was thrilled to take the offer without hesitation.

At 7:38 a.m., he did his first "Murders the Hits" using Bruno Mars' "24K Magic." "I'm with Steve, I made the move. Everyone is glad J's back on the air. I see you later, gator!" he sings. He promised a weekly joke song. Harvey laughed over the line, "I'm a popular man with a Viagra in my pocket."

"He wrote his own song to welcome himself here," Harvey said, with a chuckle.
The Steve Harvey Morning Show, which is listened to by nearly 7 million people, airs weekday mornings between 5 a.m. and 9 a.m. on nearly 100 different radio stations.
Be the first to receive breaking news alerts and more stories like this by subscribing to our mailing list.