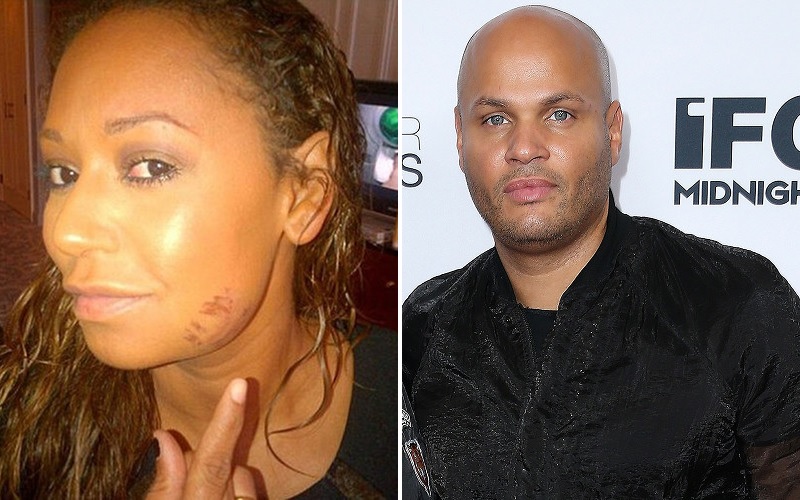 Wow! This is such a sad and heartbreaking story. Mel B has obtained a restraining order against her estranged husband, claiming he has physically and emotionally abused her throughout their 10-year marriage.
According to TMZ, Stephen Belafonte has been ordered to stay away from Mel, their daughter, and Mel's other two children from previous relationships. The restraining order was granted Monday (Apr. 3). The couple separated in December 2016 with Mel filing for divorce in March.
The alleged abuse began at the beginning of their relationship in 2007. Despite seeing signs throughout the years, Mel's close friends and co-workers failed to alert authorities and, instead, went along with her questionable cover-up stories.
The documents state Belafonte would beat, choke, and throw Mel to the ground on multiple occasions.
While preparing for the Dancing with the Stars finale in November 2007, Mel says Belafonte began choking her and slammed her to the ground. This was the beginning. She says every time she gained success in her career, he would "beat me down to let me know he was in charge."
In 2012, she recalls when Belafonte became jealous because he felt his wife was flirting with Usher. He punched her and split her lip. A month later he punched her and caused her to scrape her face on the carpet.
Mel claims Belafonte forced the public figure to explain on Twitter that she fell and scraped her face while running in heels.
Running in 7 inch louboutin no good!! I'm wearing prauge on my face!!! http://t.co/ofSSXZ4z

— Melanie Brown (@OfficialMelB) August 17, 2012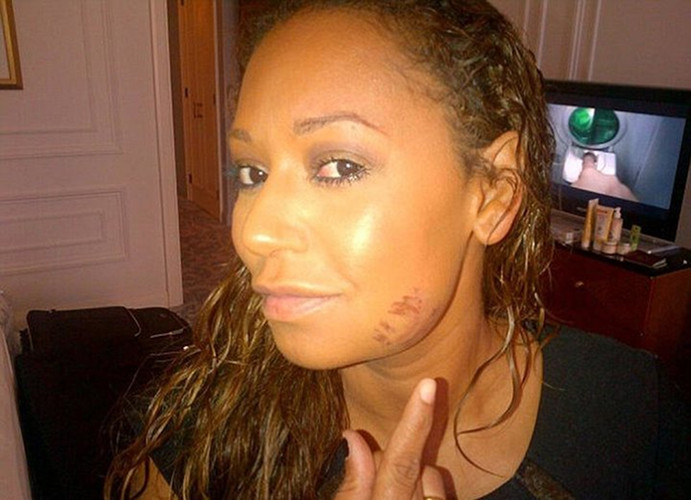 TMZ also notes several occasions when Mel B showed up to work between 2012-2014 with noticeable bruises that couldn't be covered by make-up. She subsequently missed several days of filming the UK and Australian versions of X Factor.
She even says Belafonte would harass and intimidate her agents, co-workers and producers. Though they called him "abusive and demanding" and expressed concern of Mel's injuries, she would come up with an excuse, such as suffering an allergic reaction, and authorities would not be called.
This abuse took a toll on the former Spice Girl as she allegedly attempted suicide in 2014.
Via TMZ:
[T]hings got so bad, Mel B tried to take her own life by swallowing an entire bottle of Aspirin. She had a change of heart, tried calling 999, but she says Belafonte prevented her from doing so. At some point she says her friend, Randy, came over but Belafonte forced him to leave. Randy called an ambulance but Belafonte turned it away. Authorities were not alerted.

The next day, her driver showed up to take her to work and saw such extensive injuries he took her to the hospital, where she spent 2 days with security standing guard outside her room to keep Belafonte away. Yet authorities again were not alerted.

When she was back in L.A. she told 'X Factor' "employers" she had attempted suicide to escape from the abuse at the hands of Belafonte.
In addition to physical abuse, Mel B claims Belafonte forced her to have threesomes with "random women," secretly recording them, and has threatened to release the footage. She also says Belafonte forced their nanny to get an abortion after he had an affair with her.
Belafonte is denying all allegations. He tells The Mirror:
"I think someone's setting me up to look like a bad guy. Obviously, you saw my house got raided and no-one found anything. It's accusation after accusation. But we'll have our day in court."
Belafonte's home was raided by ATF agents last week after his own brother and Mel both alleged he possessed a gun, which he is not prohibited to have following a 2003 domestic violence conviction with his then-girlfriend. ATF agents did not find anything.
He also addressed rumors he physically abused Mel back in 2014. Mel also shot down the rumors on Instagram a few weeks later.
Idon't usually respond to Twitter msgs but I will respond to comments of hitting my wife which I think are quite disgusting un true!

— Stephen Belafonte (@Stephenthinks1) December 15, 2014
Scary Spice is probably the last person you would ever think would be the victim of domestic abuse. Let's hope the restraining order will aide her and her children's safety.
Be the first to receive breaking news alerts and more stories like this by subscribing to our mailing list.