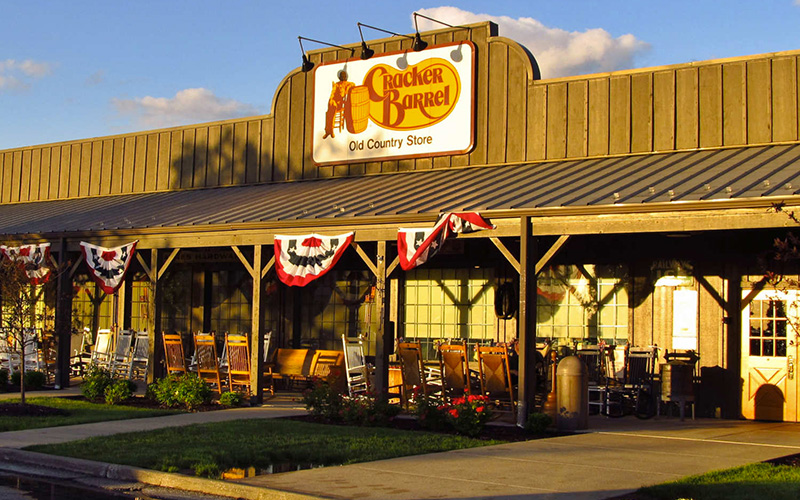 No matter where you live, chances are you have the ability to experience a little slice of Southern life by visiting your local Cracker Barrel Old Country Store. This quaint little store and restaurant has spread across the country, offering biscuits and gravy and rocking chairs and checkerboards to people all over the country.
But apparently, Cracker Barrel doesn't live by the creed of Southern Hospitality quite like one would believe. Case in point, Bradley Byrd and his wife Nanette. The couple launched Cracker Barrel into the viral spotlight on Tuesday with one simple Facebook post from Brad asking, "why did you fire my wife?"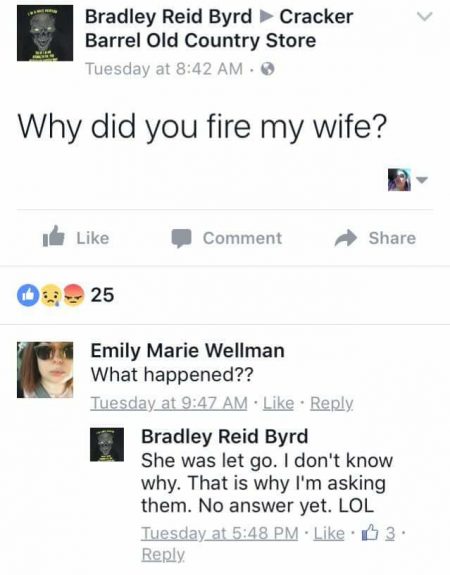 The story is Brad's wife had worked at Cracker Barrel for eleven years until she was abruptly fired for seemingly no reason. On Brad's birthday, nonetheless. Obviously, this didn't sit well with Brad, so he took to Facebook to demand answers.
"After 11 years, those low lifes at Cracker Barrel let my wife go. I would really like to know why and those of you who know me these days, know that I WILL find out…" he posted on his own page.
Well, Cracker Barrel didn't provide a response, and soon, it was a lot more people than just Brad demanding answers. The Cracker Barrel Facebook page was flooded with Brad's wife sympathizers from all over the world, all just wanting to know why they fired her.
Just check out their Facebook page, and on every video and post you'll see nothing but demands for answers from the little old country store. There are literally thousands of posts, and it's hilarious. And while the Cracker Barrel social media team is typically quick to respond to its customers, they have remained suspiciously quiet on the matter of Brad's wife.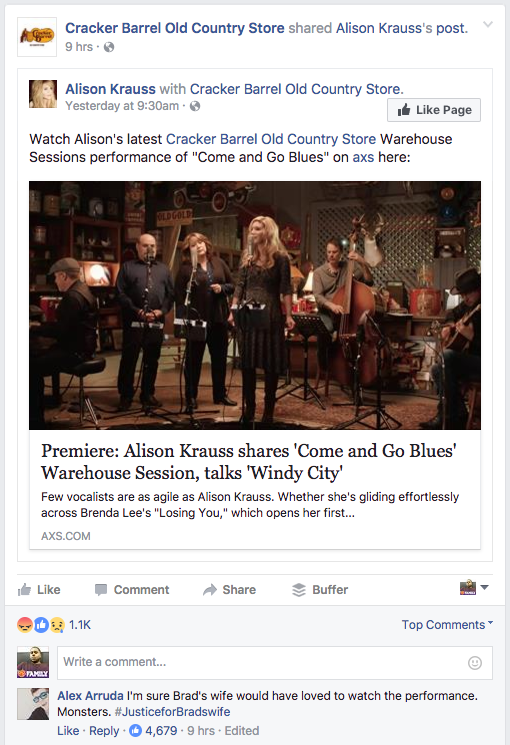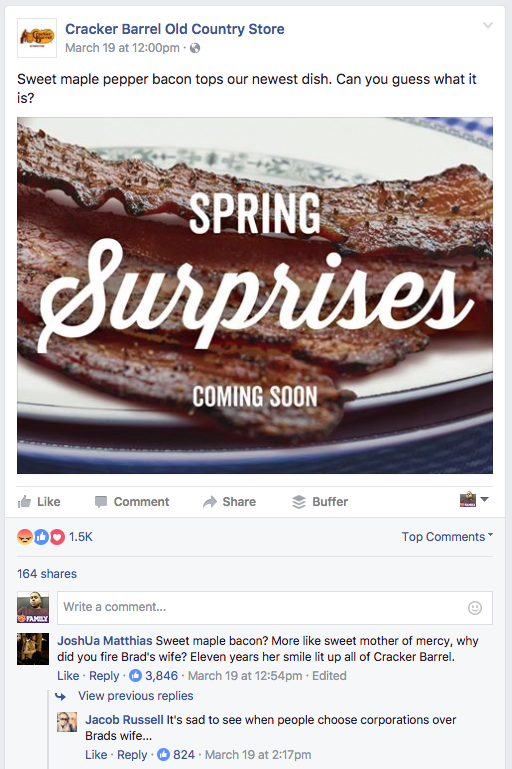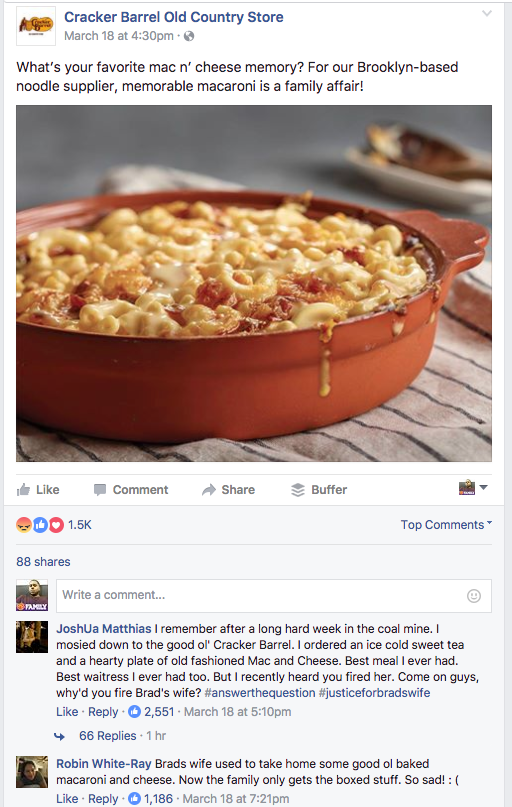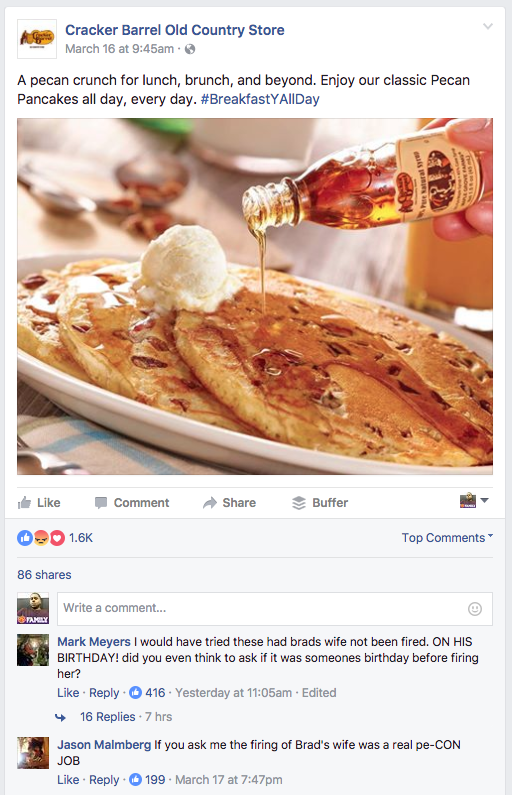 The hashtag has even gotten some attention on Twitter:
When you walk into @CrackerBarrel and don't see Brad's wife… #justiceforbradswife pic.twitter.com/g2y4QGHJdr

— Candice Leichty (@Candyland1125) March 23, 2017
When I heard what happened to #BradsWife #justiceforbradswife pic.twitter.com/z02Cg5LGa2

— Love, The Undoing (@LoveTheUndoing) March 22, 2017
#RT for #BradsWife!!! We demand #JusticeForBradsWife!!!#BradsWifeMatters #NotMyCountryStore pic.twitter.com/4WLQXn0rbp

— Avi (@SavvyAvi) March 23, 2017
We want answers @CrackerBarrel & we want justice for Brad's wife! #IStandWithBradsWife #justiceforbradswife pic.twitter.com/qdSYMgjOc4

— ClarksLilDemon (@natasha_walden) March 23, 2017
Employee: Hi welcome to Cracker Barrel
Everyone: WHERE'S BRAD'S WIFE#justiceforbradswife pic.twitter.com/L8Dxkk9XYV

— SpicyBrycy (@Bryswilson) March 23, 2017
This is killin me! ??? #justiceforbradswife pic.twitter.com/NNgaQQkNnC

— monica in tweets (@MonicaSharee) March 23, 2017
But you can only ignore a trending hashtag (#JusticeForBradsWife) and a Change.org petition for so long. The people demand answers, Cracker Barrel! Why did you fire Brad's wife?!
Be the first to receive breaking news alerts and more stories like this by subscribing to our mailing list.